The Vestry of St. Bartholomew's Church in the City of New York is the legal, canonical, and fiduciary "board of trustees" for the church.

The Rector is chairman of the Vestry. Wardens, elected for up to three consecutive two-year terms, are the lay chairs of the Vestry, and have canonical authority for the parish when the rectorship is vacant. Members are elected for up to two consecutive three-year terms. Governed by national and diocesan canon law, New York State Religious Corporation law, and our own by-laws, the Vestry leads the parish in setting policies and goals, maintaining the buildings, and raising financial support for the mission of the parish.
For questions about the Vestry or to contact individual members, please call 212-378-0263.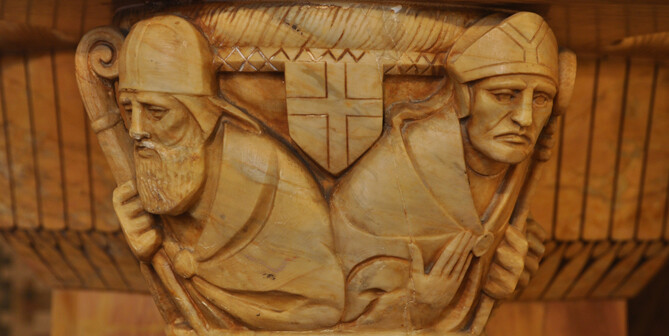 Liza Page Nelson. Warden
Liza Page Nelson is an independent consultant, advisor and board director-for-hire on behalf of investment and operating companies and non-profit organizations. Liza's experience includes managerial and operating leadership, venture capital investing, business development, strategy, marketing, finance, and management consulting, with a healthcare industry focus. Liza's past firms include the Investor Growth Capital company of Investor AB, the global pharmaceutical company Pfizer, The Boston Consulting Group and Warburg Pincus. Liza's board experience includes 20 years as a director on public and private boards as chair or member of their audit, compensation, finance, governance, nominating and advisory committees.
Liza has served on St. Bart's Vestry and as a member of the Planning & Budget and Investment Committees for 5 years and also served as St. Bart's Treasurer for 4 years. Liza leads an Education for Ministry (EfM) seminar as its Mentor and coordinates EfM at St. Bart's. She has been an Usher and was a director of Crossroads Community, the 501(c)(3) that operates the soup kitchen, food pantry and shelter for St. Bart's.
Liza says, "St. Bart's is my spiritual home. I began attending in 2000 and remain moved by "The Rule of St. Benedict" on the front steps and the "radical welcome" lived out each time St. Bart's invites any and all to the Eucharist table. St. Bart's has nourished me at this table, and also through exquisite liturgy and music, fellowship, and learning in community with clergy and fellow laypeople. Vestry service, for me, is an act of gratitude for the many gifts St. Bart's has given me, and one way I seek to support St. Bart's in making such gifts available for others." I am honored, humbled and deeply glad to be called to serve as Warden in this important time of transition."
Liza was raised in Southern California as a "none," celebrating secular Christmas and Easter. She came east for college (Wesleyan), worked in Manhattan, got a Master's (Yale) and returned to Manhattan-based work and life. Liza and her husband David Shotland live on the Upper East Side. They enjoy cooking and pouring wine for friends, hiking, travel and music.

John Gilliland, Warden
John has been a member of St. Bart's since 2002, drawn by the radical welcome and excellent preaching of Bill Tully and then Buddy Stallings. He attends services regularly along with his wife, Frederique Henriot. John is excited to serve with Bishop Wolfe and the Vestry in this next phase of St. Bart's, and is thankful for the opportunity.
Born in San Antonio, Texas, John has been an executive at Citicorp for thirty-four years and currently serves as Global Head of Fundamental Credit Risks. John has served on the Boards of several non-profit organizations in the greater New York area and is involved in his family's business activities in Texas.
During his first Vestry term, John was chair of the Investment Committee, and a member of the Governance and Planning and Budget Committees, as well as being involved in the oversight of the operations of Inside Park. He subsequently served as chair of the Audit Committee. His current Vestry responsibilities include being the Chair of the Planning and Budget Committee, and he continues to be a member of the Governance Committee and the Inside Park oversight task force. John is also a Trustee of the Diocesan Investment Trust, where along with Mori Goto, he represents St. Bart's on the Board of Trustees and serves as chair of the Trust's Audit Committee.
John currently resides in Manhattan with Frederique, his stepdaughters Luz and Amber, and their three-year-old poodle, Brooklyn. John and Frederique enjoy spending free time at their farm upstate where they enjoy growing herbs and vegetables and keeping bees.

Douglas Tanner, Chancellor
My wife Carol and I moved to the upper east side of New York City in 2004 and settled on St. Bart's in pretty short order as our Episcopal church. We chose St. Bart's, attracted by the intelligent and challenging sermons, the amazing music and the warm, welcoming environment.
The Episcopal Church has been part of my life since I can remember, being a chorister and acolyte as a youth and on several vestries as we have traveled between Northern California, New York, Southern California and Hong Kong. It is a privilege and challenge to be involved in a church with as much history as St. Bart's, with its beautiful, large and complex physical facility and with as many programs and ways in which it contributes to the community.


I am retired now from legal practice at Milbank, Tweed, Hadley & McCloy, and after six years on St. Bart's vestry I am now helping as the Chancellor. I grew up in Palo Alto, California, and received my undergraduate, MBA, and JD degrees from Stanford University.
Honorary Wardens
Fletcher Hodges, III
Anthony P. Marshall
Percy Preston, Jr.
Like many who work on Park Avenue, Kathleen was weary of the struggles at work one morning and decided to go to the noontime service at St. Bart's. She tell
s us, "I loved the quiet setting for the Eucharist, the heartfelt homily and the warmly welcoming people who were there. Taking time out of my day to go to church actually made me more productive the rest of the day. I returned and found myself drawn to St. Bart's by the people and the programs designed to deepen my faith. It is important to me that St. Bart's is a place that nurtures my spirit in community. The beautiful music, the inspiring sermons, the Sunday forum, the many services, and all the opportunities to meet interesting people have helped me to grow in my understanding of what is truly important in life. Through my association with St. Bart's I have gained a better sense of balance, which I think is so important to me and to many others who work in this high pressured city of ours."
Kathleen's professional background as a CPA, financial controller, and Managing Director at two large banks has prepared her to work with the church in a variety of leadership positions.
Joining St. Bartholomew's in 1997, Kathleen has served the church in numerous positions, including Treasurer, and previously served on the Vestry from 2007 to 2012. Committee work at St. Bart's includes the annual fund (co-chair); capital campaign; Planning and Budget Committee; and Compensation Committee. She was also a member of the Rector Search Committee that called Dean Wolfe to St. Bart's. Additionally, she serves on the board of Crossroads Community Services, where she is a member of the Finance Committee and volunteers with Fare Share Friday and the pantry.
Kathleen enjoys travel, going on retreats, being with her three grandchildren, and spending time at her lake house in New Jersey.

Catherine Belford Budd
Catherine Belford Budd is an obstetrician-gynecologist, retired from clinical practice but currently teaching part-time at Albert Einstein College of Medicine. Catherine's clinical practice was at Thomas Jefferson University in Philadelphia, where her responsibilities included teaching medical students and residents in the classroom and clinical settings. She was also co-director of the medical student program for obstetrics and gynecology. Catherine received her MD degree from the University of Pennsylvania School of Medicine.
At St. Bart's Catherine is a member of the Rector Search Committee and recently completed two years as a co-chair of the Stewardship Committee. She continues to support stewardship staff by assisting in the office. Catherine is currently enrolled in EfM (Education for Ministry) and has participated in previous book and study groups. She is also a board member of Spectrum Symphony, a 501(c)(3) orchestra based in Manhattan, and an active member of the Advocacy Leadership Committee at NCJW-NY, which exposes and addresses sex trafficking through public awareness, education and advocacy.
Soon after Catherine and her husband David moved from Bucks County, Pennsylvania to Manhattan in 2011, they experienced a true St. Bart's welcome and found their new church home. Catherine and David are inspired by the music, preaching, clergy, and community at St. Bart's. They are members of a dedicated Circles Group which gathers monthly for dinner, fellowship and Compline.
Catherine and David have two daughters. Joanna is a Resident MD in Pediatrics at the University of Minnesota and lives with her husband in Minneapolis. Lauren is a RN on Labor and Delivery at Mount Sinai and lives with her husband in Brooklyn. Catherine is a flutist, enjoys playing chamber music, and loves the abundant and diverse theater and music offerings in New York City.

Archer Christian Burke
Christian is a native Virginian and a graduate of the University of Virginia, and he has been a long time resident of Riverdale, The Bronx where he served on the board of his co-op association for a number of years.
He officially joined the St. Bart's family in 2002, and within minutes after receiving his yellow boutonniere, he was signed up to serve as an Usher and as a Table Leader for Life @ St. Bart's. Since that time, his focus has been to perpetuate our Radical Welcome.
In 2007 he was elected to the Parish Council, and his main assignment was to form a Welcome Committee, which is still flourishing under its current leadership.
From 2008 to 2009 he served as Co-Chair of the Membership Development Committee of the Parish Life Project.
In 2009 he was asked to Chair our Greeters' & Ushers' Ministry, and he continues to lead this talented and devoted corps of parishioners. His first ushering gig had begun when he was an eighth grader in Richmond, VA at St. Stephen's Church where his father and grandfather had served on the Vestry.
Professionally, he is a Merchandising Manager with home textiles manufacturer, WestPoint Home LLC.
Outside of church and work, he is presently serving on the Board of Stewards of the Saint Nicholas Society and on the NY Alumni Board of Woodberry Forest School. He is also an active member of The Church Club of NY, The Society of the Cincinnati, and The Descendants of the Signers of the Declaration of Independence.



Hunter T. Carter
As a lawyer for nearly a quarter of a century, Hunter has worked on a broad array of commercial and corporate litigation matters while also spearheading representations seeking social justice. Hunter is a partner with the law firm of Arent Fox LLP. His professional activities are diverse, encompassing the areas of ethics, Latin America, and the LGBT community. He is a member of the New York State Bar Ethics Committee; chairs the New York City Bar Association Committee on Inter-American Affairs; and writes a blog called Colombia Law & Business Post.
Hunter co-authored the New York State Bar Association report endorsing same-sex marriage in 2009. He is currently counsel to MOVILH, the Chilean LGBTI rights group, and recently lodged a petition with the Inter-American Commission on Human Rights denouncing Chile's denial of marriage rights to three same-sex couples.


He was elected to the editorial boards of the University of Miami Law Review and the Virginia Journal of International Law and is fluent in Spanish and French.

 Hunter's social justice work has included chairing several committees and serving as a director and an officer of the Whitman-Walker Clinic, in Washington, D.C., battling the HIV/AIDS epidemic, during the 1990s. He has also served on the board of the Gay & Lesbian Victory Fund, Caring for Colombia Foundation, and is currently a member of the board of the Cyrus R. Vance Center for International Justice of the New York City Bar, promoting pro bono legal services and access to justice programs throughout the Western Hemisphere.


Hunter started attending St. Bart's in 2011 and was quickly drawn into the parish by the "radical" welcome offered here. He is moved by the insightful and caring clergy and their inspiring preaching, and the parish's devotion to God through the weekly Eucharist. He is also deeply grateful for the soaring music, the LGBT community, and the book classes.

Hunter and his husband César Zapata, met in 2000, and were married in a joyous musical ceremony by Buddy Stallings and Edward Sunderland at St. Bart's in June, 2012. They divide their time between New York and Medellín, Colombia, César's hometown, where he loves to travel, read, and cook.


Tim Collins
Tim is a successful executive and leader, with more than 30 years of combined service with two blue chip companies, Procter & Gamble and IBM. He describes himself as a servant leader, global citizen, arts lover, ENTJ, who believes in passion, principle, laughter, the liberal arts, social media as a powerful tool to influence and effect change, and lifelong learning. Tim thinks hard work, great results and having fun go together.
After retiring from IBM, Tim started his "encore career" working for his alma mater, Transylvania University in Lexington, Kentucky, a private, selective, nationally ranked liberal arts college founded in 1780. His role is Director and Regional Advancement Officer, a position that allows him to continue to live in New York City while traveling to meet with alumni and friends of the college around the country.
In his last role at IBM, Tim was global leader of the Human Resources Talent and Development function for IBM's global HR organization of almost 10,000 professionals, providing support for HR succession planning, executive staffing and leadership pipeline development. He also had responsibility for HR Development and Resources, ownership for the HR function career model, career development, skills and competencies, tools and communications and leadership for global HR intern hiring and campus recruiting.
In prior positions, Tim had roles of increasing responsibility in Mergers & Acquisitions, HR outsourcing, HR Shared Service Center leadership, e-HR, Global Mobility, R&D Recruiting, Marketing, Manufacturing and Product Supply. He worked at Procter & Gamble in Cincinnati, Ohio and Newcastle, England for 20 years, primarily in Human Resources.
In his eight years as a member of St. Bart's, Tim has participated in the Greeter and Usher Ministry, served as Stewardship Co-Chair, managed the @stbartsnyc Twitter feed for more than a year, and most recently served as Co-Chair of the Rector Search Committee.
Originally from Canton, Ohio, Tim grew up in Ohio and Central Kentucky, and is a 1981 graduate of Transylvania University. He lives in New York City with his husband and UK Civil Partner, Tom Wolff, the leader of MetLife's global ethics program, and Gypsy the Havanese, who makes them both laugh at least once every day.
After Peter arrived in New York in 1987 for his graduate studies at Columbia, he searched off and on for a church community until 2004 when he discovered St. Bart's. It was at St. Bart's where he found the spiritual home that resonated with his own values, a view that is captured in the Sunday welcome notice. He joined the church in 2010. Peter and Yuko are parents of two cheerful, highly original twin girls, Grace and Maaya.
Peter is a professor (and recently chair) at Columbia University in the Department of Earth and Environmental Sciences. His research at the Lamont-Doherty Earth Observatory explores how and why climate has changed in the past and how this has impacted living systems including human evolution and ancient cultures. He's leading the new Center for Climate & Life initiative at Columbia and is active in education, outreach, and communication of climate change issues.
Peter tells us, "St. Bart's is a rare gem in this city - a place of purpose, community, and worship that many more might appreciate. This is a time to give back in life, and a flourishing, supporting parish will need more members as well as families with children." Peter has two older brothers and a father, all of whom have been wardens or vestry members in their own parishes, so he understands the expectation and responsibility.
Peter loves the ocean and the countryside, two things in short supply in the city. So he and his family regularly go to an old farmhouse in the Berkshires or to the ocean, sailing when they can. Peter would like to return to oil painting which was a passion some years ago, and Yuko and the girls have taken to the piano in earnest.

Morihiko Goto (五藤盛彦)
Morihiko (Mori) Goto has worked on Wall Street for over 33 years and is the Chairman of the Board and Chief Executive Officer of Goto Capital Markets, Inc. Prior to launching his own firm, he had held senior positions at several firms including Managing Director of RBS Greenwich Capital and Merrill Lynch & Company. 
Mori holds a B.A. in Economics from Keio University, Tokyo, Japan, where he was elected a member of Honors Seminar of Professor Michihiro Ohyama. Mori also has an MBA double major in Finance and Money & Financial Markets from Columbia Business School, which he earned in an accelerated 14-month program.
Mori is the Chair of the St. Bart's Vestry Investment Committee, after having served as the Chair of the Vestry Planning and Budget Committee for three years, and serves on the Vestry Governance Committee. He is also a Trustee of the Diocesan Investment Trust of the Episcopal Diocese of New York and serves as the Chairman of the Board of Crossroads Community Services, Inc., a 501(C)(3) community service corporation affiliated with St. Bart's. He volunteers in the Crossroads Homeless Shelter, preparing dinner and staying overnight in the shelter, to provide host and security services.
Mori Goto first experienced the "radical welcome" at St. Bart's on Christmas Eve 2006 when, on the steps of the church, Bill Tully invited him to join the 4 pm service, notwithstanding Mori's reservations about not being a Christian. Mori was raised in Tokyo in a family where generations of his mother's ancestors have been the ministers overseeing a reformed Buddhist temple continuously since the mid-15th century. Mori was baptized at St. Bart's on September 16, 2007, by Bill Tully and reaffirmed by Bishop Roskam on April 27, 2008.
Mori lives on the Upper East Side and enjoys the NY Philharmonic, playing jazz guitar, travel, and black diamond skiing, as well as his numerous charitable pursuits. Mori is also a Delta Society-registered Therapy-Pet handler and he brought his registered therapy dog Ellie the Toy Poodle to local nursing homes and a hospital on a monthly basis for years before her passing in 2017. He has a daughter, Lisa, who graduated from the Brearley School, Bowdoin College and Drexel University College of Medicine with a Doctor of Medicine degree. She now serves as a Pediatric Resident at the Albert Einstein/Montefiore Medical Center in New York City. She joins Mori at St. Bart's for holiday services and has also volunteered at the shelter.



Robert Gutheil
Robert Gutheil recently retired after a forty-plus year career in chief executive positions in the human services field in New York City. He served as Executive Director of Episcopal Social Services (now Sheltering Arms) until retirement, following similar positions at The Salvation Army and Lutheran Social Services. The New York City Council issued a special proclamation in 2010 honoring him for a lifetime of service to the city. Other awards include the National Award for Excellence in Social Work from The Salvation Army, the Champions for Children Lifetime Achievement Award from the Center for Children's Initiatives, the Leadership Award from Life Services for the Handicapped, and the Unsung Heroes from the Day Care Council of New York. He holds graduate degrees from Columbia University and Concordia Seminary.
He is currently a member of the Rector Search Committee at St. Bart's. He is a long-time usher. He has served two terms on the St. Bart's Vestry, serving on various committees and as parish Treasurer. He was the first chair of the Advisory Board for the Center for Religious Inquiry, working closely with Rabbi Leonard Schoolman in those initial years. Currently he serves on several charitable boards—the Federation of Protestant Welfare Agencies, the Church Club of New York, West End Residences for the Homeless, Life Services for the Handicapped, and the Day Care Council of New York. Earlier positions included the Vestry of St. Thomas Church and the Board of Episcopal Charities.
Robert and his wife Karen (who serves as a Lay Eucharist Minister) have been members of St. Bart's since 1996. They were drawn by the church's radical welcome, the vigor and intelligence of Bill Tully's preaching, the high liturgical standards and the physical beauty of the sanctuary. Those same high standards, plus now an enduring network of close friends in the parish, keep them very committed here.
Robert was born and raised in New York City. He and Karen have three children and six grandchildren. They live in Manhattan and take as full advantage as possible of the city's cultural life—opera, theater, concerts, museums and more.

Mary Krueger
Mary joined St. Bart's in 2007 after she and her husband, Peter Sullivan, moved to New York from Los Angeles. Familiar with St. Bart's from their travels to New York, they chose the church because they responded to the excellent preaching, beautiful liturgy and music, and overall culture.
Before retiring in 2013, Mary worked for several years as operations director for a Los Angeles-based boutique PR firm. In addition to 19 years at home with her twin daughters, Mary's eclectic career has included large-scale IT for IBM and Bank of America; researching child care and early childhood funding; preparing business plans for a Hollywood producer/wellness entrepreneur; and working at a home-based computer software company.
Since joining St. Bart's, Mary has participated in several discernment committees; served as a Stewardship partner; worked as a gift captain for the Christmas Miracles program; participated in the St. Bart's Habitat for Humanity trip to the Dominican Republic; and volunteered at St. Bart's Central. She has also been active visiting homebound parishioners. Mary was co-chair of the 2015-2016 Rector Search Committee that called Dean Wolfe to St. Bart's.
Mary and Peter are parents of adult twin daughters and Oliver, a Norwich terrier. Her interests include traveling, walking and biking, reading and attending mystery conventions.

Heather Mitchell
Heather Mitchell is a literary agent at the venerable Gelfman Schneider Literary Agency. GSLA has a diverse list of clients, representing a wide range of national and international best selling authors in all genres of fiction and non-fiction.
Heather was born and raised in Montreal but moved to Paris in 1979 to begin her career working for the Association of Tennis Professionals, Proserv and International Management Group (IMG) where she became the first female sports agent of male professional tennis players. 

While still living and working in Europe in the eighties, Heather wandered into St. Bartholomew's Church and has never left her spiritual home. In December of 1994, she married her husband George Mitchell at St. Bart's, which was the first wedding at which the newly arrived Rev. Bill Tully officiated. Their children, Andrew and Claire, were both baptized at St. Bart's and serve as acolytes and members of the youth group.


The Mitchell family divides their time between New York and Maine, where Heather serves on the board of the Senator George J. Mitchell Scholarship Research Institute. Each year, a Mitchell Scholarship is awarded to a graduating senior from every public high school in Maine to attend college; selection is based on academic promise, financial need and a history of community service. The program has awarded over $9 million in financial assistance to more than 2,000 Maine students since it was created in 1995.

Alexander Robertson
Alex Robertson is President and Chief Operating Officer of Tiger Management LLC. Alex joined Tiger in 2008 after graduating from Stanford University's Graduate School of Business. A graduate of the University of North Carolina at Chapel Hill in 2001, Alex worked for Senator Elizabeth Dole in Washington, DC, from 2003 to 2006 as a legislative assistant. Alex serves as co-chair of the Tiger Foundation and serves as trustee at Memorial Sloan Kettering, Boys Club New York, East Lake Foundation, and The Robertson Foundation, and sits on the advisory council at Stanford GSB. Alex has attended St. Bart's since 2008 and it is an integral component of his life. All three children—Tucker and Charlie (age 2), and Daisy (8 months)—were baptized in the chapel, and Alex and his wife Alexandra were fortunate enough to have been married by Bill Tully. The family regularly attends the 8 am service, and lives on the Upper East Side.



Keith Rook
Keith began attending St Bart's in 2009, and because of its "Radical Welcome" became a member in the fall 2013. Growing up in Texas he attended a conservative evangelical church where he struggled with reconciling his church's teachings with his sexual orientation. As a result he stopped going to church for over 25 years. He says "St. Bart's inclusive spirit opened my heart and helped me find a new spiritual home and regain my faith that had been missing for so many years."
Keith grew up in Texas and has lived in NYC since 1991. He earned a BA in accounting from Southwestern University in Texas and is a Certified Public Accountant (CPA) and a Certified Financial Planner (CFP). He is currently Managing Director for the Weiler/Arnow family office and has more than 25 years' experience in investment management and financial planning for multigenerational families. His prior experience includes Big Four tax work with high net worth individuals/families; serving as Director of Tax for Collier Enterprises; and serving as Vice President for the Norman/Weil families and for the Sulzberger family.
Keith gives time, talent and treasure to St. Bart's and attends the 11 am and 5 pm services. He is in his third year of service as Stewardship co-chair. He also currently serves on the investment committees for the Diocese of New York and Auburn Seminary.
Keith loves to travel and learn about cultures and history, especially the commonalities of different religions.

Barbara Case Senchak
Barbara Case Senchak is most recently a semi-retired art dealer who has developed and curated art collections for individuals and corporations for 2 decades. A former syndicated radio interview host and producer, Barbara's focus was on women in developing
countries for which her programs were awarded by American Women in Broadcasting and the National Endowment for the Arts. She also consulted in communications for the US Department of State and NGOs.

Prior to moving to Manhattan in 2011, Barbara and her husband Andrew, and son Alex, were members of Christ Church Short Hills in New Jersey where she served on the vestry, in the choir, as stewardship chair, as usher, and where she completed Education for Ministry.

She was the parish coordinator for Episcopal Relief and Development (ERD) and was the national co-chair for ERD's Malaria NestforLife campaign from 2008-2012. Currently, Barbara is on ERD's steering committee for the 75th Anniversary and a member of ERD's Communications Advisory Committee.

In the Arts, Barbara is Membership Chairman and on the Development Committee of the MacDowell Colony, America's first art colony in Peterborough, New Hampshire.

Barbara and husband Andrew, who is Chairman of Keefe, Bruyette and Woods, have attended St. Bart's since their move to Manhattan, while their son Alex is married and serves on the stewardship committee of Trinity Church in Boston where he is a professional fundraiser for non-profit organizations.

"One sermon by Buddy and I was hooked," says Barbara who serves on the board of Crossroad's Community service, volunteers at the shelter and food program, ushers and enjoys the ambiance and diversity of St. Bart's community. "St. Bart's is really the best spiritual home I have ever had."

Susannah Wade Lewis
Susannah was raised in the Episcopal Church and grew up as a member of Trinity Church, Boston. When she moved to Manhattan in 2003, it was her father, an Episcopal priest, who suggested St. Bart's as a possible church home. Susannah was initially drawn to the powerful worship experience of St. Bart's—the preaching, the music, and the architecture—and to the great welcome that clergy, staff, and parishioners alike all extended.
After recently completing her M.P.H. in Epidemiology at Columbia University's Mailman School of Public Health, Susannah now works in program development and planning for the New York City correctional system's mental health service. Prior to pursuing graduate work in public health, Susannah spent seven years in Manhattan residential real estate sales with Brown Harris Stevens.
At St. Bart's, Susannah chaired the 20s/30s Group from 2007 to 2010 and co-chaired the parish stewardship campaign from 2011 to 2013. She also led the Young Adults portion of the Parish Life project in 2010. Susannah joined the Vestry in 2015 and was a member of the search committee that called Bishop Wolfe as Rector. Susannah's involvement with the parish's stewardship work has continued as a member of the Development Committee. Having an additional interest in and concern for the long-term preservation efforts of the architectural masterpiece that is St. Bart's, Susannah served on the board of the St. Bartholomew's Conservancy for three years and is now a member of the Conservancy's Advisory Council. She is also enthusiastic about her work with Wellesley College as its Alumnae Admissions Chair for Southern Connecticut and with Darien, Connecticut's, Representative Town Meeting as a member of its Finance and Budget Committee.
Susannah and her husband, William, live in Darien, CT with their exceptional poodles, M. Caelius Rufus and Kippy.

Chantal N. Stevens
Chantal N. Stevens has worked in education for more than 15 years and currently serves as the National Director of Programs at A Better Chance. Prior to joining A Better Chance, Chantal worked in various roles for the City University of New York (CUNY). Working first at Baruch College, she then went on to serve as a special project coordinator on a joint initiative between the University and New York City's Office for Human Resources Administration. In her last role at CUNY, she served as the Assistant Director for Recruitment and Admissions Counseling at The City College of New York.
Chantal joined St. Bart's four years ago. Since becoming a member, Chantal has taken part in a variety of community service and outreach initiatives, either led by St. Bart's or with St. Bart's as a partner, including delivering food to needy New Yorkers with Coalition for the Homeless, Fare Share Friday and the Christmas Miracles Project. In addition to St. Bart's, Chantal aims to stay connected to her community in different ways. She is a former board member of St. Mark the Evangelist School where she served for five years. In 2014 she served on the Spence School's Community Standards Task Force that was charged with creating common language to appropriately educate, communicate, and emphasize clear expectations for community standards regarding behavior. Simultaneously, in June 2015, she completed a two-year term as the parent chair of the school's annual fund. Since 2008, she has served as an advisory board member of the National Partnership for Educational Access headquartered in Boston, MA.
At St. Bart's Chantal has felt welcomed by the congregation ever since accepting an invitation to attend service by the Mitchells, longtime parishioners. The great preaching and a true sense of "walking the walk" are just two of the things that keep her here and involved.
Chantal lives in Harlem, NY, with her daughter Zadie, who is active in the youth ministry at St. Bart's as an acolyte and lector. In her spare time Chantal enjoys shows on Broadway, going to concerts, traveling to new locales, entertaining, dancing, and spending time with her daughter.