Our Annual Parish Meeting was held on Sunday, February 11, 2018 in the nave of the Church, following the 9 am Eucharist.
Listen to the audio recording of the meeting.
Download our printed annual report.
The following persons were elected (click names or scroll down for bio): John Gilliland for a two-year term as warden; Kathleen Breiten and Keith Rook to join the Vestry for terms of three years; and Peter deMenocal, Mary Krueger and Susannah Wade Lewis for re-election to the vestry for three-year terms.

It has been the practice at St. Bart's to hold uncontested elections, unless there is an issue which will come before the Vestry on which there is strong disagreement within the parish. Anyone who desires to nominate other candidates should contact Patrick Bergquist in the office of the Rector to request a copy of the bylaws.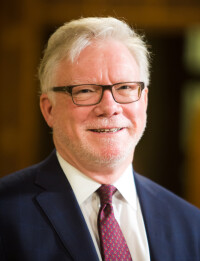 John Gilliland
John has been a member of St. Bart's since 2002, drawn by the radical welcome and excellent preaching of Bill Tully and then Buddy Stallings. He attends services regularly along with his wife, Frederique Henriot. John is excited to serve with Bishop Wolfe and the Vestry in this next phase of St. Bart's, and is thankful for the opportunity.
Born in San Antonio, Texas, John has been an executive at Citicorp for thirty-four years and currently serves as Global Head of Fundamental Credit Risks. John has served on the Boards of several non-profit organizations in the greater New York area and is involved in his family's business activities in Texas.
During his first Vestry term, John was chair of the Investment Committee, and a member of the Governance and Planning and Budget Committees, as well as being involved in the oversight of the operations of Inside Park. He subsequently served as chair of the Audit Committee. His current Vestry responsibilities include being the Chair of the Planning and Budget Committee, and he continues to be a member of the Governance Committee and the Inside Park oversight task force. John is also a Trustee of the Diocesan Investment Trust, where along with Mori Goto, he represents St. Bart's on the Board of Trustees and serves as chair of the Trust's Audit Committee.
John currently resides in Manhattan with Frederique, his stepdaughters Luz and Amber, and their three-year-old poodle, Brooklyn. John and Frederique enjoy spending free time at their farm upstate where they enjoy growing herbs and vegetables and keeping bees.
Nominated to join the Vestry for terms of three years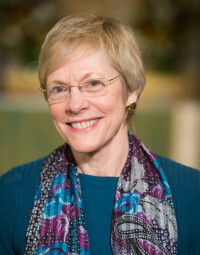 Kathleen Breiten
Like many who work on Park Avenue, Kathleen was weary of the struggles at work one morning and decided to go to the noontime service at St. Bart's. She tells us, "I loved the quiet setting for the Eucharist, the heartfelt homily and the warmly welcoming people who were there. Taking time out of my day to go to church actually made me more productive the rest of the day. I returned and found myself drawn to St. Bart's by the people and the programs designed to deepen my faith. It is important to me that St. Bart's is a place that nurtures my spirit in community. The beautiful music, the inspiring sermons, the Sunday forum, the many services, and all the opportunities to meet interesting people have helped me to grow in my understanding of what is truly important in life. Through my association with St. Bart's I have gained a better sense of balance, which I think is so important to me and to many others who work in this high pressured city of ours."
Kathleen's professional background as a CPA, financial controller, and Managing Director at two large banks has prepared her to work with the church in a variety of leadership positions.
Joining St. Bartholomew's in 1997, Kathleen has served the church in numerous positions, including Treasurer, and previously served on the Vestry from 2007 to 2012. Committee work at St. Bart's includes the annual fund (co-chair); capital campaign; Planning and Budget Committee; and Compensation Committee. She was also a member of the Rector Search Committee that called Dean Wolfe to St. Bart's. Additionally, she serves on the board of Crossroads Community Services, where she is a member of the Finance Committee and volunteers with Fare Share Friday and the pantry.
Kathleen enjoys travel, going on retreats, being with her three grandchildren, and spending time at her lake house in New Jersey.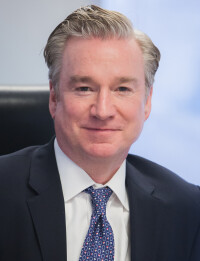 Keith Rook
Keith began attending St Bart's in 2009, and because of its "Radical Welcome" became a member in the fall 2013. Growing up in Texas he attended a conservative evangelical church where he struggled with reconciling his church's teachings with his sexual orientation. As a result he stopped going to church for over 25 years. He says "St. Bart's inclusive spirit opened my heart and helped me find a new spiritual home and regain my faith that had been missing for so many years."
Keith grew up in Texas and has lived in NYC since 1991. He earned a BA in accounting from Southwestern University in Texas and is a Certified Public Accountant (CPA) and a Certified Financial Planner (CFP). He is currently Managing Director for the Weiler/Arnow family office and has more than 25 years' experience in investment management and financial planning for multigenerational families. His prior experience includes Big Four tax work with high net worth individuals/families; serving as Director of Tax for Collier Enterprises; and serving as Vice President for the Norman/Weil families and for the Sulzberger family.
Keith gives time, talent and treasure to St. Bart's and attends the 11 am and 5 pm services. He is in his third year of service as Stewardship co-chair. He also currently serves on the investment committees for the Diocese of New York and Auburn Seminary.
Keith loves to travel and learn about cultures and history, especially the commonalities of different religions.
For re-election to the Vestry for three-year terms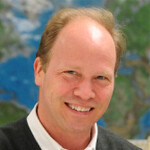 Peter deMenocal
After Peter arrived in New York in 1987 for his graduate studies at Columbia, he searched off and on for a church community until 2004 when he discovered St. Bart's. It was at St. Bart's where he found the spiritual home that resonated with his own values, a view that is captured in the Sunday welcome notice. He joined the church in 2010. Peter and Yuko are parents of two cheerful, highly original twin girls, Grace and Maaya.
Peter is a professor (and recently chair) at Columbia University in the Department of Earth and Environmental Sciences. His research at the Lamont-Doherty Earth Observatory explores how and why climate has changed in the past and how this has impacted living systems including human evolution and ancient cultures. He's leading the new Center for Climate & Life initiative at Columbia and is active in education, outreach, and communication of climate change issues.
Peter tells us, "St. Bart's is a rare gem in this city - a place of purpose, community, and worship that many more might appreciate. This is a time to give back in life, and a flourishing, supporting parish will need more members as well as families with children." Peter has two older brothers and a father, all of whom have been wardens or vestry members in their own parishes, so he understands the expectation and responsibility.
Peter loves the ocean and the countryside, two things in short supply in the city. So he and his family regularly go to an old farmhouse in the Berkshires or to the ocean, sailing when they can. Peter would like to return to oil painting which was a passion some years ago, and Yuko and the girls have taken to the piano in earnest.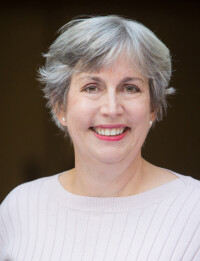 Mary Krueger
Mary joined St. Bart's in 2007 after she and her husband, Peter Sullivan, moved to New York from Los Angeles. Familiar with St. Bart's from their travels to New York, they chose the church because they responded to the excellent preaching, beautiful liturgy and music, and overall culture.
Before retiring in 2013, Mary worked for several years as operations director for a Los Angeles-based boutique PR firm. In addition to 19 years at home with her twin daughters, Mary's eclectic career has included large-scale IT for IBM and Bank of America; researching child care and early childhood funding; preparing business plans for a Hollywood producer/wellness entrepreneur; and working at a home-based computer software company.
Since joining St. Bart's, Mary has participated in several discernment committees; served as a Stewardship partner; worked as a gift captain for the Christmas Miracles program; participated in the St. Bart's Habitat for Humanity trip to the Dominican Republic; and volunteered at St. Bart's Central. She has also been active visiting homebound parishioners. Mary was co-chair of the 2015-2016 Rector Search Committee that called Dean Wolfe to St. Bart's.
Mary and Peter are parents of adult twin daughters and Oliver, a Norwich terrier. Her interests include traveling, walking and biking, reading and attending mystery conventions.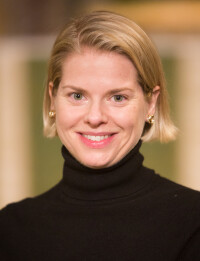 Susannah Wade Lewis
Susannah was raised in the Episcopal Church and grew up as a member of Trinity Church, Boston. When she moved to Manhattan in 2003, it was her father, an Episcopal priest, who suggested St. Bart's as a possible church home. Susannah was initially drawn to the powerful worship experience of St. Bart's—the preaching, the music, and the architecture—and to the great welcome that clergy, staff, and parishioners alike all extended.
After recently completing her M.P.H. in Epidemiology at Columbia University's Mailman School of Public Health, Susannah now works in program development and planning for the New York City correctional system's mental health service. Prior to pursuing graduate work in public health, Susannah spent seven years in Manhattan residential real estate sales with Brown Harris Stevens.
At St. Bart's, Susannah chaired the 20s/30s Group from 2007 to 2010 and co-chaired the parish stewardship campaign from 2011 to 2013. She also led the Young Adults portion of the Parish Life project in 2010. Susannah joined the Vestry in 2015 and was a member of the search committee that called Bishop Wolfe as Rector. Susannah's involvement with the parish's stewardship work has continued as a member of the Development Committee. Having an additional interest in and concern for the long-term preservation efforts of the architectural masterpiece that is St. Bart's, Susannah served on the board of the St. Bartholomew's Conservancy for three years and is now a member of the Conservancy's Advisory Council. She is also enthusiastic about her work with Wellesley College as its Alumnae Admissions Chair for Southern Connecticut and with Darien, Connecticut's, Representative Town Meeting as a member of its Finance and Budget Committee.
Susannah and her husband, William, live in Darien, CT with their exceptional poodles, M. Caelius Rufus and Kippy.