Back to Buddy Stallings's Blog
Flinging and Hoping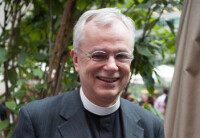 It has been a week of endings all round - bittersweet, funny, deeply touching and sad, some things coming to fruition, others having to be relegated in the manner an old southern friend once suggested to me, "Honey, you need to leave that one lay where Jesus flung it." I have no clear idea what that means, but there are a few tasks, and probably more, that I have simply "let lay" in hopes that Jesus intends to fling them somewhere.

Three funerals have come my way as well this week. Two wonderful old souls, whose long rich lives made their passing more acceptable though no less painful, and one just in his mid years, harder to understand, but somehow even more deeply instructive about the thin line between death and life. From the Chandogya Upanishad, a friend this week reminded me of these beautiful words: There is a bridge between time and Eternity. To one who goes over that bridge, the night becomes like unto day; because in the worlds of the Spirit there is a Light, which is everlasting. It is another metaphor for Eternity, a beautiful one, though like the others from sacred literature, a concept which lives beyond my imagination, coming close only when I experience fleeting seconds of knowing that this life, this moment, is as eternal as any to come or as one has been.

And, then, tomorrow the week closes with a wedding, one of the great public acts of institutionalized hope we have in our culture. Extravagant promises will be made, and no amount of negative statistical data will spoil the moment for this lovely young woman and man. One of my great pleasures, honestly beyond my wildest hopes and dreams to have known in my life, has been that during my time at St. Bart's, marriage equality has come to New York and to much of the United States. Sacraments are God's gifts for us all, and knowing that nothing here at least stands between them and any of God's children makes the joy of all new beginnings even sweeter.

Though Scott Peck was indeed right, "life is difficult," it is above all our playground, our blessed and complicated laboratory, for the occasions of love and loss, of longings so deep they leave us breathless, of joys that snap us wide awake from the boredom of the ordinary, of the simple pleasures of good food, good friends, and a beautiful sunrise. At my best I grab it all; and when for some plunge into my own dark corner of one kind or another I can't, then I take comfort in knowing that others are grabbing it for me.


This week our faithful wardens and friends, Anne Rabbino and Peter Kendall, announced the selection of St. Bart's Interim Rector. The Rev. Dr. Bob Dannals, a distinguished colleague and luminary in the church, will preach at St. Bart's for the first time on June 14th. Read the details from the wardens about this wonderful new beginning: A Word from the Wardens.