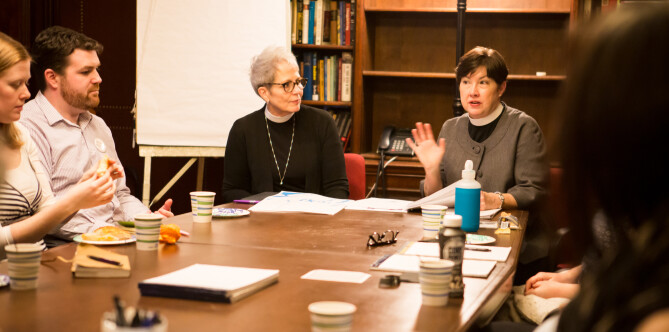 Our mission is to comfort, challenge and inspire a growing community of people in search of meaning and hope in their lives, and one of the avenues we provide to foster this exploration is through our numerous programs, classes, retreats and formation opportunities.
We strive to provide impactful offerings that will not only foster spiritual enrichment and growth, but also provide a basic theological foundation off of which to expand. The below offerings are your open invitation to join us, wherever you might be on your path, and whatever your religious background may be. We welcome all people, all questions, all doubts and all insights. Join us.

For those of you who are looking for a great place to educate your children, we encourage you to check out our Children Youth and Family Ministries as well as The St. Bartholomew Community Preschool.
The Forum
Each Sunday at 10:05 am, we gather for a forum that helps us further connect faith with life. Programs range from clergy teaching and expository Bible study to explorations of theology, social concerns and philosophical questions. Please click here for recordings of past Forums. Sundays, 10:05 am in the Great Hall.

NEW CLASSES FOR FALL 2019
Centering Prayer
Seeking some calm and peace amidst the rush of your daily life? Learn how to connect more deeply with the divine by joining our weekly centering prayer group on Monday evenings. Mondays, 6:30-7:30 PM
Dream Group
Everyone dreams, yet many of us remain puzzled by the dreams we have. For millennia, human beings, including Jews and Christians, have looked to their dreams as messages from God. St. Bart's member Annette Thies (M.A., General Theological Seminary) has been trained to help others find the meaning in their dreams and is eager to nurture a new generation of dreamers through a dream group this fall. The first session will serve as a general introduction to dreamwork, and then those interested in continuing will be invited to commit to the following six sessions. Tuesdays, September 17-October 29, 6:30-8:15 PM
The Church in the Wilderness
The statistical evidence is unequivocal: church attendance and membership have been declining for decades. Is God dead, as Nietzsche once proclaimed? Is the Church approaching oblivion? Or is the Church simply traveling through a wilderness, being transformed into something different? Is a more promising future possible on the other side? Together we'll contemplate the present and future of the Church, using articles, book excerpts, empirical studies, and Professor Larry Welborn's Sunday forums as our guides. Wednesdays, October 2-November 6, 7:00-8:30 PM
The Creed
Almost seventeen hundred years ago, a group of men gathered in the city of Nicea to take the first steps towards composing the Creed that many now consider the foundational statement of Christian belief. But why did make the decisions they did? And how should their decisions be interpreted today? This eight-week series will delve deep into the Nicene Creed and the history behind it, examine other creeds that have been composed over the years, and consider whether creeds still have a place in twenty-first century Christianity.
Suggested reading: The Creed: What Christians Believe and Why it Matters by Luke Timothy Johnson Thursdays, September 26-November 14, 6:30-8:00 PM
Book Group: Everything Happens for a Reason (and other lies I've loved),
Kate Bowler was 35, a new mom, and a successful writer and professor when she was diagnosed with stage 4 colon cancer. Her book Everything Happens for a Reason (and other lies I've loved) chronicles her struggle to reckon with her diagnosis while living in a culture that sees sickness as a sign of failure and avoids death at all costs. After the 5:00 pm Eucharist on Sundays in November, we'll discuss Bowler's book together and reflect on our society's inability to acknowledge how ultimately fragile we all are. Sundays in November (3, 10, 17, 24), 6:00-7:00 PM
ONGOING CLASSES
EXPLORE
Every person who comes to St. Bart's is genuinely and warmly welcomed. But that's just the beginning. If you are considering taking a closer look at joining St. Bart's and/or learning more about the Episcopal and Anglican traditions, join us for EXPLORE—a popular, interactive class with the clergy of St. Bart's. Contact Manny Rodríguez-Leach to register or for more information. Our next EXPLORE series will be Sundays, September 29 - October 20, 2019 from 12:45-2:00 pm. Over four Sundays this summer, Kris Lewis-Theerman and Peter Thompson offer a brief introduction to Christianity, Anglicanism and St. Bart's for newcomers and old-timers alike.
Bible Study
Studying the Bible with others is a meaningful way to deepen your faith and understanding of scripture and Christian theology.
The Bible, The New York Times and You, led by the Reverend Kris Lewis-Theerman, offers thoughtful reflection on the upcoming Sunday Gospel and the day's op-ed pages. Click here for Sunday's reading. Wednesdays 12:45 - 2 pm.

Education For Ministry (EFM)
Are you looking to live into your faith more fully, to have faith connect more deeply with everyday life? Do you ever wonder what God is calling you to do? What can the Bible teach us about the world today? Do you ever wonder what God is calling you to do? If you want to seek answers through study, reflection and community, EfM -- a four-year distance learning certificate program in theological education based upon small-group study and practice -- may be for you. To learn more, listen to an EfM Rector's Forum or contact EfM Mentor Liza Page Nelson.