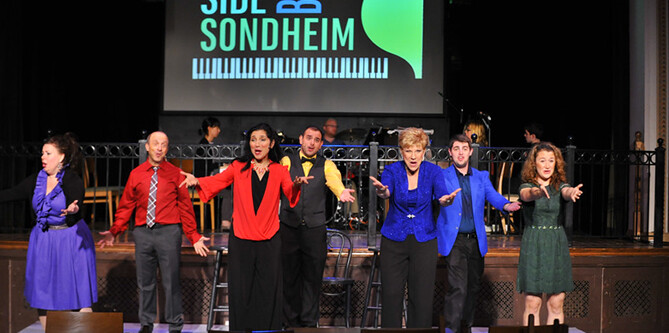 Founded in 1927, the St. Bart's Players are the longest-running community theatre in New York City—enjoying a long tradition of high quality off-off Broadway theatre having been acknowledged by the New York Times as "consistently achieving professional caliber." In 2004, The Players were recognized by the Off-Off Broadway Review (OOBR) with an award for Sustained Achievement Over Time. While The Players employ professional directors, designers and musicians to guide their productions, it is our volunteer membership that does the acting, runs lights and sound, gathers props, sells refreshments, and manages theatre operations.
2017 PERFORMANCE SEASON
Our season runs from January through December, with three "main stage" productions: two musicals and one play. In addition, there are special events and fundraisers sprinkled throughout the season: cabaret revues, murder mystery productions, staged play-readings and more. Our audience is made up of New York theatre-goers—both single-ticket buyers and subscribers, who see an entire season of great shows for one great price! Learn more atstbartsplayers.org
The St. Bart's Players Present


A Little Night Music
MUSIC AND LYRICS BY STEPHEN SONDHEIM
BOOK BY HUGH WHEELER
DIRECTED AND CHOREOGRAPHED BY ALEX PEREZ
MUSIC DIRECTED BY KAREN DRYER
PRODUCED BY TOM SCHRANK AND ALYSSA SOMERS FARLOW
Based on Ingmar Bergman's beloved film Smiles of a Summer Night, the original production of this musical won six Tony Awards, including Best Musical, Best Book and Best Score.
The show will be performed at The Hudson Guild Theatre - 441 W 26th St, New York, NY 10001.
Cast:
Madame Armfeldt - Melissa Broder
Desiree Armfeldt - Merrill Vaughn
Frederika Armfeldt - Heather Burgess
Countess Charlotte - Claire Hayner
Anne Egerman-Taylor Vickers
Henrik Egerman- Michael Trainer
Frederik Egerman- Michael D. DeShields
Count Carl-Magnus- James Neufeld
Petra- Lauren Shakra
Mr. Erlanson/Frid/Page- Kiyan Nourain
Mr. Lindquist/Bertland- Colton Beach
Mrs. Segstrom/Lady- Elisabeth Zimmerman
Mrs. Anderson/Lady- Savannah Lloyd
Mrs. Nordstrom/Mala/Osa- Sarah Catherine Hook
Performance Dates:
Thursday, October 19th at 7:30pm Friday, October 20th at 7:30pm
Saturday, October 21st at 2pm & 7:30pm
Sunday, October 22nd at 2pm
Wednesday, October 25th at 7:30pm*
Thursday, October 26th at 7:30pm
Friday, October 27th at 7:30pm
Saturday, October 28th at 2pm & 7:30pm
Sunday, October 29th at 2pm
Ticket Prices:
$30; students and seniors: $27
*All tickets are $25 for the Wednesday, October 25th performance.
**$50 "A Weekend in the Country" package, including premium seating and one complimentary drink & a concessions snack.
For group rates, please call the box office at 212-378-0248.