LENTEN RESOURCES FOR FAMILIES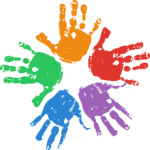 Throughout Lent this year, we are going to be talking about the Five Marks of Love. These are actually from what are called the Anglican Five Marks of Mission. They are Tell, Teach, Tend, Transform and Treasure. On Sunday mornings, our kids and families will be invited to explore each of these themes in Sunday school and in children's chapel. We are going to be doing some fun games, great crafts and will be exploring the Bible and our history to see what these words mean for us now.
What is exciting about this year is that parents and youth are invited to explore these themes in their own way. The Brothers of the Society of St. John the Evangelist (SSJE) are a group of Episcopal Monastics who live in Boston. They have created a daily video series for each day of Lent. An email can be sent to you each morning so that you can watch a quick 3 minute video that may give you insight for the rest of your day. Watch/listen to it on your commute!
To learn more about the 5 Marks of Love and to sign-up for the daily email, go to http://ssje.org/ssje/5marksoflove/