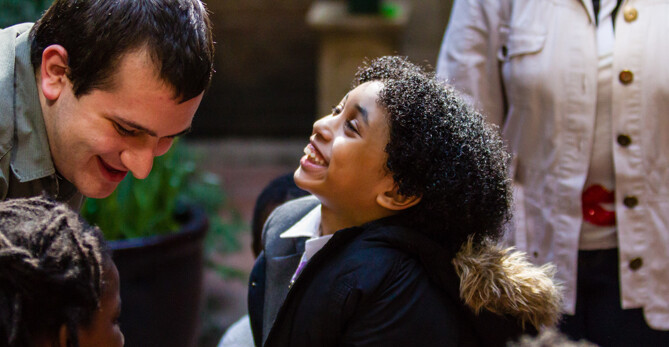 At St. Bart's, we believe that children and youth are the Church today—full members of the community of faith, actively engaged in worship, education, service and fellowship, and in that engagement we are, all of us, continually being formed in our Christian identity. We recognize that children are already in relationship with God who loves them deeply, and we seek to strengthen and deepen that relationship. We understand that questions are often more important than answers, and we encourage youth to wrestle with those questions in a safe, caring environment, acknowledging, in Paul Tillich's words, that "doubt isn't the opposite of faith; it is an element of faith."
We are committed to providing varied and rich experiences in Christian formation throughout the year: inviting and inspiring liturgies, excellent and engaging curricula taught by dedicated teachers, opportunities for meaningful and age-appropriate outreach, fellowship with other families and members of the St. Bart's community, and wonderful music and arts-infused events. We invite you to explore our programs below, and if you have questions or would like more information about any of our offerings, please email Patrick Bergquist, Director of Children, Youth and Family Ministries.

Sunday School
At 10 am, September through May, children from preschool through fifth grade gather with their parents on the 4th floor of the Community House. There, kids will be checked in by our welcoming staff. Once checked in, parents are invited to attend the Rector's Forum in the Café. Kids will have the opportunity to play, engage with great stories from the Scriptures, and have fun with our excellent teachers. Parents/Guardians pick up their children in the classrooms at 10:50 am.
Youth at the Center
Also at 10 am, youth in sixth through twelfth grade meet in room 44 (Community House) to explore how their faith and their lives intersect in conversation, creative activities, and community outreach. Many of our youth have also found that they enjoy serving as acolytes and even vergers during the 9 am service. If this is something that is of interest to you, please email Patrick Bergquist!
Children's Chapel
At 11 am, children are invited to the chapel following the gospel at the 11 am service for age-appropriate reflection, music and prayers during the sermon. They return to the church in the offertory procession and join their families for communion.
CYF Events
Throughout the year, CYF hosts several events for our families. From special lunches after church to swim parties on a Friday night to gatherings just for the parents, we try to connect with each other in multiple ways. If you want more information about our special programming, make sure you are on our e-blast list by emailing Patrick Bergquist.
Childcare
We offer a childcare ministry for infants through five year olds during the 9 and 11 am worship services as well as during the 10 am Education Hour every Sunday. Open to parishioners and visitors alike, childcare is offered in a spacious and colorful classroom on the fifth floor of the Community House. You are welcome to take your little one to childcare at any point during the service you attend. Just ask an usher to point the way to the elevators, then turn right when you arrive.

Youth Confirmation
Confirmation classes are open to all youth ages 13 and older. The only commitment we ask the youth to make when they register is to participate in all the classes. The decision of whether or not to be confirmed comes later and is up to each individual.
Parking and Transportation Information
Questions? Please email Patrick Bergquist, Director of Children, Youth and Family Ministries.