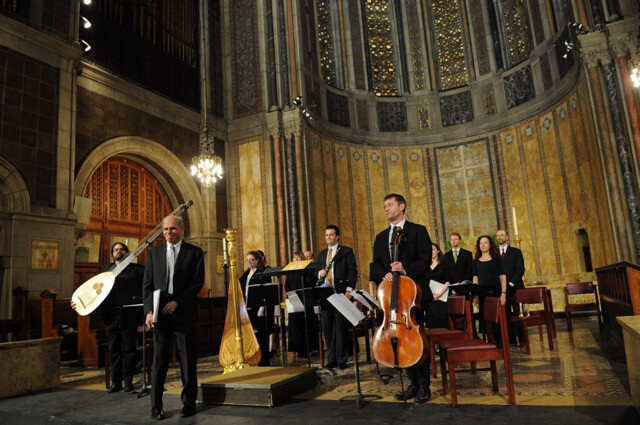 View the Great Music 2015-16 Concert Listings
From A Joyous Christmas Concert with choirs and orchestra, to New York's only organ concert to ring in the New Year, Great Music at St. Bart's offers you a lavish musical feast all year long. Experience two of Handel's greatest oratorios in one season. Travel to the 17th and 18th centuries and hear some of the world's compelling early music in a free weekday series in the intimacy of the chapel throughout the year. Richness and diversity are the hallmarks of this compelling series of concerts.
Great Music is produced by the Mid-Manhattan Performing Arts Foundation (MMPAF), an independent 501(c)(3) corporation established to cultivate, promote, sponsor and develop the understanding and love of the performing arts as presented at St. Bartholomew's Church, a treasured masterpiece of architecture on the east side of Manhattan's midtown, now elegantly outfitted with comfortable cathedral chairs enabling the utmost variety in flexible seating. The corporation sponsors performances of music, dance, drama and other performing arts as well as the exhibition of works in the film and fine arts genre. Welcome to St. Bart's and our 2015-2016 season of great music!
BECOME A FRIEND OF GREAT MUSIC
We invite you to become a member of the Great Friends of Music Guild, which plays a critical role in sustaining Great Music at St. Bart's. These concerts are funded through ticket sales, by your generous contributions, and by corporations and foundations through the Mid-Manhattan Performing Arts Foundation.
MEMBERSHIP LEVELS
Supporter $50
Friend $100
Donor $250
Patron $500
Benefactor $1,000
Sponsor $1,500
Guarantor $2,500
Mail your payment (made out to the Mid-Manhattan Performing Arts Foundation) to: The Box Office St. Bartholomew's Church, 325 Park Avenue, New York, NY 10022. You may also call the Box Office at 212-378-0248 or go online to www.mmpaf.org to begin your membership.
All members of the Great Friends of Music Guild are listed in concert programs and are invited to special events throughout the year.
BE AN ANGEL: This ticket price category underwrites a portion of the cost of Great Music concerts and keeps ticket prices low. So, be an angel and help bring great music to all.