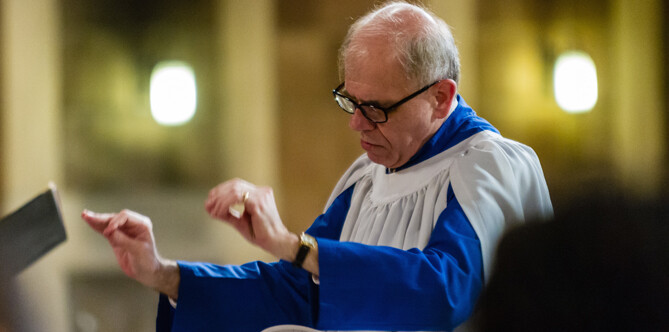 APRIL 30, 2017: THE THIRD SUNDAY OF EASTER

In Luke's Gospel, read today, we hear the story of Jesus encountering the disciples on the road to Emmaus. The disciples, not knowing it was the risen Christ, invite Jesus to "Stay with us, because it is almost evening and the day is now nearly over."
At 11 am, St. Bartholomew's Choir will sing a setting of those disciples' words by Joseph Rheinberger, entitled Abendlied. Rheinberger was one of the most celebrated composers of sacred choral music of the late 19th century, composing 12 Masses, a Stabat Mater and a Requiem as well as many motets. Although born in the tiny country of Liechtenstein, he spent his professional life as Professor of Piano and Composition and the Munich Conservatory.
Luke's Gospel continues with Jesus' blessing and breaking of the bread, at which point, the disciples recognize the stranger to be Jesus. At all services, George Wallace Briggs' beautiful hymn "Come, risen Lord and deign to be our guest," a reflection on the Emmaus story, will be sung at all services with the hymn tune entitled Nova Sacerdos,(New Priest) composed by our Director of Music and Organist, for the Ordination and First Eucharist of The Rev. Mary Haddad in 2001.
Click here for full Sunday service information.