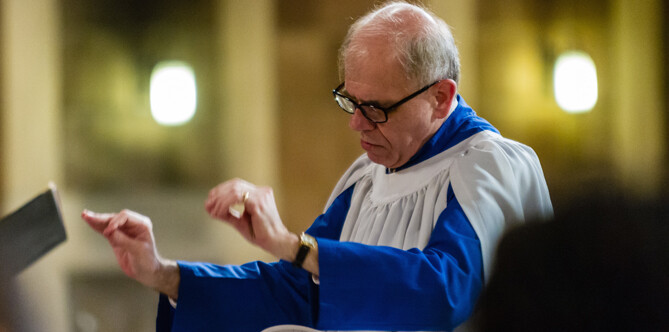 MARCH 25, 2018
THE SUNDAY OF THE PASSION: PALM SUNDAY

Our offertory anthem at both 9 and 11 this Palm Sunday is the motet "Crux fidelis" by Jean Roger-Ducasse. Roger-Ducasse was a close friend and student of Gabriel Fauré, and succeeded him as professor of composition at the Paris Conservatoire in 1935. He is noted for his colorful orchestration in the French style of Camille Saint-Saëns and Hector Berlioz. "Crux Fidelis" makes use of a soprano soloist and is full of varied choral textures. It also features an extended harmonic vocabulary with added sevenths and ninths and chromatic movement in many of the voice parts.
At communion we will hear Tomás Luis de Victoria's setting of "O vos omnes," a text from Lamentations 1:12 which was often used during Tenebrae on Holy Saturday. It is full of vivid text painting and harmonic suspensions, conveying the pathos of these words.
Click here for full Sunday service information.