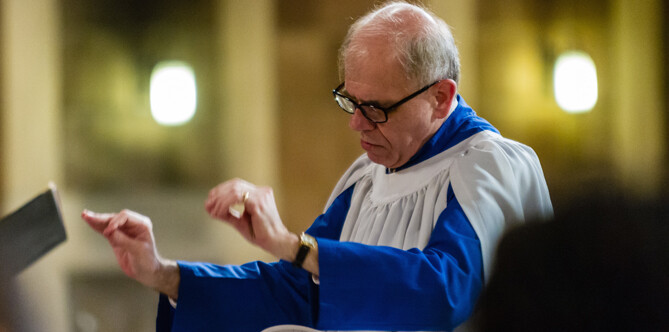 NOVEMBER 26, 2017:
THE LAST SUNDAY AFTER PENTECOST

The Last Sunday after Pentecost is the final Sunday of the liturgical year and is often referred to as "Christ the King," since today's readings depict Jesus in a position of great power in heaven. While the epistle to the Ephesians refers to "the immeasurable greatness of his power" above all rule and authority, Matthew's Gospel places Jesus on the throne of his glory, separating the sheep from the goats and commanding those on his right hand (the sheep) to "inherit the kingdom."
Much of the music chosen today stress the "kingship" of God and Christ, including the hymn "Glorify your name" and anthem "My joy, my life, my crown," Bruce Montgomery's setting of a poem by the 17th century mystic writer, George Herbert, sung at 9 am.
This morning at 11 am, Morning Prayer, which includes sung settings of the canticles and psalm, serves as the Liturgy of the Word. St. Bartholomew's Choir will sing settings of the Magnificat and Nunc Dimittis, taken from the "Collegium Regale" service of Herbert Howells (1892-1982). Howells composed his liturgical music with specific choirs and buildings in mind, and this setting is intended for the choir of King's College, Cambridge. Considered the pinnacle of English Romanticism, Howells studied at the Royal College of Music in London with Charles Villiers Stanford, C. Hubert H. Parry and Charles Wood; three of the most influential English teachers and composers of in the early 20th century.
Click here for full Sunday service information.