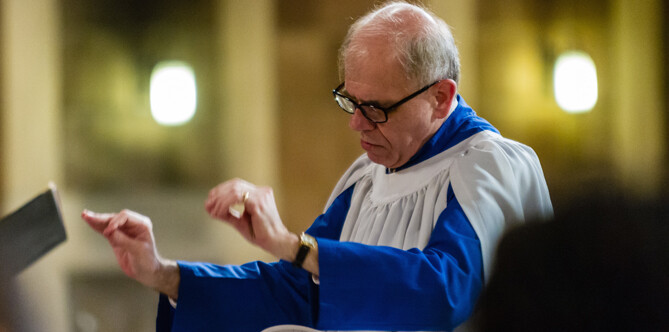 NOVEMBER 18, 2018: THE TWENTY-SIXTH SUNDAY AFTER PENTECOST

At 9 am St. Bart's Singers offer the serenely beautiful "Grant Us Thy Peace" by Felix Mendelssohn. The 11 am service includes Louis Vierne's Messe Solenelle (Solemn Mass), composed in 1899 for the choir and magnificent Cavaillé-Coll organs of St. Sulpice in Paris. St. Sulpice looms large in the history of French Catholicism, and the scale of Vierne's Mass matched the grandeur of the church's architecture and the great ceremony with which the liturgy was celebrated there.

The work combines the two organs usually heard in the larger Parisian churches: the small Orgue de Choeur near the choir and, at the opposite end of the nave, often a considerable distance away, the Grand Orgue. Vierne's Mass was first performed with the composer at the choir organ and his teacher, Charles-Marie Widor, playing the great organ. In 1900 Vierne became organist of Notre-Dame, where he served until his death in 1937.
Click here for full Sunday service information.