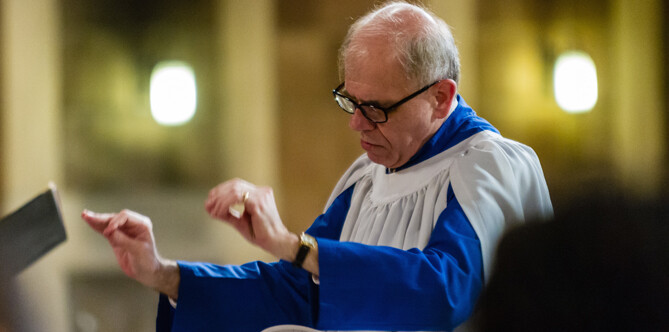 DECEMBER 16, 2018: THE THIRD SUNDAY OF ADVENT

The anonymous sixteenth-century anthem "Rejoice in the Lord alway," heard at our 9 am service this Sunday, is a setting of the fourth chapter of Paul's letter to the Philippians. The only known source for this anthem is the Mulliner Book, which is held in the British Library and contains mostly keyboard music by composers such as Thomas Tallis and John Redford. The music alternates between imitative and homophonic passages, and is a sensitive and joyful setting of the text.
Harold Darke, the composer of the Mass setting at our 11 am service, was organist for many years at St. Michael's, Cornhill, in the City of London. He is known for establishing the world's longest-running organ recital series, which began in 1916. Perhaps his most famous piece is a setting of "In the Bleak Midwinter," which is often featured at carol services. His three communion services are both practical (because they are short) and very beautiful, and have become a staple of the Anglican repertoire.
Click here for full Sunday service information.