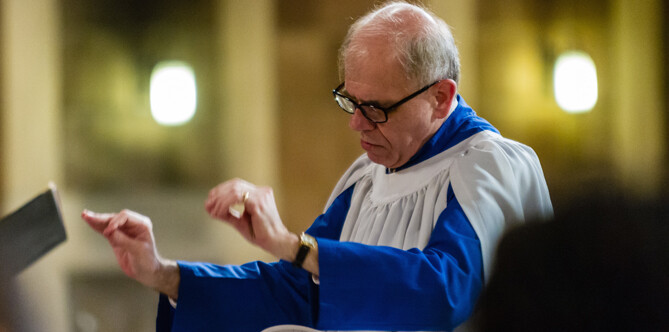 SUNDAY, APRIL 2, 2017
THE FIFTH SUNDAY SUNDAY IN LENT

John's Gospel, read today, relates the story of Jesus' raising of Lazarus from the dead. We read that, when Jesus heard that Lazarus had died, he wept. To underscore this at 9 am, St. Bart's Singers will sing William Billings' "When Jesus wept," a canon in 4 parts, which first appeared in print in 1770 in Billings' The New England Psalm Singer. Billings was one of the most important and most prolific composers of the last third of the eighteenth century in the US. A tanner by profession, he organized and conducted singing schools in Boston and its surrounding towns. His most important and popular collection was The Singing Master's Assistant, which first appeared in 1778 and went through four editions.

At both services, choirs and congregation will sing William Trafka's Mass for St. Bartholomew's, which he composed while on a sabbatical in 2004. Each movement of the mass begins with the interval of a fifth, a unifying element throughout the mass. The mass employs Greek, Latin and English, liturgical languages of the Church. The mass is dedicated to the memory of Bill's mother, who died in 2003.
Click here for full Sunday service information.