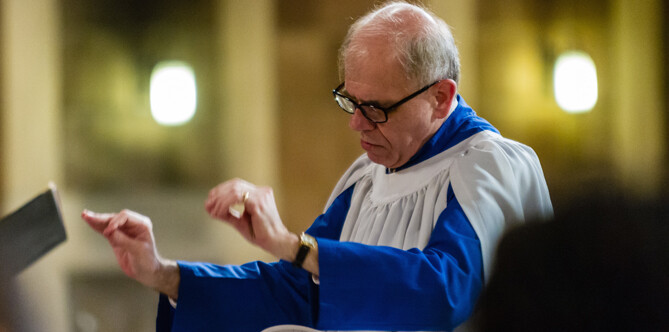 MAY 27, 2018
THE FIRST SUNDAY AFTER PENTECOST: TRINITY SUNDAY

This Sunday we celebrate the doctrine of the Trinity, and our choirs will offer canticles that celebrate the three persons of God.
St. Bart's Singers will sing Healy Willan's setting of the canticle Benedictus es, Domine at 9 am. The text is from an apocryphal insertion into the book of Daniel, in which three young men are thrown into a fiery furnace for refusing to worship an idol. When God saves them from the fire, they offer this song of praise.
At 11, St. Bartholomew's Choir will sing Ralph Vaughn Williams' setting of the Te Deum in G major. The Te Deum is a hymn from the fourth century, sometimes attributed to St. Ambrose or St. Augustine. It begins with a roll call of heaven, listing the various kinds of Angels, Martyrs and Prophets; and proceeds to recount the basic tenets of Christianity, including the doctrine of the Trinity. It concludes with prayers for guidance and mercy. These words are traditionally sung at Matins, a daily morning service still sung in many monasteries.
Click here for full Sunday service information.