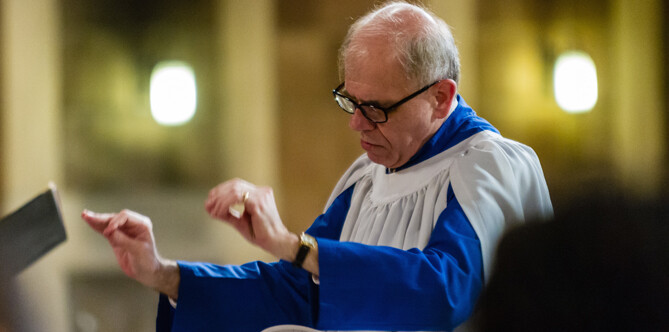 OCTOBER 22, 2017: THE TWENTIETH SUNDAY AFTER PENTECOST

This Sunday at 9 am, St. Bart's Singers will offer Hans Leo Hassler's "Cantate Domino." Although a Protestant, Hassler spent most of his life in the service of German patrons who were Catholic;, and this piece is a setting of the traditional Catholic introit for the Fourth Sunday after Easter. Hassler was highly influenced by his teacher, Andrea Gabrieli, and is credited with bringing the colorful Italian Renaissance style of composition to Germany.
At 11 am, St. Bartholomew's Choir will sing a mass setting by Orlando de Lasso (c. 1532-1594). Lasso was the finest Flemish (what is now Belgium and the Netherlands) composer of the sixteenth century. The Missa Il me suffit is a parody mass in which Lasso uses the love song "Il me suffit" for melodic inspiration. The opening section of the Kyrie quotes the song almost note-for-note. In the Agnus Dei, the sopranos sing the melody in long notes while the other voices add decorative counterpoint.
Click here for full Sunday service information.