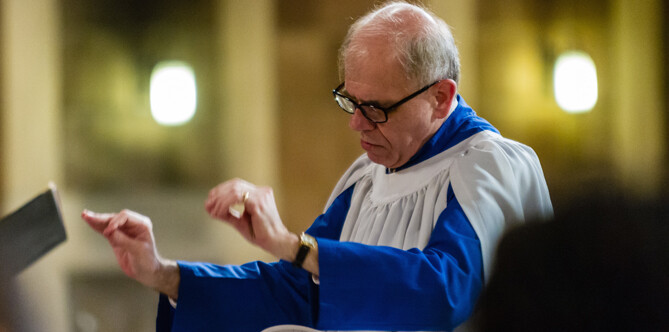 MAY 28, 2017: THE SEVENTH SUNDAY OF EASTER

This Sunday we celebrate the Sunday after the feast of the Ascension, Ascension Day having been observed on the previous Thursday.
Ralph Vaughan Williams' "O clap your hands," a setting of Psalm 47 appointed for Ascension Day, will be sung at 11 am by St. Bartholomew's Choir. It depicts the majesty and grandeur of Christ's entrance into the heavenly kingdom.
The Mass setting at our 11 am service is by Tomás Luis de Victoria, a sixteenth century Spanish composer who spent much of his working life in Rome. In 1572, Victoria published the Ascension motet "Ascendens Christus in altum," a setting of a text taken from the Matins service for the feast of the Ascension. Twenty years later, he composed a mass setting based on themes from his motet: a "parody" mass. Victoria maintains the joyousness and brilliance of his earlier motet making it especially appropriate for this festive day.

At 9 am, St. Bart's Singers will sing Bruce Montgomery's "My joy, my life, my crown!" This is a setting of a poem by George Herbert, one of the most skilful and important devotional lyricists in the English language. The title of the poem alludes to the kingship of Christ.
Click here for full Sunday service information.