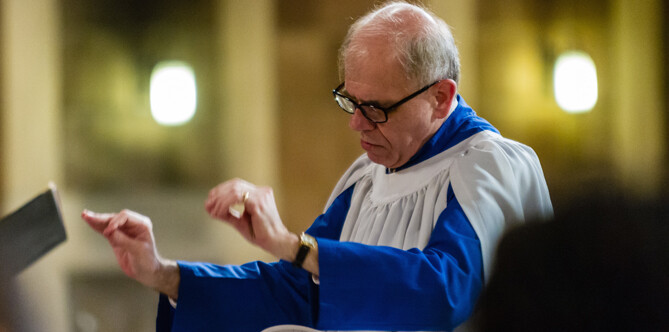 MARCH 18, 2018: THE FIFTH SUNDAY IN LENT

At both the 9 am and 11 am services this Sunday, the choirs will sing movements from Hans Leo Hassler's Missa Secunda. Hassler (1564-1612) was one of the first German composers to travel to Venice to study the resplendent polychoral style, which flourished during this time, particularly at the Church of San Marco. After the death of Andrea Gabrieli, his teacher, Hassler moved back to Germany in 1685, and served as an organist to the nobleman Octavian II in Augsburg, where he composed many of his masses, including the Missa Secunda heard this morning.

Hassler eventually moved to Dresden to become Kapellmeister to the Elector Christian II of Saxony, one of the most prestigious posts in Europe, a position he held until his death. He was succeeded by both Michael Praetorius and Heinrich Schütz, both also products of the Venetian School.

Although his Missa Secunda was composed in four voices, Hassler achieves polychoral antiphonal effects, particularly with imaginative use of rhythmic imitative writing and changes of meters.
Click here for full Sunday service information.