PRIDE MONTH EVENTS AT ST. BART'S – JUNE 2019
To honor the 50th Anniversary of Stonewall, and in the spirit of the 2019 World Pride festivities throughout New York City, St. Bart's is offering a variety of educational and spiritual formation opportunities for the parish, the community, and the city to participate in celebrating Pride.
Saturday, June 1, at 6 pm (Church)
Empire City Men's Chorus 25th Anniversary Concert. Sponsored by MMPAF of St. Bart's. Purchase tickets.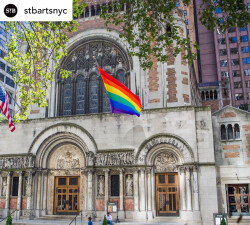 Sunday, June 2, at 5 pm (Chapel)
Pride Eucharist
In gratitude for the courage of all who made a stand for LGBTQ+ rights, in memory of all who died in the struggle, and in hope for a future of growing LGBTQ+ equity, we will celebrate a Pride Eucharist, including the blessing of St. Bart's Pride Flag. A reception will follow in the west end of the church.
Clothing Drive for Translatinx Network – St. Bart's Central


Your used clothes can be given new life as part of a gender-affirming clothing drive sponsored by the LGBTQ+ Community of St. Bart's. Thanks to a recent partnership with Translatinx Network (TN), you can drop off items from June 2nd through the 23rd at St. Bart's. New Yorkers of trans experience feel liberated by expressing their true selves, but often struggle with the cost of clothing which reflects their gender. This is especially true of clients served by TN, many of whom have fled persecution in their hometown or country of origin, and have arrived in NYC with little more than the clothes on their backs. Your donation of clean, gently used clothing of any gender expression, accessories, or shoes will be made available to clients at no cost. (Please no used socks or underwear, but yes to shoes, especially in larger feminine styles, as well as earrings, bracelets, or other accessories). There will be a drop-off box at St. Bart's Central through Sunday June 23rd.
Saturday, June 8, at 11 am (Chapel)
Gender Diversity and Our Faith: From Genesis to Justice
Have you ever heard someone say that it's not possible to be transgender and be a Christian? Maybe you feel confident talking about lesbian, gay, and bisexual identities, but the word "nonbinary" is new to you, and you're not sure how to wrangle those unfamiliar pronouns? Join author Austen Hartke to learn about the gender diversity that exists in our sacred texts, hear the stories of transgender Christians who are bringing faith to life today, and find out what steps our church can take to truly become a house of prayer for all people. Following the presentation is a luncheon in the Cloister and Garden.
Sunday, June 16, at 10 am (Great Hall)
Forum – Love and Resistance: Stonewall After 50 Years
The 2019 World Pride celebration in New York City marks the fiftieth an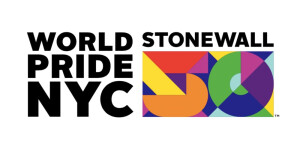 niversary of the Stonewall riots, the demonstrations in Greenwich Village that paved the way for more recent advances in LGBTQ+ equity nationally and worldwide. Jason Baumann, the curator of a Stonewall exhibit at the New York Public Library and the editor of two books on the riots, reflects on the defining events of the summer of 1969 and how they might inform our ongoing struggle for justice.
Monday, June 17, from 6 to 9 pm (The Great Terrace at St. Bart's)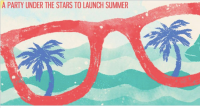 A Party Under the Stars to Launch Summer, hosted by the Island Club of St. Bart's, a non-sectarian LGBTQ+ social organization. Free admission. Cash bar.


Sunday, June 23, at 10 am (Great Hall)
Forum – Beyond the Binary: Understanding Trans and Gender Nonconforming Identities
There have been dramatic advances in LGBTQ+ equity over the past few decades, but not all LGBTQ+ people have experienced that progress to the same extent. Trans and gender nonconforming individuals still face discrimination and violence at alarmingly high rates, and a tremendous amount of confusion about trans and gender nonconforming people persists. Olive Daddi and Nicole Teyucaof Translatinx Network, the beneficiary of a St. Bart's clothing drive, offers a basic introduction to gender identity and shares insight into the struggles faced by trans and gender nonconforming communities.
Thursday, June 27, from 7 to 9 pm (Church)
LGBTQ+ Activism in the Church: Past and Future
Join us for a conversation between The Right Reverend Mary Glasspool, Bishop Assistant of New York, and The Reverend Jerry R. Anderson, author of Ordained by Angels, as we celebrate the history and impact of LGBTQ+ activism in the church and explore its future in the 21st Century. Following will be a reception in the west end of the church. RSVP's help us plan and are most appreciated. Walk-ins will be warmly welcomed.
9 and 11 am services (Church)
Guest preacher, The Reverend Canon Jerry R. Anderson, author of Ordained by Angels.

10 am Forum (Great Hall)
Ordained by Angels: The Life and Ministry of an AIDS Chaplain
The Reverend Canon Jerry Anderson was an openly gay Episcopal priest serving in Washington, DC when the AIDS crisis struck in the early 1980s. As his partner and countless friends died, he committed himself to caring for all those suffering from the disease. On the day that New York City celebrates Global Pride, Jerry talks with Susan Anderson-Smith about the past thirty-five years of ministering to AIDS patients as the illness itself has changed. How did he carry on in the midst of such immense injustice, pain and loss? How has the landscape changed for both HIV/AIDS and for the gay men that were so disproportionately affected by it? What role does the Church still have in issues of LGBTQ+ justice and equity?


11: 00 am Holy Eurcharist with A Choral Feast: Pride on Park
To mark the fiftieth anniversary year of the Stonewall uprising, the catalyst for the Gay Rights movement in the US and throughout the world, this Sunday features hymns, choral & organ repertoire by LGBTQ+ composers with a strong connection to New York City. These include Calvin Hampton, John Corigliano, David Hurd, William Trafka, Leonard Bernstein, and Aaron Copland among others.


12:30 pm (Terrace): Pride BBQ sponsored by the LGBTQ+ Community of St. Bart's Join the St. Bart's LGBTQ+ Community for a fabulous Pride BBQ on the 3rd floor terrace off room 33 of the Community House. The BBQ will be followed by a showing of the PBS special Stonewall Uprising at 2 pm. Later in the afternoon, we will take our place in line for the city-wide Pride March commemorating the 50th Anniversary of Stonewall. RSVPs help us plan and are greatly appreciated -- please note we are nearing capacity for the BBQ so please RSVP online here, or at St. Bart's Central in the lobby or by phone at 212-378-0222.


4 pm NYC Pride March (marching with the Episcopal Diocese of New York as assigned by march organizers)

We are gathering at 32nd Street between Madison and Park -- Section 8, Order #29. All are welcome to march with us!