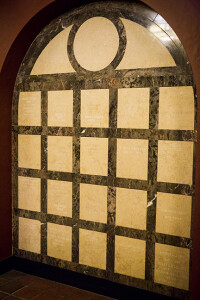 St. Bartholomew's Memorial Chapel and Columbarium is a sacred space which includes a collection of niches, each designed to house a loved one's cremated remains.
Having reached capacity in our current niches, we have embarked upon a project to construct 30 new niches. Each will be approximately the same size as existing burial niches, which may contain the cremains of up to three parishioners.
While the first 15 applicants for these new niches are eligible to receive our current pricing of $7,500 per niche; only three remain and are available on a "first come, first served" basis. Full payment guarantees a space. Future spaces will be priced according to prevailing market rates as determined by St. Bartholomew's Church.
For more details on purchasing a niche, please contact Meighan Corbett, (212) 378-0278.