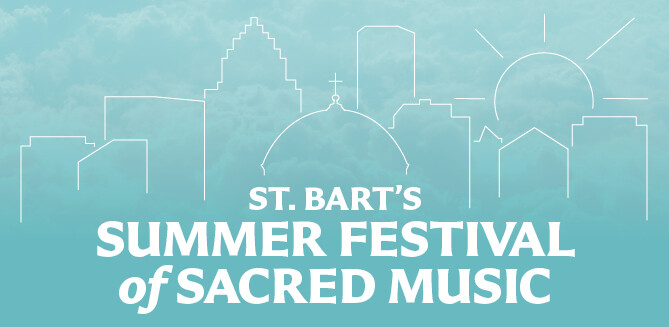 The 22nd season of St. Bartholomew's Summer Festival of Sacred Music, a New York institution, offers outstanding sacred choral works from around the world, sung by St. Bartholomew's Choir, the Boy and Girl Choristers and St. Bart's Singers.Each Sunday begins with an organ voluntary at 10:50 am. The day's choral work is then presented within the context of St. Bart's 11 am service.
This series is free and open to the public — A gift supported entirely by your donations.



Donate to Summer Music
2016 SCHEDULE
_____________________________________________________________________________
Sundays at 11 am, June 26 - September 18
SUNDAY, JUNE 26
VIENNESE GRACE ON PARK AVE.
Franz Peter Schubert's Messe in C, D. 452 with an orchestra of period instruments
SUNDAY, JULY 3
A CELEBRATION OF AMERICAN MUSIC
Leonard Bernstein's Chichester Psalms with instruments and works by McNeil Robinson and Virgil Thomson
SUNDAY, JULY 10
THE PINNACLE OF THE ENGLISH RENAISSANCE
William Byrd's Mass for Four Voices, Ave verum corpus and Cibavit eos
SUNDAY, JULY 17
A SLAVONIC GIANT
Leoš Janáček's Mass in E flat for choir and organ
SUNDAY, JULY 24
MORNING PRAYER AND HOLY EUCHARIST
ICONS OF ANGLICAN REPERTOIRE
Charles Villiers Stanford's Morning Canticles in B flat, C. Hubert H. Parry's I was glad and Edgar Bainton's And I saw a new heaven
SUNDAY, JULY 31
A FLEMISH MASTER OF THE HIGH RENAISSANCE
Josquin des Prez's Missa L'Homme armé and Ave Maria
SUNDAY, AUGUST 7
PARISIAN CHARM AND URBANITY
Gabriel Fauré's Messe Basse, Cantique de Jean Racine and Tantum ergo for women's voices and organ
SUNDAY, AUGUST 14
GERMAN MASTERS OF THE RENAISSANCE
Hans Leo Hassler's Missa Secunda, Gregor Aichinger's Regina caeli and Michael Praetorius' Salve Rex noster
SUNDAY, AUGUST 21
NEOPOLITAN AND VENETIAN PIONEERS
Giovanni Gabrieli's Missa in F and Marian motets by Carlo Gesualdo
SUNDAY, AUGUST 28
OUR AFRICAN AND AMERICAN HERITAGE
The Congolese Missa Luba with authentic percussion, Arnold Sevier's Precious Lord and Moses Hogan's Abide with me
SUNDAY, SEPTEMBER 4
THE NOBILITY OF GERMAN ROMANTICISM
Joseph Gabriel Rheinberger's Missa in F for men's voices and organ
SUNDAY, SEPTEMBER 11
A FIFTEENTH ANNIVERSARY OBSERVANCE OF 9/11
Music from Maurice Duruflé's Requiem, Op. 9 with St. Bartholomew's Choir, St. Bart's Singers and the Boy and Girl Choristers and orchestra. David Conte's September Sun, commissioned by St. Bartholomew's for the first anniversary of 9/11, will be offered at 10:45 am
SUNDAY, SEPTEMBER 18
MUSIC FOR CHILDREN'S VOICES
St. Bartholomew's Boy and Girl Choristers offer Michael Haydn's St. Leopold Mass accompanied by organ and continuo.
FREE SUMMER CONCERTS IN THE CHURCH
FRIDAY, JUNE 24 AT 12:30 PM
The choir of the Cathedral Church of the Advent, Birmingham, AL. Director: Frederick T. Teardo, D.M.A. Works of Bairstow, Bruckner, Hancock, Rheinberger, and Thompson