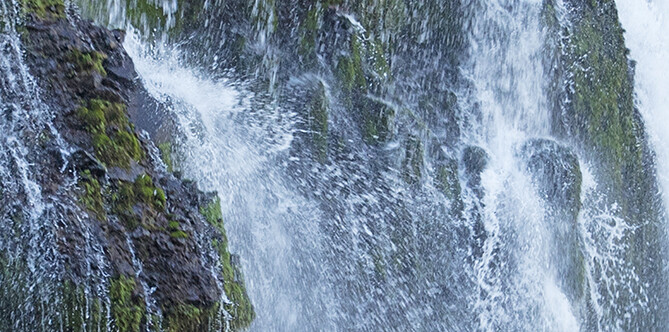 detail of "Wellspring", photography installation, 2019
Wellspring
by Sukey Bryan
"Wellspring", photography, ink on tyvek, 4 interior banners of 2x22' and 2 exterior banners of 2x32', 2019
"Wellspring" is an installation of 6 large scale banners of flowing waterfalls installed on the interior and exterior of St. Bart's by California environmental artist, Sukey Bryan, will celebrate Easter and Earth Day. This work is the cornerstone of the Resurrecting Earth Series at St. Bart's.
Artist's Statement
I work with images that explore the interactions and transformations of natural elements propelled by earth forces. The simultaneously regenerative and destructive cycles of nature evoke awe and exultation in their beauty and complexity.
"Wellspring" is designed for St. Bart's using photographs of the spectacular and geologically unusual California waterfall, Burney Falls, which flows both with seasonal rainwater collected by a river and the constant year round source of underground water that seeps and pours out of the cliff face. The installation celebrates the beauty, movement and miracle of life giving water.
I am interested in the resonance between the cycles and elements of nature and the human experience and the various ways the promise of life is fulfilled. Nature, it turns out, is both more delicate and our dependence more profound than we have previously been aware. As millions of people every day find ways large and small to stop global warming trends and protect our environment, I hope my work will be a part of that relentless hope and dedication. Seeing ourselves in nature and nature in us, I strive in my artwork to bring us in close.
About Sukey Bryan
Sukey Bryan makes paintings, prints, and installations exploring the cycles and elements of nature. Bryan graduated from Yale with a B.A. with majors in Art and English and from The Maryland Institute of Art with an M.F.A. She received an Individual Artist Fellowship from the National Endowment of the Arts and a grant from the Maryland State Arts Council. Through an artist-residency in Denali National Park, she created over 100 works concerning the Alaskan glacier system. Bryan was the artist-in-residence at Grace Cathedral, San Francisco in 2018 making large-scale installations and community projects concerning climate change beginning at Earth Day and culminating in the Global Climate Action Summit. Bryan's work has been widely exhibited and collected internationally including in four U.S. Embassies. She lives and works in Stanford, California.