A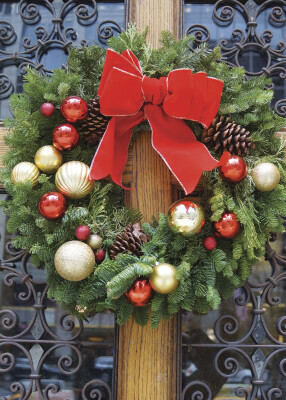 dvent and Christmas are wonderful seasons at St. Bart's, with beautiful music and services for all ages. As a designated New York City landmark, located conveniently in midtown Manhattan close to most all major hotels, St. Bart's is a perfect place to celebrate. We are a welcoming parish, open to all. Please join us during this festive season. Questions? Contact St. Bart's Central at 212-378-0222 or .
ADVENT SCHEDULE

CENTERING PRAYER FOR ADVENT
Advent is a time of preparation for the birth of Christ and a time of reflection. Parishioner Kathleen Breiten teaches and encourages you in this ancient contemplative practice. All are welcome. Enter at 109 East 50th Street.
Mondays 6:30 - 7:30pm, November 26 - December 17
Saturday Workshop: December 1, 10 am to 3 pm
ADVENT 1: Sunday, December 2, 2018

Eucharist at 8 am, 9 am, and 11 am *†

10 am Advent Fair for All Ages *†

5 pm Advent Lessons and Carols * The beautiful prophesies of the coming of Christ will be read alternating with splendid Advent carols and anthems. A festive reception will follow the service.
5:45 pm Midtown Carol Sing-Along on St. Bart's front steps; warm up with hot chocolate, cider and cookies inside the church afterwards
Eucharist at 8 am, 9 am, 11 am, and 5 pm *† (childcare except 5 pm)
7:30 pm Joyous Christmas Concert. Tickets and info here.
7:30 pm Adoration of The Magi Concert in the Chapel. Click here for tickets.
ADVENT 3: Sunday, December 16

Eucharist at 8 am, 9 am, 11 am, and 5 pm *† (childcare except 5 pm)
ADVENT 4: Sunday, December 23
Eucharist at 8 am, 9 am, 11 am, and 5 pm *† (childcare except 5 pm)
CHRISTMAS EVE: Monday, December 24

12:30 pm A Quiet Christmas Eucharist (in the Chapel) *†
4 pm: Christmas Pageant and Festival Eucharist *†

7 pm: The "Christ-Mass" Festival Eucharist *†

11pm: The "Christ-Mass" Festival Eucharist (with incense) †
CHRISTMAS DAY: Tuesday, December 25

11 am: Christmas Day Choral Eucharist
New Years Eve: Monday, December 31
11 pm A Concert to Usher in the New Year
Paolo Bordignon, organist
Ring in the new year with a fun & festive concert at 11 pm, followed by a champagne reception at midnight. Hear music from Bach and Mozart to Johann Strauss Sr. and see it played with the console out front-and-center. St. Bartholomew's is known around the world as home to one of the world's (and NYC's) largest pipe organs, with its thrilling chorus of 12,422 pipes and the recently-restored Celestial division housed in the dome. Admission is free; no tickets or reservations are necessary. There will be a champagne reception afterwards.


† Services marked with a † include free parking at the Doubletree Hotel Garage: 136 E. 51st Street. Voucher required. See instructions.
* Services marked with an asterisk offer free childcare.