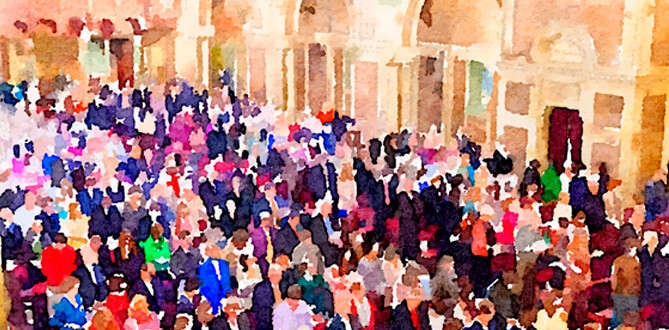 Holy Week Worship Schedule
Easter Day Schedule
Holy Week begins April 9th with Palm Sunday and continues through Saturday morning, April 15th. It is the final week in Lent, and also the week leading up to Easter. (Easter will begin on Saturday evening, April 15th with the Easter Vigil, followed by Easter Day services on the 16th.)
Holy Week tells a powerful story of change—a story that continues to change the world, and to change people's lives.
It's possible to fast-forward to the great celebration of Easter and hear only the story of joy that came on that resurrection morning. But the impact, indeed the change, will be deeper and more powerful if you walk with us through these holy days.
Begin with the power of the Passion Drama on Palm Sunday. Each weekday has a particular focus. Join the disciples gathered for the last supper on Maundy Thursday and discover something about what it means to serve. Answer for yourself what is "good" about Good Friday. Experience the profound shift from dark to light at the Great Vigil on Easter Eve and catch the first rays of hope on Easter Day.
We offer a guide to this week as a way to encourage you to find your own path through these important days. Eternal themes of death and life, sorrow and joy, and hope and resurrection are heard in these liturgies more powerfully than at any other time of the year.
Year after year, Holy Week deeply moves us; it is emotionally and theologically complex and, yet, simple and marked by profound honesty. Though it is beyond a doubt a full week, its measured pace helps to absorb the intense meaning of the events being celebrated.
There is no one simple, or authorized, meaning to the suffering and death of Jesus. But there is a depth most of us have not begun to plumb. What is truth beyond doubt is that the Passion of Christ resides at the center of our lives as Christians.
PALM SUNDAY, APRIL 9 †
Liturgy of the Palms and Passion
8 am and 5 pm: Eucharist
9 am and 11 am: Choral Eucharist*

MONDAY - WEDNESDAY, APRIL 10-12
8 am and 12:05 pm: Eucharist
5:30 pm: Evening Prayer
Wednesday 6 pm: Community Eucharist

MAUNDY THURSDAY, APRIL 13
8 am and 12:05 pm: Eucharist
5:30 pm: Evening Prayer
6 pm: Choral Eucharist, Foot-Washing and Stripping of the Altar

GOOD FRIDAY, APRIL 14
8 am: Good Friday Liturgy
12 - 3 pm: The Seven Last Words
3:15 pm: Confessions - The Rite of Reconciliation
4 pm: Family Service
5:30 pm: Evening Prayer
6 pm: Stations of the Cross through Readings and Music

HOLY SATURDAY, APRIL 15
10 am: Holy Saturday Liturgy in the Chapel
4 pm: Baptisms†
7 pm: Easter Vigil (with incense), festive reception following*†

EASTER DAY, SUNDAY, APRIL 16 †
Music for Easter Day
Prix fixe brunch at Inside Park
8 am: Eucharist with Hymns
9 am and 11 am: Festival Choral Eucharist, Dramatic Walk for Children, and Easter Egg Hunt for Toddlers*
5 pm: Community Eucharist with Hymns
* childcare available
† free parking for services