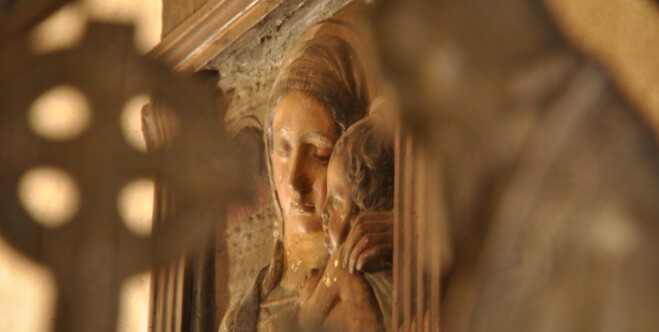 HOLY BAPTISM AT ST. BART'S
Baptism is the sacrament by which one becomes a Christian and a member of the Church. All ministry originates in baptism. Therefore, living out one's baptism is at the heart of our life together.
The Episcopal Church defines baptism as "full initiation by water and the Holy Spirit into Christ's Body, the Church" (Book of Common Prayer, p. 298), and recognizes as valid any baptism administered with water and in the name of the Father, the Son, and the Holy Spirit.
Baptism is an event of primary significance and celebration not just for the individual but for the whole church. Baptisms are offered throughout the year on specific Sundays and at the Easter Vigil. Preparation is offered regularly in anticipation of Baptism Sundays.
COMPLETE ONLINE BAPTISM REGISTRATION FORM

2018 BAPTISM DATES AND REGISTRATION
If you desire baptism for yourself or your child, please review the below dates. PLEASE NOTE: All families (and, optionally, godparents) are required to attend the Baptism Class/Rehearsal the day before. If you are available for both dates on a particular weekend, complete the online registration form and schedule an appointment with the Rev. Matthew Moretz, or another member of the clergy.
Saturday March 31, 2018: 4 pm (note day and time; this is a Saturday service)

Registration deadline: March 15

Preparation Class and Rehearsal: Saturday, March 31, at 10:30 am
Sunday May 20, 2018: 9 am [The Feast of Pentecost]

Registration deadline: May 5

Preparation Class and Rehearsal: Saturday, May 19, at 10:30 am
Sunday, July 15, 2018: 9 am

Registration deadline: July 2

Preparation Class and Rehearsal: Saturday, July 14, at 10:30 am
Sunday, September 23, 2018: 11 am

Registration deadline: Sept. 3

Preparation Class and Rehearsal: Saturday, Sept. 22, at 10:30 am
Sunday, November 4, 2018: 11 am

Registration deadline: October 20

Preparation Class and Rehearsal: Saturday, November 3, at 10:30 am