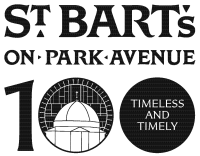 Everybody Needs A Place. One of the purposes in finding a place, a church home for worship, is to connect with people. With 100 Celebrations we want to create more connections, particularly new ones. Many of us participate in St. Bart's ministries and groups, and we get to know people in those groups. Some of us sit in the front, on the left, back, or right, and we often know who sits around us. Not everyone is able to come to church every Sunday, or to participate beyond church services. These events will give us opportunities to connect with, learn from and know each other, to create an even more caring community of people, centered in our faith.
Our hosts are creating important opportunities for members of our community to engage with new people. Sign up for an event, and sign up a friend (prospective member) too!
Click here to see our emerging gallery of photos from past celebrations. If you want to sign-up to host a 100 Celebrations event in your home or in the community, please email
Note: No new 100 Celebrations events will be added from September 29 - October 20, so that we can all enjoy the Centennial Awards Gala on October 2 and the Party on Park on October 20. November 13 is the last day for a 2018 100 Celebrations event.