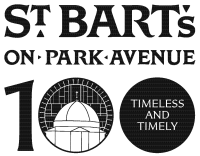 "Will you seek and serve Christ in all persons, loving your neighbor as yourself?
Will you strive for justice and peace among all people, and respect the dignity of every human being?"
To mark this centennial year at the crossroads of Park Avenue and 50th Street we are looking for even more ways to be of service in and through the St. Bart's community. Over the course of the next few months, you will find a wide variety of service opportunities on this page. Some of these will focus on St. Bart's established outreach and hospitality ministries. Others will enable St. Barts parishioners and friends to participate in diverse service projects throughout the five boroughs of New York City.
Some of these service projects will be one-off and others may require a longer commitment. You will find this and other useful information in the description of each project listed below. Each project will be "hosted" by a member of the parish who will be the liaison between the participants and the sponsoring organization.
If you would like to participate in any of these service opportunities, please click on the appropriate link below to register. And, while you're at it, consider if you have a family member, friend or acquaintance who might like to be involved as well. We practice radical welcome AND radical engagement in our 100 Ways to Serve.
Please email us at if you have any questions about how to get involved.