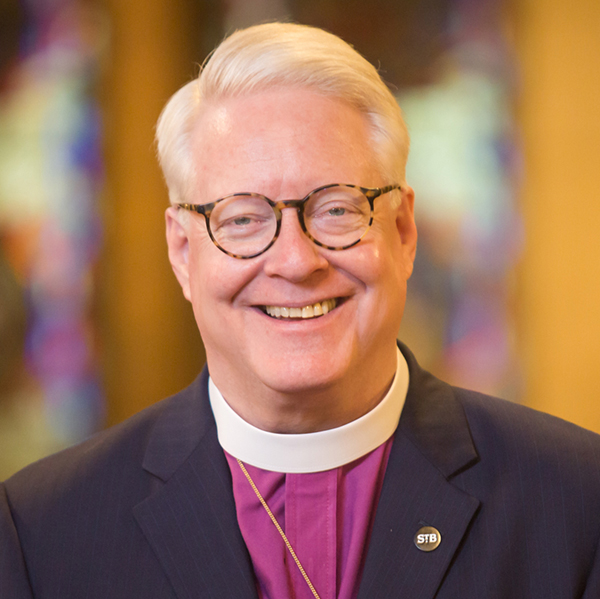 The words from Paul's Letter to the Ephesians hold a particular resonance for us as we return to more in-person worship.
"Blessed be the God and Father of our Lord Jesus Christ, who has blessed us in Christ with every spiritual blessing in the heavenly places, just as he chose us in Christ before the foundation of the world to be holy and blameless before him in love." Ephesians 1:3
We have a sense of being blessed with "every spiritual blessing" as we return to more familiar worship patterns. So many of you have expressed to me your appreciation for the extraordinary efforts made by our staff to provide online worship and educational programming throughout the pandemic. But so many of you have also told me how much you missed receiving the Sacraments.
You've told me how hard it was not to see your friends in church Sunday by Sunday. You've expressed the sense of loss you experienced by not being able to worship in our stunning holy spaces. Sometimes we do not know what we've lost until it is gone.
This Sunday we welcome the 11:00 am congregation back to in-person worship for the first time since Sunday, March 8, 2020! This service will feature congregational singing and the presence of the St. Bartholomew's Choir, whom we have desperately missed experiencing in person over this past year. So, we now have the 9:00 am worship service with congregational singing and cantor, the 11:00 am service with congregational singing and choir, and the 5:00 pm service with congregational singing… all available for in-person participation.
We will not require masks at these services for those who have been vaccinated for the COVID-19 virus, but anyone is welcomed to wear their mask if they feel more comfortable doing so. For those who haven't been vaccinated, we require they remain masked and ask that they practice social distancing for their own safety. We will still be receiving the Sacrament in one kind (the bread), reminded that this is, theologically, full-communion. We plan to return to the common cup when that practice is recommended by the bishop and the other experts advising us.
This is a joyful day and it has been a long time in coming! I believe we won't know for some time what the pandemic has cost us. We are aware of our losses in those who have died… and we are aware of family celebrations that have been postponed and trips that have been canceled. We are aware of the economic losses of so many.
But our sense of connectivity and cohesion as a faith community has also been shaken and it will take some time for us to recover these vital elements. We will need to overcome our fears. Even though medical experts are telling us that it is safe for people to return to in-person worship, I know there is a reticence on the part of some to come back. I believe we will need to be gentle with ourselves and with one another. We have all undergone a great trauma and it will take time for us to heal.
We will continue to provide livestream worship at 11:00 am to the wider congregation we have grown during the pandemic. We will continue to offer a Zoom coffee hour after the 11:00 am service so we can build community and connectivity among those joining us online. No one should feel pressured to return to worship before they feel comfortable doing so. We will have livestreamed worship for the foreseeable future, which is good news for travelers and for people who have homes outside of the city. It is also good news for the St. Bart's "diaspora;" all the people who once attended St. Bart's in-person but who now live outside of New York City and have relocated around the world. They will be able to continue to be a greater part of our worshipping community and it is so good to have them with us.
The "new normal" will take some time to get used to… but we are all on this journey together. Years ago, I served as a counselor at a church camp where I was in charge of 15 junior high boys for a week. As I joined the other counselors in greeting the campers and their parents at the beginning of the week, I still remember a small, dark-haired boy by the name of Sam. Sam looked very anxious and his mother took me aside to say what a wonderful boy Sam was but, she said, "Sam is deathly afraid of the dark."
"This is just great!" I thought to myself. "Here I am with 15 junior high school boys about to spend a whole week, five miles from the nearest electrical outlet, in a woods so thick you can't find the outhouse without a flashlight, and now I have a camper who's afraid of the dark! How am I going to manage this?"
Well, as nighttime came, I was helping the campers get squared away in their bunks when I looked over in horror at the tent to which Sam had been assigned. For some reason, all the boys in that tent had turned off all of their flashlights all at once. "Sam must be terrified!" I thought to myself as I ran over to check on him.
But when I turned on my flashlight, I found Sam's smiling face peering out from his sleeping bag. And, as I leaned down to him he whispered to me, "lt's not as dark in here when you're with everybody else!" "No, Sam, it isn't," I thought to myself as I walked back to my tent. It certainly is not.
We will continue to work together to support one another and to lift one another up during this uncertain transitional time. The challenges of life are never as difficult when we face them together.
Faithfully,