The Vestry of St. Bartholomew's Church in the City of New York is the legal, canonical, and fiduciary "board of trustees" for the church.

The Rector is chairman of the Vestry. Wardens, elected for up to three consecutive two-year terms, are the lay chairs of the Vestry, and have canonical authority for the parish when the rectorship is vacant. Members are elected for up to two consecutive three-year terms. Governed by national and diocesan canon law, New York State Religious Corporation law, and our own by-laws, the Vestry leads the parish in setting policies and goals, maintaining the buildings, and raising financial support for the mission of the parish.
For questions about the Vestry or to contact individual members, please call 212-378-0263.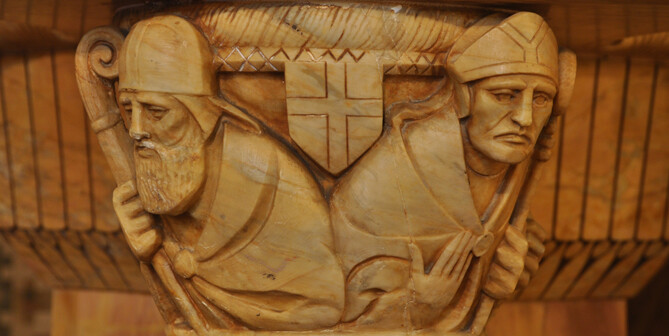 Liza Page Nelson. Warden
Liza Page Nelson began attending services at St. Bart's in 2000, and the relationship grew over time. Liza says, "St. Bart's welcomed me, starting with the invitation to the Eucharist table, no questions asked, no pressure applied. The invitation extended to the work and life of our parish, and I kept saying "yes." Without looking for it, I found in St. Bart's a place of belonging like no other. I am ever grateful for the inspiration, refreshment and fellowship St. Bart's continues to provide for my spiritual journey. I serve on the Vestry in gratitude for St. Bart's in my life, and support St. Bart's so others might find here what they're looking for, and perhaps even more."
Liza is a consultant, advisor and board director for companies and non-profit organizations. She has been a leader in management and operations roles. Her board experience spans more than 20 years. Her past firms include Investor Growth Capital (Investor AB), Pfizer, The Boston Consulting Group and Warburg Pincus.
Liza's joined St. Bart's Vestry in 2012 and served 4 years as Treasurer and 2 years as a Warden. Liza has been leading an Education for Ministry (EfM) seminar at St. Bart's since 2014. She has been a reader, an Usher, a soup kitchen volunteer and a Crossroads Community Services board member.
Liza was raised in Southern California, came east for college (Wesleyan), worked in Manhattan, got a Master's (Yale) and returned to Manhattan-based work and life. Liza and her husband David Shotland live on the Upper East Side. They enjoy cooking and pouring wine for friends, hiking, travel and music.

John Gilliland, Warden
John has been a member of St. Bart's since 2002, drawn by the radical welcome, excellent preaching and beautiful music. He attends services regularly and is excited to continue to serve with Bishop Wolfe, his Co-Warden Liza Page Nelson and the Staff and Vestry of St. Bart's. "I believe that everything I have comes from God, and I appreciate the opportunity to serve."
John has served twice on the St. Bart's Vestry, holding a variety of positions, including Chair of the Investment Committee and Finance Committee. As a current Co-Warden, John is involved in most aspects of the church's activities. John also represented St. Bart's as a Trustee of the Diocesan Investment Trust; he also served as chair of the Trust's Audit Committee.
Born in San Antonio, Texas, John has been an executive at Citigroup for thirty-six years and currently serves as Head of Global Risk Review. John has served on the Boards of several non-profit organizations in the greater New York area and is involved in his family's business activities in Texas.
John currently resides in Manhattan with Brooklyn, his four-year-old poodle. John enjoys spending free time at his Dutchess County farm upstate, and actively grows organic herbs, vegetables and fruit. He also keeps bees, sometimes with competition from local bears.
Honorary Wardens
Fletcher Hodges, III
Anthony P. Marshall
Percy Preston, Jr.
Christina Brandt-Young became a member of St. Bart's in 2006 with her husband, Jeremy. They began attending in 2005 after hearing about its impeccable worship music, and stayed because of St. Bart's radical welcome and engagement with the world.
Christina is a civil rights attorney in New York City and has worked for Disability Rights Advocates, Legal Momentum, the American Civil Liberties Union Women's Rights Project, and the New York Legal Assistance Group. She is a board member and overnight shelter volunteer of Crossroads Community Services, and also volunteers with United Rescue in Jersey City.
Christina usually attends the 11:00 service. She officiates at Evening Prayer on Fridays and at Morning Prayer on Saturdays. This led to the formation of the Laundry League, a group of St. Bartians that washes liturgical vestments throughout the year. She has served as a Stewardship Co-Chair since 2016, and she served on the Centennial Committee in 2018.
Christina and Jeremy live in Jersey City with their retired racing greyhound. They both play the viola da gamba with the Teares of the Muses, an early music ensemble housed at New York University.
Like many who work on Park Avenue, Kathleen was weary of the struggles at work one morning and decided to go to the noontime service at St. Bart's. She tell
s us, "I loved the quiet setting for the Eucharist, the heartfelt homily and the warmly welcoming people who were there. Taking time out of my day to go to church actually made me more productive the rest of the day. I returned and found myself drawn to St. Bart's by the people and the programs designed to deepen my faith. It is important to me that St. Bart's is a place that nurtures my spirit in community. The beautiful music, the inspiring sermons, the Sunday forum, the many services, and all the opportunities to meet interesting people have helped me to grow in my understanding of what is truly important in life. Through my association with St. Bart's I have gained a better sense of balance, which I think is so important to me and to many others who work in this high pressured city of ours."
Kathleen's professional background as a CPA, financial controller, and Managing Director at two large banks has prepared her to work with the church in a variety of leadership positions.
Joining St. Bartholomew's in 1997, Kathleen has served the church in numerous positions, including Treasurer, and previously served on the Vestry from 2007 to 2012. Committee work at St. Bart's includes the annual fund (co-chair); capital campaign; Planning and Budget Committee; and Compensation Committee. She was also a member of the Rector Search Committee that called Dean Wolfe to St. Bart's. Additionally, she serves on the board of Crossroads Community Services, where she is a member of the Finance Committee and volunteers with Fare Share Friday and the pantry.
Kathleen enjoys travel, going on retreats, being with her three grandchildren, and spending time at her lake house in New Jersey.

Catherine Belford Budd
Soon after Catherine and her husband David moved from Bucks County, Pennsylvania to Manhattan in 2011, they experienced a true St. Bart's welcome and found their new church home. They continue to be inspired by the music, preaching, clergy, and community at St. Bart's.
Catherine has served as a member of the Vestry's Development and Governance Committees and as co-chair of the Stewardship Committee. She was a member of the Rector Search Committee that called Bishop Wolfe, and served on the Centennial Committee, co-chairing our year-long "100 Celebrations". Catherine is a graduate of EfM (Education for Ministry) and has also participated in various book and study groups offered by our clergy and community. A pilgrimage to the Holy Land in 2017 was deeply enriching, both spiritually and culturally. She and David have valued the additional fellowship of a long-standing Circles Group, which gathered monthly for dinner, fellowship and Compline, and participate in a St. Bart's Connect group.
Committed to the importance and value of interfaith work for social justice, Catherine is active in promoting public awareness, education, and advocacy regarding the prevalence and harm of sex trafficking. More recently she has been part of the Episcopal Diocese of New York Anti-Human Trafficking Task Force. In 2020, Catherine facilitated St Bart's joining a NYC Interfaith Coalition working with Reclaim Our Vote, to combat voter suppression and support other social justice initiatives. She is committed to continuing our relationship with this Coalition, which will continue to advocate for social justice on a local and national level.
Catherine received her MD degree from the University of Pennsylvania School of Medicine and practiced Obstetrics and Gynecology at Thomas Jefferson University in Philadelphia. Her responsibilities included teaching medical students and residents, and co-directed the medical student program in Obstetrics and Gynecology. Following retirement, she taught part-time at Albert Einstein College of Medicine.

Catherine is a flutist who enjoys playing chamber and orchestral music. She has served as a board member of Spectrum Symphony, a 501(c)(3) orchestra based in Manhattan, and enjoys the abundant and diverse theater and music offerings in New York City. She and David have two daughters. Joanna is a physician in Minneapolis-St Paul, where she lives with her husband and two sons. Lauren, a nurse, lives in Denver with her husband and son.

Archer Christian Burke
Christian is a native Virginian and a graduate of the University of Virginia, and he has been a long-time resident of Riverdale, the Bronx, where he served on the board of his co-op association for a number of years.
After a period of intense church shopping, he officially joined the St. Bart's family in 2002. He was most attracted to the St Bart's community for their genuine and sincere approach to living a life in Christ. Christian first served as an usher when he was an eighth grader in Richmond, VA at St. Stephen's Church where his father and grandfather had served on the Vestry. So it should come as no surprise that within minutes after receiving his yellow boutonniere, he was signed up to serve as an usher at St. Bart's, as well as a Table Leader for Life @ St. Bart's. Since that time, his focus has been to perpetuate our Radical Welcome.
In 2007 Christian was elected to the Parish Council, where his main assignment was to form the Welcome Committee, which is still flourishing under its current leadership. From 2008 to 2009, he served as Co-Chair of the Membership Development Committee of the Parish Life Project. In 2009 he was asked to Chair our Greeters' & Ushers' Ministry, and he continues to lead this talented and devoted corps of parishioners.
During Christian's first two years on St. Bart's Vestry he was Chair of the Compensation Committee and a member of the Nominating Committee. More recently he has become a member of the Properties Committee, the Creation Care Task Force and the Parish Life Committee.
Professionally, Christian is a merchandising manager with home textiles manufacturer WestPoint Home LLC.
Outside of church and work, Christian is presently serving as Chief Steward of the Saint Nicholas Society and on the NYC Alumni Board of Woodberry Forest School. He is also a dedicated member of the Church Club of New York, the Society of the Cincinnati, and the Descendants of the Signers of the Declaration of Independence.
After Peter arrived in New York in 1987 for his graduate studies at Columbia, he searched off and on for a church community until 2004 when he discovered St. Bart's. It was at St. Bart's where he found the spiritual home that resonated with his own values, a view that is captured in the Sunday welcome notice. He joined the church in 2010. Peter and Yuko are parents of two cheerful, highly original twin girls, Grace and Maaya.
Peter is a professor (and recently chair) at Columbia University in the Department of Earth and Environmental Sciences. His research at the Lamont-Doherty Earth Observatory explores how and why climate has changed in the past and how this has impacted living systems including human evolution and ancient cultures. He's leading the new Center for Climate & Life initiative at Columbia and is active in education, outreach, and communication of climate change issues.
Peter tells us, "St. Bart's is a rare gem in this city - a place of purpose, community, and worship that many more might appreciate. This is a time to give back in life, and a flourishing, supporting parish will need more members as well as families with children." Peter has two older brothers and a father, all of whom have been wardens or vestry members in their own parishes, so he understands the expectation and responsibility.
Peter loves the ocean and the countryside, two things in short supply in the city. So he and his family regularly go to an old farmhouse in the Berkshires or to the ocean, sailing when they can. Peter would like to return to oil painting which was a passion some years ago, and Yuko and the girls have taken to the piano in earnest.

James Ferrara
Jamie and his wife, Flora, started attending St. Bart's in 2014 soon after they moved to New York City. They regularly attend the 11 am service. Jamie is a native New Yorker, and the eldest of four siblings. He was raised Roman Catholic and attended Jesuit schools for high school (Gonzaga, Wash DC), college (Xavier University, Cincinnati), and medical school (Georgetown University). He was received into the Episcopal Church at St Bart's in May 2015.
As a physician, Jamie specialized in both pediatric and adult oncology with a special focus on bone marrow transplantation, a complex form of immunotherapy used to treat aggressive leukemias and lymphomas, and he currently serves as the Ward-Coleman Chair of Cancer Medicine at the Icahn School of Medicine at Mount Sinai. Physicians who have trained in his laboratory, first at Harvard and then at the University of Michigan, are now transplant leaders throughout the USA, Germany, and Japan. He has received a number of prestigious awards for his research and is regularly featured as a keynote speaker at international medical conferences.
Jamie served on the most recent Rector Search Committee, where he represented new parishioners. Together with Peter de Menocal he has spoken at the Forum on faith and science. He has also volunteered for several Fair Share Fridays.
Jamie and Flora live on the Upper East Side. Their eldest son, Andrew, lives in Durham, England, and their two younger sons, David and Michael, live in New York City. Jamie is an opera enthusiast and sings in the bass section of the New York Choral Society.
Bill and his wife Lee Anne moved to New York from Nashville in late 2012. As lifelong Episcopalians (and Bill's father an Episcopal priest), they spent over a year shopping for churches. After visiting more than ten Episcopal churches all over the city, many on multiple Sundays, they decided on St. Bart's due to the warm welcome and Buddy Stallings' sermons. In deciding on St. Bart's, Bill said, "This was an important decision to us and we took it seriously. We were looking for a church home, not merely a place to worship, and we found that in St. Bart's."
Bell and and Lee Anne have lived in numerous cities on the east coast and in the south. Bill has served on vestries leading stewardship for Episcopal churches in Georgia and Tennessee ; and is honored to receive this nomination at St. Bart's. Additionally, Bill served as a Big Brother for many years and as a Director of Boys and Girls Club of Nashville.
Bill grew up in Memphis, TN, graduating from Ole Miss. He served as a Naval Officer first on USS Bowen (FF 1079) and then in the Navy Nuclear Propulsion Program in Washington DC; where Bill and Lee Anne met. Bill received an MBA from Harvard Business School and then embarked upon a career as a senior executive. Bill served as CEO of various companies including Bell Sports, Riddell and Oreck Corporation. In 2010, Bill joined American Securities, a private equity fund based in New York, where he serves as a partner focusing on portfolio company improvement. In addition to serving on various American Securities' company Boards, Bill serves on the Board of Directors for Trek Bikes and for the Ole Miss Business School.
While at St. Bart's, Bill and Lee Anne have become members of the Mosaic Society, and in May of 2019 they went on the St. Bart's Pilgrimage to the Holy Land, a journey which impacted both their faith and commitment to St. Bart's. Bill and Lee Anne recently signed up for Bart's Connects! and are excited about that new effort.
Bill and Lee Anne have two children, a daughter in NYC and a son in Chicago. They live in Chelsea and also have a home in Oxford, MS. While in New York, Bill and Lee Anne enjoy Broadway shows, concerts and excitement the city has to offer.



Robert Gutheil
Robert Gutheil and his wife, Karen (who serves as a Lay Eucharist Minister), have been members of St. Bart's since 1996. They were drawn by the church's radical welcome, the vigor and intelligence of Bill Tully's preaching, the high liturgical standards, and the physical beauty of the sanctuary. Those same high standards, plus now an enduring network of close friends in the parish, keep them very committed here.

Robert recently retired after a forty-plus year career in chief executive positions in the human services field in New York City. He served as Executive Director of Episcopal Social Services (now Sheltering Arms) until retirement, following similar positions at The Salvation Army and Lutheran Social Services. The New York City Council issued a special proclamation in 2010 honoring him for a lifetime of service to the city. Other awards include the National Award for Excellence in Social Work from The Salvation Army, the Champions for Children Lifetime Achievement Award from the Center for Children's Initiatives, the Leadership Award from Life Services for the Handicapped, and the Unsung Heroes from the Day Care Council of New York. He holds graduate degrees from Columbia University and Concordia Seminary. Currently he serves on several charitable boards—FPWA (Federation of Protestant Welfare Agencies), ACT for Life Services, and the Day Care Council of New York. Earlier positions included the Vestry of St. Thomas Church and the boards of Episcopal Charities, the Church Club of New York, and West End Residences for the Homeless.

Robert served as member of the Rector Search Committee that called Bishop Wolfe. He is also a long-time usher, two-term member of the Vestry, and has served on various committees and as parish Treasurer. He was the first chair of the Advisory Board for the Center for Religious Inquiry, working closely with Rabbi Leonard Schoolman in those initial years.

Robert was born and raised in New York City. He and Karen have three children and six grandchildren. They live in Manhattan and take as full advantage as possible of the city's cultural life—opera, theater, concerts, museums and more.
Astrid Horan was married at St. Bart's in 1981 by the Reverend Tom Bowers, whom her husband Hubert knew from Atlanta. St. Bart's was also their neighborhood church and where Astrid was confirmed as an Episcopalian.
Astrid Horan was born, raised and attended high school in Berlin, Germany. After attending the University of Colorado, she moved to New York City and worked as a confidential assistant to Governor Nelson Rockefeller who appointed her to the Permanent Commission on Pension and Retirement Systems to bring about public pension reform in the City and State of New York. After the Commission was abolished under Governor Mario Coumo, Astrid moved to Connecticut, but returned to the City after she was widowed.
Back at St. Bart's, Astrid attends the weekly bible study, is in her third year in Education for Ministry (EfM) and is taking pastoral care training.
Astrid has served on the boards of Sheltering Arms Children's Services (NYC); Eugene O'Neill Theater Center (Waterford, CT); Lyme Academy College of Fine Arts (chairman); president of Joshuatown Association (Lyme, CT); University of New Haven Board of Governors, and is a member of the American Council on Germany.
Astrid enjoys city life with all it has to offer.
Patrick Hornbeck is honored to have been nominated for an initial three-year term of service on the Vestry. He first came to St. Bart's in 2011, on the recommendation of one of his Fordham University faculty colleagues. Hearing one of former rector Buddy Stallings's sermons, Patrick was hooked on the combination of warm welcome, intellectual engagement, and insistence that the church go out to meet the world in all its messiness and complexity.
At Fordham, Patrick serves as professor and chair of the Department of Theology and special faculty advisor to the provost for strategic planning. He is also a student for the J.D. degree at Fordham Law School, where he is focusing on the issues that arise from the intersection of law and religion. Patrick is author or editor of eight books on medieval and modern Christianity, the most recent of which is a study of the many afterlives of one of Tudor England's villains, Cardinal Thomas Wolsey. He comments regularly for the national and international media, and he served as Al Jazeera's lead expert during the 2015 visit of Pope Francis to the United States.
Since making St. Bart's his parish home, Patrick has presented regularly at the Forum and offered a series of adult education classes, covering topics ranging from the history of the English Reformation to the relationship between religion and politics in the contemporary U.S. He also served on the Rector Search Committee in 2015-2016.
Patrick's husband, Patrick Bergquist, served St. Bart's for many years as Minister for Children, Youth, and Families, and special assistant to the rector; he now works as director of programs at Episcopal Charities for the Diocese of New York. The Patricks were married at St. Bart's in 2015, coincidentally the day after the Supreme Court recognized marriage equality nationwide. They live in the Riverdale section of the Bronx.
Mary Robin and her husband moved to New York City from Montgomery, Alabama, almost four years ago and began "church shopping" immediately, because she knew a solid church would help her feel more at home in New York City. In 2016 they found St. Bart's and formally joined on Welcome Sunday that October. Mary Robin writes, "Being from the Deep South, I was pleased to find such a friendly church with an excellent outreach program, plus there seemed to be a fair number of Southerners here."
Mary Robin began work as an eight year old filing cash tickets in one of her father's hardware stores. She has had a wide variety of work experiences growing up working summers and Saturdays for her father's other small businesses; this instilled in Mary Robin an ownership mentality, which she has carried with her in all endeavors. Mary Robin received her B.A. in Architecture from Auburn University and worked for eleven years with McAlpine. She has served on volunteer boards with Holy Cross Episcopal School (K-6) and Booker T. Washington High School F.A.M.E. board; St. John's Episcopal Church Vestry (all in Montgomery, Alabama). Also at St. John's, she graduated from EfM and served in several volunteer leadership capacities.
At St. Bart's, Mary Robin is pleased to serve on the Usher and Stewardship Committees, and is a co-leader for Centering Prayer. She attended the EXPLORE class series and has also occasionally assisted with altar flowers and Christmas decorations, which she describes as "great fun!"
Mary Robin lives in Chelsea with her husband, Greg Tankersley. Their daughter, Sullivan Tankersley, a recent college graduate, resides in Dallas, TX. Mary Robin enjoys life long learning on the topics of functional spirituality, world history, investing, and traveling when at all possible.

Mary Krueger
Mary joined St. Bart's in 2007 after she and her husband, Peter Sullivan, moved to New York from Los Angeles. Familiar with St. Bart's from their travels to New York, they chose the church because they responded to the excellent preaching, beautiful liturgy and music, and overall culture.
Before retiring in 2013, Mary worked for several years as operations director for a Los Angeles-based boutique PR firm. In addition to 19 years at home with her twin daughters, Mary's eclectic career has included large-scale IT for IBM and Bank of America; researching child care and early childhood funding; preparing business plans for a Hollywood producer/wellness entrepreneur; and working at a home-based computer software company.
Since joining St. Bart's, Mary has participated in several discernment committees; served as a Stewardship partner; worked as a gift captain for the Christmas Miracles program; participated in the St. Bart's Habitat for Humanity trip to the Dominican Republic; and volunteered at St. Bart's Central. She has also been active visiting homebound parishioners. Mary was co-chair of the 2015-2016 Rector Search Committee that called Dean Wolfe to St. Bart's.
Mary and Peter are parents of adult twin daughters and Oliver, a Norwich terrier. Her interests include traveling, walking and biking, reading and attending mystery conventions.

Keith Rook
Keith began attending St Bart's in 2009, and because of its "Radical Welcome" became a member in the fall 2013. Growing up in Texas he attended a conservative evangelical church where he struggled with reconciling his church's teachings with his sexual orientation. As a result he stopped going to church for over 25 years. He says "St. Bart's inclusive spirit opened my heart and helped me find a new spiritual home and regain my faith that had been missing for so many years."
Keith grew up in Texas and has lived in NYC since 1991. He earned a BA in accounting from Southwestern University in Texas and is a Certified Public Accountant (CPA) and a Certified Financial Planner (CFP). He is currently Managing Director for the Weiler/Arnow family office and has more than 25 years' experience in investment management and financial planning for multigenerational families. His prior experience includes Big Four tax work with high net worth individuals/families; serving as Director of Tax for Collier Enterprises; and serving as Vice President for the Norman/Weil families and for the Sulzberger family.
Keith gives time, talent and treasure to St. Bart's and attends the 11 am and 5 pm services. He is in his third year of service as Stewardship co-chair. He also currently serves on the investment committees for the Diocese of New York and Auburn Seminary.
Keith loves to travel and learn about cultures and history, especially the commonalities of different religions.

Susannah Wade Lewis
Susannah is the daughter of an Episcopal clergyman and grew up as a member of Trinity Church, Boston and then of Immanuel Church on the Hill in Alexandria, VA. When she moved to Manhattan in 2003, it was her father who suggested St. Bart's as a possible church home. Susannah was initially drawn to the powerful worship experience of St. Bart's—the preaching, the music, and the architecture—and to the great welcome that clergy, staff, and parishioners alike all extended.
Susannah received her BA in Ancient Greek and Latin from Wellesley College and her M.P.H. in Epidemiology at Columbia University's Mailman School of Public Health. She is now the Director of Community Outreach at Silver Hill Hospital in New Canaan, CT.

At St. Bart's, Susannah chaired the 20s/30s Group from 2007 to 2010 and co-chaired the annual stewardship campaign from 2011 to 2013. She also led the Young Adults portion of the Parish Life project in 2010. Susannah joined the Vestry in 2015 and was a member of the search committee that called Bishop Wolfe as Rector. Susannah's has co-chaired the Development Committee since 2018. Having an additional interest in and concern for the long-term preservation efforts of the architectural masterpiece that is St. Bart's, Susannah served on the board of the St. Bartholomew's Conservancy for three years.

Susannah and her husband, William, live in Darien, CT with their exceptional poodles, M. Caelius Rufus and Master Kippy.

Chantal N. Stevens
Chantal N. Stevens has worked in education for more than 15 years and currently serves as the National Director of Programs at A Better Chance. Prior to joining A Better Chance, Chantal worked in various roles for the City University of New York (CUNY). Working first at Baruch College, she then went on to serve as a special project coordinator on a joint initiative between the University and New York City's Office for Human Resources Administration. In her last role at CUNY, she served as the Assistant Director for Recruitment and Admissions Counseling at The City College of New York.
Chantal joined St. Bart's four years ago. Since becoming a member, Chantal has taken part in a variety of community service and outreach initiatives, either led by St. Bart's or with St. Bart's as a partner, including delivering food to needy New Yorkers with Coalition for the Homeless, Fare Share Friday and the Christmas Miracles Project. In addition to St. Bart's, Chantal aims to stay connected to her community in different ways. She is a former board member of St. Mark the Evangelist School where she served for five years. In 2014 she served on the Spence School's Community Standards Task Force that was charged with creating common language to appropriately educate, communicate, and emphasize clear expectations for community standards regarding behavior. Simultaneously, in June 2015, she completed a two-year term as the parent chair of the school's annual fund. Since 2008, she has served as an advisory board member of the National Partnership for Educational Access headquartered in Boston, MA.
At St. Bart's Chantal has felt welcomed by the congregation ever since accepting an invitation to attend service by the Mitchells, longtime parishioners. The great preaching and a true sense of "walking the walk" are just two of the things that keep her here and involved.
Chantal lives in Harlem, NY, with her daughter Zadie, who is active in the youth ministry at St. Bart's as an acolyte and lector. In her spare time Chantal enjoys shows on Broadway, going to concerts, traveling to new locales, entertaining, dancing, and spending time with her daughter.