Dear Friends,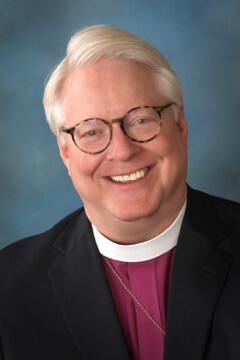 The Wardens and Vestry of St. Bartholomew's Church are delighted to announce we have called the Rt. Rev. Dean E. Wolfe who currently serves as the Ninth Bishop of the Episcopal Diocese of Kansas, and Vice President of the House of Bishops of The Episcopal Church, to be our next Rector. He will join us at St. Bart's in February.
In our Parish Profile, we said that we were looking for a Rector who is intellectually alive and challenging, an excellent preacher.
We sought someone with a warm and engaging presence, a true spiritual leader who also brings financial acumen and seasoned managerial skill to the position – a servant leader.
We are humbled that there were many very talented candidates who expressed interest in being our next rector. As time has gone on, we have been engaged in mutual discernment with a pool of leaders of extraordinary depth, heart, and pastoral presence.
After an eighteen-month search, our Rector-elect was unanimously chosen by the Vestry on Saturday, November 5.
Dean—and he is asking us to call him Dean—has had a distinguished career of ministry and leadership that has taken him from large parishes, such as Trinity Church in Boston's Copley Square and St. Michael and All Angels in Dallas, to the Episcopal Diocese of Kansas, where he is the spiritual leader of some 11,000 people in forty-four congregations. Dean is a graduate of Virginia Theological Seminary, which also bestowed upon him an honorary doctorate in 2004, in recognition of his extraordinary service within the national church and the Anglican Communion.
In Kansas, Dean has made his reputation as a caring pastor, a bridge-builder, and a prophetic, progressive leader in a region of the country not always known for such stances. He advocated for the State of Kansas to welcome refugees from Syria; he officiated the first authorized Episcopal same-sex marriage in the diocese; and he has spoken out forcefully about gun control and the horror of mass shootings.
Within the church, Dean has faced head-on the challenges that confront the Episcopal Church and, to cite just one example of his visionary leadership, he raised more than $4.5 million to found the Bishop Kemper School for Ministry, which is a pioneer in training new clergy in the Midwest.
Asked about Dean, former Presiding Bishop Katherine Jefferts Schori spoke very warmly, saying, "[Dean] has great relational gifts and is a wonderful pastor…. He is able to relate across the theological spectrum—from liberal to conservative."
The Rt. Rev. Andrew Dietsche, Bishop of our Diocese of New York, also speaks highly of our new rector, saying, "St. Bart's is a flagship parish, and I am very pleased by the call of my friend Dean Wolfe as your next rector. St. Bart's and the Diocese have been blessed and strengthened by the exemplary quality of the clergy who have served the parish. I am confident the richness of that ordained leadership will continue under the rectorship of Bishop Wolfe."
Dean will be the first member of the Order of Bishops called to serve as Rector of St. Bart's. He was forthright in telling us that while he finds his ministry as a bishop exciting, he yearns to be in a context where he can provide direct pastoral care and be immersed in the life of an active flagship parish like ours.
For all these reasons, and many more, we are delighted that Dean will be our next Rector. He will be joined here by his spouse Ellen Frantz-Wolfe, a mother, businesswoman, and active community and church volunteer.
Dean's start date at St. Bart's will be February 5th, the date of our annual parish meeting. He will also join us for worship on January 8th. We look forward to the opportunities that all of us will have to get to know Dean better over the course of the next few months, but for now, he has recorded a brief video to introduce himself.
We also have video welcoming Dean from the Most Reverend Michael Curry, Presiding Bishop and Primate of The Episcopal Church, a wonderful blessing for us and for Dean.
We conclude in prayer.
Loving and Almighty God, giver of every good gift: We offer you thanks for the faithful service, heartfelt witness, and careful discernment of so many members of St. Bartholomew's Church, as over weeks and months we have journeyed together toward the calling of a new Rector. Accept our gratitude for the spiritual and practical gifts that you have nurtured in our parishioners, Search Committee members, and Vestry. Help us to prepare our hearts and minds to welcome a new Rector into this sacred space, to care for your people, advance the works of our parish, and knit us ever more tightly together as a community of mutual love. Through Jesus Christ our Lord. Amen.
Anne Adams Rabbino
Warden

Peter M.R. Kendall
Warden

Read Dean's biography
Learn more about Dean
Watch the Livestream of our 11am Worship Service from Sunday, November 13 with Warden's announcement following the Eucharist.