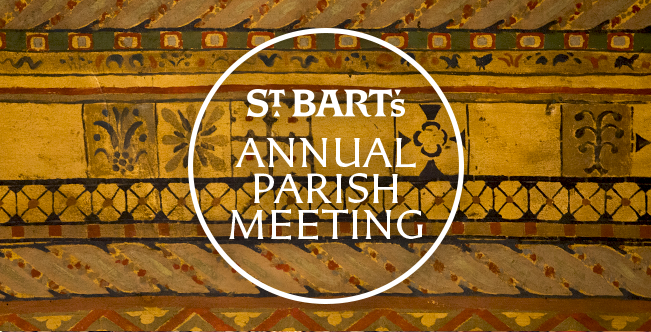 In accordance with the Church's Bylaws, the Vestry has set the time and place for the annual parish meeting and vestry election. The meeting will be held virtually on Sunday, February 28 at 10 am, and voting will take place electronically. The Vestry has nominated the following people for election (click names for bios): Catherine Belford Budd to serve a first 2-year term as Warden; two individuals each to serve a second 3-year term as a Vestry member, Kathleen Breiten and Keith Rook; Rachel Farrar to complete the remaining year of an unexpired term as a Vestry member; three individuals each to serve an initial 3-year term as a Vestry member: David Lee Carson, Miriam K. Schneider, Craig Simmons. Details for the meeting and voting will be announced shortly. Only qualified voters are eligible to vote. Registration is required to attend, whether or not you will vote. Click HERE to register in advance for the meeting, which will be held via Zoom webinar. After registering, you will receive a confirmation email containing information about joining the webinar.
---
For Warden



Catherine Belford Budd
Soon after Catherine and her husband David moved from Bucks County, Pennsylvania to Manhattan in 2011, they experienced a true St. Bart's welcome and found their new church home. They continue to be inspired by the music, preaching, clergy, and community at St. Bart's.
Catherine has served as a member of the Vestry's Development and Governance Committees and as co-chair of the Stewardship Committee. She was a member of the Rector Search Committee that called Bishop Wolfe, and served on the Centennial Committee, co-chairing our year-long "100 Celebrations". Catherine is a graduate of EfM (Education for Ministry) and has also participated in various book and study groups offered by our clergy and community. A pilgrimage to the Holy Land in 2017 was deeply enriching, both spiritually and culturally. She and David have valued the additional fellowship of a long-standing Circles Group, which gathered monthly for dinner, fellowship and Compline, and participate in a St. Bart's Connect group.
Committed to the importance and value of interfaith work for social justice, Catherine is active in promoting public awareness, education, and advocacy regarding the prevalence and harm of sex trafficking. More recently she has been part of the Episcopal Diocese of New York Anti-Human Trafficking Task Force. In 2020, Catherine facilitated St Bart's joining a NYC Interfaith Coalition working with Reclaim Our Vote, to combat voter suppression and support other social justice initiatives. She is committed to continuing our relationship with this Coalition, which will continue to advocate for social justice on a local and national level.
Catherine received her MD degree from the University of Pennsylvania School of Medicine and practiced Obstetrics and Gynecology at Thomas Jefferson University in Philadelphia. Her responsibilities included teaching medical students and residents, and co-directed the medical student program in Obstetrics and Gynecology. Following retirement, she taught part-time at Albert Einstein College of Medicine.
Catherine is a flutist who enjoys playing chamber and orchestral music. She has served as a board member of Spectrum Symphony, a 501(c)(3) orchestra based in Manhattan, and enjoys the abundant and diverse theater and music offerings in New York City. She and David have two daughters. Joanna is a physician in Minneapolis-St Paul, where she lives with her husband and two sons. Lauren, a nurse, lives in Denver with her husband and son.


Nominated for an initial three-year term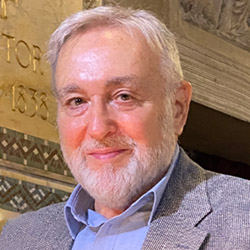 David Lee Carson
Approximately 13 years ago David decided he wanted to have a spiritual center—a Church Home—in his life. He had been raised Baptist in the 1950s in Indiana, and church had played a central role in his life. But it had been years since he had attended services, and he was missing the music, the uplift and the community. David decided he'd look for a "place" to worship, and chose St. Bart's as his first stop. He'd never been inside, but the architecture, the reputations of its Theatre Troupe and its music program, had interested him for years, so he came to a 9 am Sunday service. He never left, or looked for another "place". He had his home and was confirmed here in 2011.
David has had a 40+ year career in New York theatre as an actor and director. He's served on the boards of off-off theatres and as a box office treasurer on- and off-Broadway. He's developed a "niche" working closely with actors, playwrights, and composers developing new works, particularly solo performance pieces. He's also spent over 30 years as a bookkeeper for medical practices, travel companies, etc. During the 80's and 90's he spent over 10 years as a volunteer with GMHC, and helped create its Speakers Bureau within its educational programing.
At St. Bart's, David gained his footing attending the Explore classes and completed the 4-year Education for Ministry program. He now serves as a lector, a lay eucharistic minister, and verger for worship services; and as a Eucharistic visitor, taking communion to our parishioners who are unable to join us for services (pre-pandemic). He has been a regular at the Wednesday Bible Study for almost a decade.
Since 1977, David has lived in Manhattan Plaza on the western edge of the Theatre District. His husband, Barry, is a "Broadway legend," having been a Star Dresser for more than 25 years. They have been together for 37 years and married for the last 8. He can't cook, but Barry sure can. They are TV addicts and have a wonderful family of friends with whom they have traveled to Europe, South Africa, and around the United States.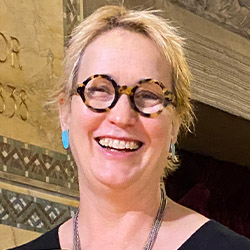 Miriam K. Schneider
Miriam began attending St. Bartholomew's in 1982, soon after moving from her home state of Idaho to New York City and beginning work at Manufacturers Hanover Trust Co. She joined the Community Club and began attending weekday services shortly thereafter, formally becoming a Church member in 1985. Her and her late husband Howard's marriage was blessed by the Rev. Judith Baumer in 1989. Their twin daughters were baptized by the Rev. Bruce Forbes in 1996. Paula and Helene attended St. Bartholomew's preschool, and were Choristers for 10 years.
Miriam worked in banking as an analyst for the forest products sector for almost 20 years. Now retired from JP Morgan Chase, she is the Senior Managing Partner for Kunkel Farm, LLC, the family's Idaho farm business, which produces mainly barley (for Coors) or alfalfa and occasionally feed corn for the local dairy industry. She is the founder and CEO of Manhattan Multiple Birth Parenting, Inc., an organization providing networking and educational support for parents of twins and other multiples. From 2001 through 2010 she was a parent leader in the New York City Public School System, holding various PTA executive board positions, and was Co-President of NYC's Presidents Council for District 2, representing the interests of all public-school parents within the District. Miriam served as a parent representative on the Dominican Academy Accreditation Committee in 2013-2014. She is currently a member of the College of Idaho's National Alumni Board.
As a volunteer at St. Bartholomew's Miriam has sung in the 9am choir and served as an acolyte and torch bearer at 11am. She has been a member of St. Bartholomew's Altar Guild since 1985, and its president for more than 25 years. She attended DOCC and Alpha courses. While Paula and Helene were in high school, the three of them acted as dinner hosts most Saturday nights, for a dinner cooked by Miriam, at the Crossroad's women's shelter. She regularly read Evening Prayer in the Chapel before the pandemic and continues now with Night Prayer online.
Miriam and the girls share their Upper East Side home with four cats and a dog. Paula and Helene are now in graduate school. They have helped broaden her empathy and interest in social justice and LGBTQ+ causes. She has catholic tastes in a wide range of interests and activities, and considers her intelligence and abilities practical in nature, and personally satisfying. She loves to get in her car and drive. The destination is not as important as the journey!


Craig Simmons
Craig found St. Bart's in 1987 via the Community Club, led then by our current Assistant Rector, the Reverend Canon Andrew Mullins. He began attending worship services in 1988 after an introduction then-Rector Tom Bowers and later headed and expanded the Ushers & Greeters Corps. He implemented the "radical" (and) welcome idea of having greeters stand outside the church. In 1991, he was received into the Episcopal Church from the Roman Catholic tradition. His two older children attended St. Bart's Community Preschool. His daughter was in the first class of Choristers and his son served as an acolyte.
Craig is an independent consultant with 35 years of corporate experience and non-profit board service. He has worked at large financial institutions as First Boston, Lehman Brothers, and Sumitomo Bank; and been a change agent at a number of startup and small businesses. At Drexel Hamilton (a Wall Street firm owned and run by disabled veterans), he headed the corporate capital markets area. He successfully led the firm's 3-year efforts to introduce and pass New York State's first disabled-veteran-owned business-preference legislation that focused on professional services firms as a diverse supplier. Craig's work directly with state legislators resulted in the unanimous passage of bills in both the NYS House and Senate, and legislation passed by Governor Cuomo. He mentored over 20 combat-disabled veterans at the firm and introduced additional race and gender related diversity initiatives. Non-profits including One Hundred Black Men (OHBM), Inc., John Jay College Corporate Veterans initiative, and Greater New York Councils, Boy Scouts of America have benefited from Craig's efforts.
In the 1990's Craig served St. Bart's on the Preschool Advisory Board, as chair of the Search Committee that called the Reverend Bill Tully as Rector, and chaired the Stewardship Campaign. He was elected by the parish to the first of two terms on the Vestry in 1994 where he led the newly formed New Ventures Committee that developed Café St. Bart's and the Bookstore. In recent years, pre-pandemic, Craig attended the 11am service with three toddler children. He now participates via YouTube or by hosting Facebook watch parties.
Craig is a native of Philadelphia and graduate of Amherst College where he majored in Asian Studies became fluent in Japanese. He lives in Astoria with his soulmate Tina and their three small children who are currently remote schooling. He enjoys technology, biking, cooking, traveling, and public policy advocacy. He is also actively engaged local politics.
Nominated to complete the remaining year of an unexpired term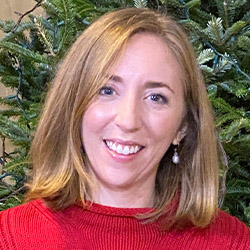 Rachel Farrar
Rachel first found her way to St. Bart's through the choir. In 2008, only a few weeks after moving to New York from Lexington, KY, she auditioned for Bill Trafka who invited her to sing the Duruflé Requiem in the church's annual September 11th Remembrance Service. She has remained a devoted member of Saint Bartholomew's Choir ever since. Rachel was confirmed in the Methodist church as a teenager, but had for many years worked and worshipped in the Episcopal church. So in 2012, she made it official and was received into the Episcopal communion as a member of St. Bart's.
Rachel holds a Bachelor's degree in Music Performance from the University of Kentucky. In New York, she has carved out a career for herself as both a singer and an actor in film and television. She can be seen in Hulu's miniseries The Looming Tower and the forthcoming second season of Showtime's City on a Hill. Rachel is a proud and active member of SAG-AFTRA, where she has developed a strong interest in entertainment contracts. Outside of work, she loves to follow politics and volunteered for Amy McGrath's 2018 congressional campaign.
Rachel is active in parish life both in and outside the choir. She jumps at every opportunity to support the chorister program, whether it's helping out with rehearsals or chaperoning summer camp. She served on the hiring committee to fill the position of Associate Organist and Director of Choristers in 2014. For several years, Rachel served as an overnight host for Crossroads Community Services, Inc., women's shelter. She co-chairs the 20's-30's group through which she helped organize and host the annual Episcopal Diocese of New York Young Adult Christmas Party, attended by more than 120 young Episcopalians from around the city. Last year, she joined a St. Bart's Connects group and is enjoying meeting by Zoom.
Rachel lives in Harlem with her husband, Graham and their two dogs, Sophie and Jean. Together they love taking on home renovation projects at both their apartment in the city and their vacation house in the Catskills. Rachel can hardly wait for the pandemic to end in part so she can return to her favorite pastimes—dressing up, dining out, traveling, and karaoke in K-town.


Nominated for second three-year terms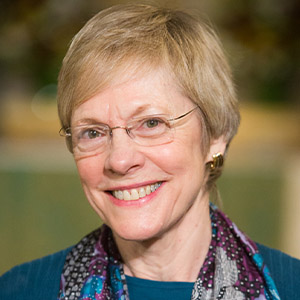 Kathleen Breiten
Kathleen has been a member of St. Bart's since 1996. St. Bart's became her favorite place to go for the noon Eucharist in the midst of long work days at a large bank nearby. Worship in midday brought welcome calm and renewed energy.
Kathleen is a CPA/MBA and worked for Arthur Andersen & Co., becoming one of the first professional women to have a baby and return to work. After interesting "glass ceiling experiences" and the birth of her second child, she decided to work in banking and became the Financial Controller of the Private Bank in two different global banks where she was promoted to Senior Vice President and then Managing Director. Kathleen now works part time as a consultant to a family office.
At St. Bart's Kathleen served as the co-chair of the 2006 Annual (Stewardship) Fund and was elected to the Vestry in 2007. She served as the Treasurer of St. Bart's for 5 years and was a member of the Planning and Budget Committee. Kathleen has also hosted a St. Bart's at Home group, graduated from the 4-year Education for Ministry course, and was a member of the Rector Search Committee that called Bishop Wolfe. Kathleen returned to Vestry service in 2018 and is currently Chair of the Audit Committee. She also hosts a St. Bart's Connects group on Zoom, is a lay eucharistic minister, leads Centering Prayer several times a week, and tutored pre-pandemic in Harlem with the Episcopal Peace Fellowship group. In addition, Kathleen is on the Board of Directors of Crossroads Community Services, Inc., and has recently concluded her term as its Treasurer.
Kathleen lives on the West Side where she enjoys great views of the sunsets. She has a daughter who lives with her husband and Newfoundland dog near Philadelphia and a son and three grandchildren who live in Cumberland, Maryland. She enjoys gardening, hiking and cooking at her lake house in northern New Jersey.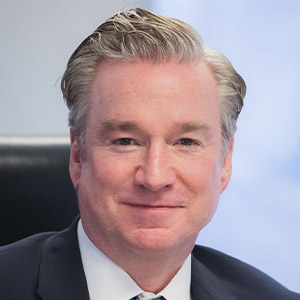 Keith Rook
Keith began attending St Bart's in 2009, and because of its "Radical Welcome" became a member in the fall 2013. Growing up in Texas he attended a conservative evangelical church where he struggled with reconciling his church's teachings with his sexual orientation. As a result, he stopped going to church for over 25 years. He says "St. Bart's inclusive spirit opened my heart and helped me find a new spiritual home and regain my faith that had been missing for so many years."
Keith grew up in Texas and has lived in NYC since 1991. He earned a BA in accounting from Southwestern University in Texas and is a Certified Public Accountant (CPA) and a Certified Financial Planner (CFP). He is currently President of the Weiler/Arnow family office and has more than 25 years' experience in investment management and financial planning for multigenerational families. His prior experience includes Big Four tax work with high-net-worth individuals/families; serving as Director of Tax for Collier Enterprises; and serving as Vice President for the Norman/Weil families and for the Sulzberger family.
Keith gives time, talent and treasure to St. Bart's. He has served on the Vestry since 2018 and currently serves on the Governance Committee and as Chair of the Finance Committee. He served as Stewardship Co-chair from 2015-2017. Keith also served as Trustee of the Episcopal Diocese of New York from 2018-2020 where he served on the Investment committee and as Chair of the Finance Committee. He also serves on the Investment committee of Auburn Seminary.
Keith loves to travel and learn about cultures and history, especially the commonalities of different religions.
---
Supplemental Information Regarding the Annual Parish Meeting, Voting and Vestry Nominations


There will be a formal presentation and time for a Q&A. All are invited and welcome to attend. All who are qualified to vote are encouraged to do so.
Details and instructions on how to participate, register and vote, as well as information on nominees, will be provided soon. Please bear with us as we navigate St. Bart's first ever virtual annual meeting and electronic vestry election.
Only qualified voters are eligible to vote. To be qualified to vote in a parish meeting, the Canons of The Episcopal Church and the Episcopal Diocese of New York determined the following qualifications: "Persons of the age of 18 years or more belonging to the parish, who have been baptized and are regular attendants of its worship and contributors to its support for at least 12 months prior to an annual election or a special meeting at which they are in attendance."
The currently constituted Vestry nominates candidates for election. There is no absentee or proxy or write-in voting or nominations from the floor at the annual meeting.
Any parishioner wishing to propose a candidate to the Vestry for a future election should email or call Ms. Liz Gillsepie in the Office of the Rector: or 212-378-0263.