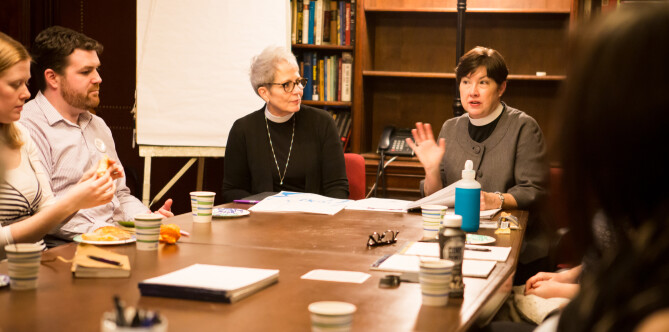 Our mission is to comfort, challenge and inspire a growing community of people in search of meaning and hope in their lives, and one of the avenues we provide to foster this exploration is through our numerous programs, classes, retreats and formation opportunities.
We strive to provide impactful offerings that will not only foster spiritual enrichment and growth, but also provide a basic theological foundation off of which to expand. The below offerings are your open invitation to join us, wherever you might be on your path, and whatever your religious background may be. We welcome all people, all questions, all doubts and all insights. Join us.

For those of you who are looking for a great place to educate your children, we encourage you to check out our Children Youth and Family Ministries as well as The St. Bartholomew Community Preschool.
The Forum
Each Sunday at 10:05 am, we gather for a forum that helps us further connect faith with life. Programs range from clergy teaching and expository Bible study to explorations of theology, social concerns and philosophical questions. Please click here for recordings of past Forums. Sundays, 10:05 am in the Great Hall.

NEW SEASON: Centering Prayer
Seeking some calm and peace amidst the rush of your daily life? Learn how to connect more deeply with the divine by joining our weekly centering prayer group on Monday evenings. Mondays, 6:30-7:30 pm. Learn more.

NEW BOOK GROUP
The Irony of American History
What does Christianity have to say about the United States of America and its place in the world? How can we reconcile our lofty ideals about peace and virtue with the compromised ways in which our nation actually behaves? Prominent theologian Reinhold Neibuhr contemplated these questions almost seventy years ago in the beginning days of the Cold War, and his reflections still give us much to think about today. Come and discuss with the Reverend Peter Thompson over three Thursdays in January. Copies of The Irony of American History are available at the bookstore. Attendees are encouraged (but not required) to read the book in advance. Thursdays, January 9-23, 2020, at 6:30 pm in the Vestry Room.
ONGOING CLASSES
Bible Study
Studying the Bible with others is a meaningful way to deepen your faith and understanding of scripture and Christian theology.
The Bible, The New York Times and You, led by the Reverend Kris Lewis-Theerman, offers thoughtful reflection on the upcoming Sunday Gospel and the day's op-ed pages. Click here for Sunday's reading. Wednesdays 12:45 - 2 pm.

Education For Ministry (EFM)
Are you looking to live into your faith more fully, to have faith connect more deeply with everyday life? Do you ever wonder what God is calling you to do? What can the Bible teach us about the world today? Do you ever wonder what God is calling you to do? If you want to seek answers through study, reflection and community, EfM -- a four-year distance learning certificate program in theological education based upon small-group study and practice -- may be for you. To learn more, listen to an EfM Rector's Forum or contact EfM Mentor Liza Page Nelson.