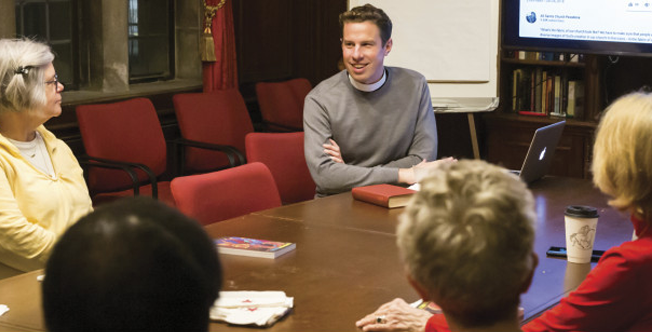 CURRENT OFFERINGS
Questions? Please contact the Reverend Peter Thompson, Associate Rector for Formation and Liturgy.
WINTER 2021 CLASSES
Science and Theology: Finding Our Place in Creation's Family
Wednesdays, January 6-27, 6:45 pm-8:00 pm
St. Bart's parishioner Dr. Clay Williams leads a discussion about our place in the created order in light of current scientific knowledge and modern theological thought. Session 2 (January 13), "Cosmos: living adrift in a sea of 70,000,000,000,000,000,000,000 stars," focuses on the modern science of cosmology and the ways in which it can inform our spirituality.
Click here to learn how to join this class.
God and the Pandemic
Thursdays, January 14-February 11, 7:00-8:00 pm
How should our experience of the devastation of the past year affect our faith in an all-loving and all-powerful God? Associate Rector Peter Thompson leads a discussion based on new works by prominent theologians Walter Brueggemann and N.T. Wright, Virus as a Summons to Faith: Biblical Reflections in a Time of Loss, Grief, and Anxiety and God and the Pandemic: A Christian Reflection on the Coronavirus and its Aftermath. Reading the two books in advance is recommended, but not required. For an initial overview of the issues to be discussed, read an interview with Wright.
Click here to learn how to join this class.
Nouwen's The Return of the Prodigal Son
Saturdays, January 16-February 13, 10:00 am-11:00 am
Dutch priest and former Harvard and Yale professor Henri Nouwen weaves together scripture, psychology, visual art, and personal insight in his classic meditation on Rembrandt's painting, The Return of the Prodigal Son. Join the popular Saturday morning discussion group for a rich and moving conversation about what it means to love and be loved. Please read the Prologue and Introduction before the first session.
Click here to learn how to join this class.
Mystical Paths: A Look at the 20th Century Renewal of Mysticism within the Anglican Tradition
Tuesdays, January 19-February 9, 6:30-8:00 pm
Deacon John Wirenius explores the renaissance of the mystical tradition of the Church in the last century, focusing on the writings of Evelyn Underhill and of Dean William Ralph Inge, who together rescued it from the scornful dismissal of the Victorian Era. From very different perspectives, Inge, a philosopher known as "the Gloomy Dean," and Underhill, who had dabbled in occultism before turning to the nature and development of spiritual consciousness, together fostered the revival of the quest to personally experience the love of God within Anglicanism.
Click here to learn how to join this class.
Ongoing Offerings
Ancient Texts in Modern Times; A weekly Bible Study
Wednesdays at 1 pm
Thoughtful reflection and lively discussion of the upcoming Sunday readings with the Rector; The Right Reverend Dean E. Wolfe. Contact Ms. Liz Gillespie, Executive Assistant to the Rector at 212-378-0263 or be added to our online gathering for Bible Study.
Centering Prayer

Zoom gatherings on Mondays at 7 pm, Wednesdays at 5 pm and Fridays at 9 am. No meetings between December 24 and January 3. We will resume on January 4.
Experience a few moments of peace and comfort through the contemplative practice of centering prayer. Newcomers welcome! To join our email list to receive updates on centering prayer, contact Manny Rodriguez.
The Forum
Sundays, 10 am
Live online each week. Click here to access.
Listen in -- or listen again -- to past Forum recordings.