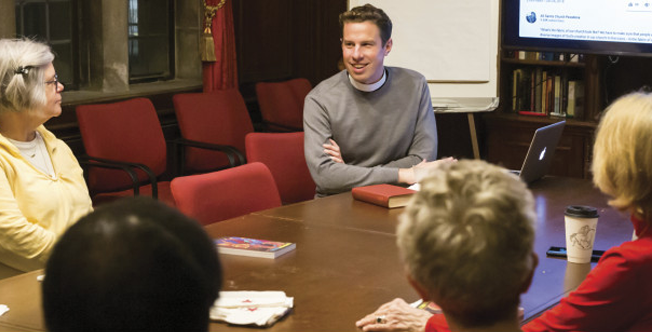 CURRENT OFFERINGS
Questions? Please contact the Reverend Peter Thompson, Associate Rector for Formation and Liturgy.
**NEW CLASSES** beginning after Labor Day
Celtic Spirituality: Seeing the Sacred in the Everyday
Tuesdays, September 8-29, 6:30-7:30 pm
Learn how to join this class online.
Are you interested in bridging the gap between the image of God you hear about in Church and your everyday life? Dana Catharine, a St. Bart's parishioner and experienced workshop facilitator, aims to help you do just that in this four-week exploration of Celtic spirituality. Known especially for its enthusiastic embrace of the natural world, Celtic spirituality is a form of Christianity rooted in the ancient traditions of Scotland and Ireland.
Episcopal NY Reads 1 Book: How To Be An AntiRacist

Thursdays at 7 pm, September 10 through October 15
Learn how to join this class online.
This fall, all 200 parishes in the Episcopal Diocese of New York are invited to form local groups to read, discuss, and learn from one of the most timely and important books of our day: How To Be An Antiracist, by the acclaimed winner of the National Book Award, Ibram X. Kendi. To create a local group, and in the spirit of collaboration, St. Bart's and St. Mark's in the Bowery will read and discuss this book together online for six weeks. Discussion will be facilitated by the Reverend Susan Anderson-Smith, Associate Rector for Justice and Reconciliation at St. Bart's, and the Reverend Anne Sawyer, Rector of St. Mark's.Our journey will culminate in an exclusive Diocesan online event on October 22, when the author will answer questions and reflect on the nationwide antiracist movement that his writings have helped to fuel.

Following Jesus: Finding our Way Home in and Age of Anxiety
Saturdays, September 12-October 17, 10:00 am-11:00 am
Learn how to join this class online.
What really matters when everything seems to be falling apart? During one of the more difficult times in his life, Roman Catholic priest and theologian Henri Nouwen contemplated this question in a series of lectures recently published for the first time in the book Following Jesus: Finding our Way Home in an Age of Anxiety (https://www.amazon.com/Following-Jesus-Finding-Direction-Uncertain/dp/1101906391). Join the Reverend Peter Thompson and an intimate group of other Jesus followers for a discussion about how Nouwen's words speak to the difficult times we are living through now--and how Jesus keeps calling us in spite of everything. Please read the Foreword, the Introduction and Chapter 1 before the first session.
Heresy: Examining Rejected Christian Beliefs
Wednesdays, September 16-October 28, 6:30-8:00 pm.
Learn how to join this class online.
We often talk about what Christians believe, but what about what they don't? This seven week class, led by the Reverend Peter Thompson, will focus on a series of beliefs rejected by the Church in the first few centuries after Jesus' death. Sessions will be based on the book Heresies and How to Avoid Them: Why it matters what Christians believe (edited by Ben Quash and Michael Ward) (https://www.amazon.com/Heresies-How-Avoid-Them-Christians/dp/0801047498/), though no advance reading is required.
Ongoing Offerings
Ancient Texts in Modern Times; A weekly Bible Study
Wednesdays at 1 pm
Thoughtful reflection and lively discussion of the upcoming Sunday readings with the Rector; The Right Reverend Dean E. Wolfe. Contact Ms. Liz Gillespie, Executive Assistant to the Rector at 212-378-0263 or be added to our online gathering for Bible Study.

Centering Prayer
Zoom gatherings on Mondays at 7 pm, Wednesdays at 5 pm and Fridays at 9 am.
Experience a few moments of peace and comfort through the contemplative practice of centering prayer. Newcomers welcome! To join our email list to receive updates on centering prayer, contact Manny Rodriguez.

The Forum
Sundays, 10 am
Live online each week. Click here to access.
Listen in -- or listen again -- to past Forum recordings.