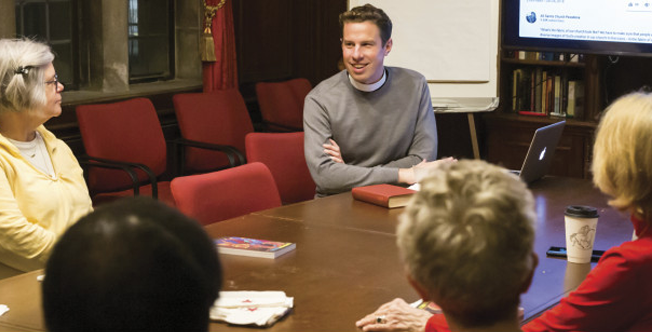 CURRENT OFFERINGS
Questions? Please contact the Reverend Peter Thompson, Associate Rector for Formation and Liturgy.
FALL CLASSES

The Cost of Discipleship
Saturdays, October 31-December 19, 10:00 am-11:00 am
Learn how to join this class online.
German theologian Dietrich Bonhoeffer, who famously plotted against Hitler in the final days of the Nazi regime, wrote The Cost of Discipleship a few years prior to contrast the "cheap grace" of modern culture with the "costly grace" of true Christianity. Join The Reverend Peter Thompson and other faithful members of the St. Bart's community for an eight-week close read of this principled and highly influential work. Please review the Introduction before the first session.

Make Me An Instrument of Peace: A Guide to Civil Discourse
Thursdays, October 29-December 3 (no meeting on November 26), 6:30-8:00 pm.
Learn how to join this class online.
How many of us have ever prayed, "Lord make me an instrument of your peace," then found ourselves in complex and polarized situations that made peace seemingly impossible? This course is for you. Designed by the Office of Government Relations of The Episcopal Church, Make Me an Instrument is a 5-week, interactive course taught by a team of experts in civil discourse, and is designed to help us bridge the deep and contentious divides that keep us from moving forward. Join The Reverend Susan Anderson-Smith as we discover new ways to have constructive conversations, enlarge the sacred space of debate, and love our neighbor. Find the link to the Participant Guide here. In the Participant Guide, please review Opening and Closing Prayers and Session One before the first meeting.
Exploring Day of the Dead
Sundays, October 25 and November 1, 3:00-4:00 pm.
Learn how to join this class online.
After leading a popular Celtic Spirituality workshop, parishioner Dana Catharine returns to offer a brief workshop on Dia de los Muertos, the Day of the Dead. Over the course of two sessions, Catharine, a former resident of Mexico, outlines this intriguing, colorful, mystifying and uniquely Mexican celebration that takes place each year from October 31 to November 2. Discover the history and customs associated with Day of the Dead and learn how to create your own celebration to honor those who have died.
Requiem: Musical Reflections on Death and the Afterlife
Tuesdays, October 13-November 17 (no class November 3), 6:30-8:00 pm.
Learn how to join this class online.
For hundreds of years, Christians have honored the dead through a liturgy called the Requiem, and musical settings of the Requiem are some of the most beloved masterpieces in the history of Western classical music. Join Dr. Paolo Bordignon and The Reverend Peter Thompson for a journey through the centuries, as they explore how different composers approached death, the afterlife, and our connection with those who have gone before. The next session will focus on the 1868 German Requiem (link to: https://www.youtube.com/watch?v=ZXU9vqVdudM) of Johannes Brahms and the 1874 Requiem (link to:https://www.youtube.com/watch?v=6pVYB6IaiFc) of Giuseppe Verdi.
Ongoing Offerings
Ancient Texts in Modern Times; A weekly Bible Study
Wednesdays at 1 pm
Thoughtful reflection and lively discussion of the upcoming Sunday readings with the Rector; The Right Reverend Dean E. Wolfe. Contact Ms. Liz Gillespie, Executive Assistant to the Rector at 212-378-0263 or be added to our online gathering for Bible Study.
Centering Prayer

Zoom gatherings on Mondays at 7 pm, Wednesdays at 5 pm and Fridays at 9 am.
Experience a few moments of peace and comfort through the contemplative practice of centering prayer. Newcomers welcome! To join our email list to receive updates on centering prayer, contact Manny Rodriguez.
The Forum
Sundays, 10 am
Live online each week. Click here to access.
Listen in -- or listen again -- to past Forum recordings.