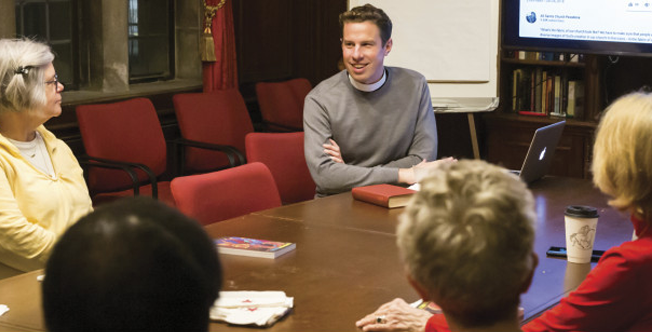 ADULT FORMATION SUMMER 2020

Questions? Please contact the Reverend Peter Thompson, Associate Rector for Formation and Liturgy.


Frederick Douglass' Fourth of July Oration
Wednesdays, July 1-15 from 6:30-8 pm
Learn how to join this class online.
On July 5, 1852, as the United States marched toward a civil war, renowned abolitionist Frederick Douglass delivered one of the most famous speeches in American history. His powerful words still convict white America over a century and a half later. Join the Reverend Peter Thompson for a close reading of Douglass' text and a discussion about how love of country and the fight for racial justice intersect. Consider reviewing the speech before the first session.
Living into God's Dream: Dismantling Racism in America
Tuesdays, July 7-28 from 6:30-8 pm
Learn how to join this class online.
Dr. Catherine Meeks, a leader in the struggle for racial justice for a long time, has masterfully compiled a deep, probing, and honest collection of essays on how people of faith and conscience of all ethnicities can work together to dismantle racism in America. Join the Reverend Susan Anderson-Smith to explore the real solutions proposed by Dr. Meeks and her colleagues to move us ever closer to the dream of the "Beloved Community." Before the first session, please read Chapters 1-3, and consider the Questions for Reflection for each chapter found in the back of the book.

Women in the Bible
Thursdays June 4-August 20 from 6:30 pm-8 pm
Learn how to join this class online.
When it comes to gender, the Bible's legacy is a mixed one. The collection of sacred texts we hold so dear is undoubtedly a product of the patriarchal cultures in which it was written, yet the Bible also features some women in positive and empowering ways. Explore the full complexity of the Bible's approach to women in this twelve-week series facilitated by the Reverend Peter Thompson. The series will incorporate video lectures and other material provided by the Yale Bible Study.

Secrets in the Dark: The Sermons of Frederick Buechner
Saturdays, June 6-July 25 from 10 am-11 am,
Learn how to join this class online.
Presbyterian minister Frederick Buechner captured the hearts of a generation of Christians with his dazzlingly imaginative spirit, his unflinching commitment to honesty and vulnerability, and his deeply beautiful prose. Revisit his call to listen to the pain as well as the joy of life with the Reverend Peter Thompson, as we journey through his sermon collection Secrets in the Dark: A Life in Sermons.


Weekly Bible Study
Thoughtful reflection and lively discussion of the upcoming Sunday readings.
Contact Liz Gillespie to be added to our online gathering for Bible Study.

Centering Prayer
Zoom gatherings on Mondays at 7 pm, Wednesdays at 5 pm and Fridays at 9 am.
Experience a few moments of peace and comfort through the contemplative practice of centering prayer. Newcomers welcome! To join our email list to receive updates on centering prayer, contact Manny Rodriguez.

The Forum
Sundays, 10 am
Live online each week. Click here to access.
Listen in -- or listen again -- to past Forum recordings.