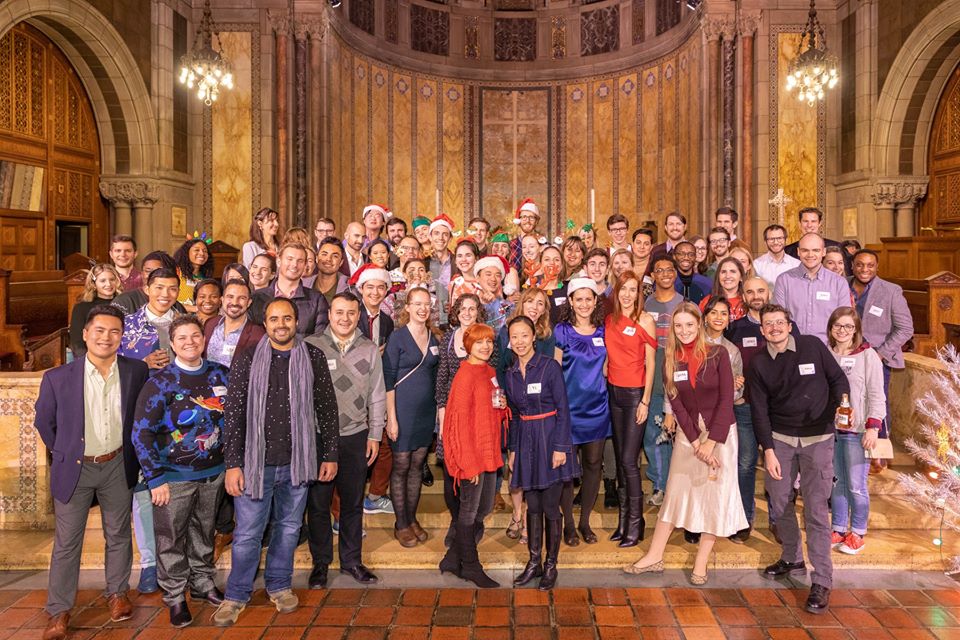 Community is a huge part of what it means to be a parishioner at St. Bart's. We are an active and diverse group of people, working together to create a warm and caring community, reflective of New York City and the world at large. We offer many opportunities for fellowship, formation and outreach, and we openly invite and encourage you to join us in any (or all!) that may be of interest. We encourage you to contact Manny Rodríguez-Leach at to inquire about any of the below fellowship opportunities or to simply say hello and learn more about our community. Whether you're a newcomer to New York City or just wanting to learn more, St. Bart's has a place for you.

Out of concern for the safety of our staff and community, the church and community house are closed until further notice. While are buildings are closed, please visit us online for livestream worship every Sunday at 11 am as well as virtual gatherings for spiritual practice and formation.
Meditation Practices
We offer a variety of weekly meditation opportunities at St. Bart's, including Living Christ Sangha and Centering Prayer. Click here to learn more and join one of our growing practices.

20s/30s
Whether you are in your 20s, 30s, or somewhere close, our young adults group at St. Bart's is a growing community that has a lot of fun together, but is also a group whose core is about making a difference; becoming the change we want to see in the world. A mix of work and fun, we collaborate with Habitat for Humanity, Ecclesia, and the St. Bart's Food Pantry/Shelter while also taking time to meet socially. We usually have brunch on the first Sunday of each month at a nearby restaurant following the 11 am service! Keep an eye out for our next announced date. All are welcome! Please email Manny Rodríguez-Leach with any questions or to receive additional information.
Episcopal Peace Fellowship (EPF)
Episcopal Peace Fellowship is a national organization connecting all who seek a deliberate response to injustice and violence and want to pray, study and take action for justice and peace in our communities, our church, and the world. We are called to do justice, dismantle violence, and strive to be peacemakers. For further information, contact Richard Jordan at for a quick reply. Questions about EPF? Email us at or visit epfnational.org.
St. Bart's Adult Professionals Group
The St. Bart's Adult Professionals Group is focused on active and inquisitive career-minded individuals seeking fellowship with other, similarly-minded people. Our events include networking, educational, service, spiritual, and social activities. The group is non-exclusive and is not age-specific; all interested people are welcome. For more information, please check out our Facebook site at: https://www.facebook.com/groups/102522876853874/ or email Michael at or Dulcie at
Garden Guild
A dedicated group of parishioners gather every other Saturday in the warmer months to plant, weed, sweep, and prune. We often follow our work with a cold drink, a little lunch, and some good conversation. This may be your best chance to be a Park Avenue gardener, maintaining the most beautiful gardens on the Avenue, experience not necessary. Interested? Leave your name and email address at St. Bart's Central in the narthex (or email ), and we will be in touch!
LGBTQ Fellowship
Online gatherings of the LGBTQ Fellowship will be noted here
Are you LGBTQ, or do you know someone who is? Are you looking for a spiritual and social community where you will be safe and welcome to explore the great questions of life? St. Bart's Lesbian and Gay Fellowship is fully integrated into the leadership of our large church, but also works to meet the real needs of its members with a variety of speakers, service, social gatherings, brunches, friendship and support. For many years, we have taken a leading role in the struggle for full equality of St. Bart's LGBTQ members not only in in the Church, but also the nation. We welcome you to visit St. Bart's at the 11 am Sunday service (also at 8, and 9 am, and 5 pm.) If you're ready, make yourself known at the coffee hours that follow. Come as you are! We'd love to welcome you!

Cursillo
Cursillo is short course of Christianity and an apostolic movement of the church.The Cursillo focuses on showing Christian lay people how to become effective Christian leaders over the course of a three-day weekend. The weekend includes fifteen talks, some given by priests and some by lay people. There will be lot of activities, singing, and prayer. Read The Episcopal New Yorker's article on Cursillo, here.
Download the Cursillo application