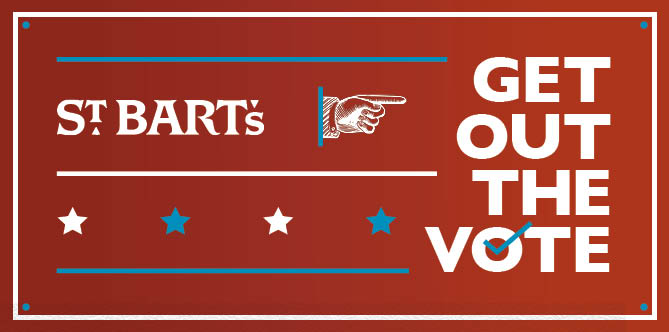 St. Bart's is working with nonpartisan Reclaim Our Vote (ROV) to join their at-home postcarding program to combat voter suppression and encourage voter registration. In 2020, ROV is focusing on sending postcards to voters who have been purged from the registration rolls in Alabama, Arizona, Georgia, Mississippi, North Carolina and Texas. ROV is a nonpartisan, nonprofit group that partners with local organizations and faith organizations. Questions? Email us at
UPCOMING EVENTS
Please join us for one of the upcoming Interfaith ROV phone banking sessions, hosted by B'nai Jeshrun and Rabbi Brian Fink of the JCC. Phonebanking is second only to canvassing for Getting Out the Vote (GOTV). It might not seem you're making much headway with all the unanswered, out-of-service calls, but at scale – when we've made thousands of dials, the effect is substantial. But we need you!
Due to the pandemic, polling sites will be closed or switched, Board of Elections Offices will be unable to respond to all their calls, and disinformation will explode.
ROV's phonebanks give the voter RELIABLE INFORMATION about voting locations and ways to vote during the pandemic.
The 2020 election will be the most treacherous in recent history. In this age of disinformation, ROV's accurate information is crucial! Join ROV and members of your faith community to phonebank at a zoom gathering. We begin with training, then we phonebank, then we come back to share our stories.
The calls you make could change history. Training will be provided, and all are welcome to participate. Sign up with links below.
Events Hosted by B'Nai Jeshrun:
Monday, August 10, 5-7pm - Click here to sign up
Tuesday, August 18, 12-2pm - Click here to sign up