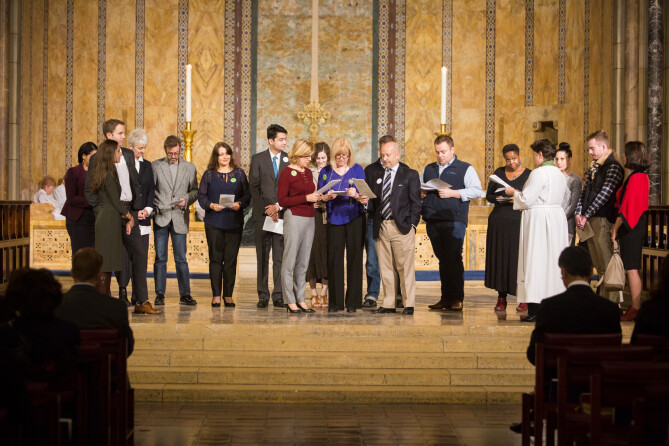 St. Bartholomew's Church has a long tradition of "radical welcome," from which our unusually broad understanding of membership has evolved. Any person who wants to be a member of this community—and who intends to offer support for the ministries here by their prayers, presence, time and resources—can be a member. Anyone, period.
HOW DOES IT WORK?
On a Welcome Sunday during the 11 am service, a group of seekers make known their desire to become "official" members of St. Bart's. In response, the St. Bart's community offers these newest members our welcome and thanksgiving for their presence here with us. All of us affirm our commitment to support each other in living our lives of faith, now joined in this particular community.
You may join other new members at the front of the church (to the right of the pulpit) at 10:45 am and sit together. If you prefer to sit in your favorite spot, that's OK too; just follow the rest of the group when you're invited to come forward for the Welcoming of New Members.

Following the service, you (and any guests) are cordially invited to a Welcome Reception for New Members in Room 33 (third floor) of the Community House. If you need help finding Room 33, a Welcome Committee member—wearing a green button—will be stationed near the door at the right front side of the church, and will direct you.

Please join us for food and refreshments, and the opportunity to meet fellow parishioners, including members of the Clergy, the Vestry, the Welcome Committee, and several other groups active at St. Bart's.
We look forward to welcoming you as a new member of the St. Bart's community!
WHO CAN BE WELCOMED?
Anyone who has joined St. Bart's recently (or even not so recently) and hasn't yet been welcomed on a Welcome Sunday as well as anyone who has decided they are ready to join this community of faith and comes forward when invited. Those who have taken the Explore class series or who have been attending St. Bart's for some time (even years!) are also eligible to be welcomed. Those who are new but know that St. Bart's is the right church for them are also of course ready to be welcomed!
QUESTIONS ABOUT JOINING AND BELONGING?
Email Manny Rodríguez-Leach. You can also fill out an online Welcome Card and one of us will be in touch with you shortly.