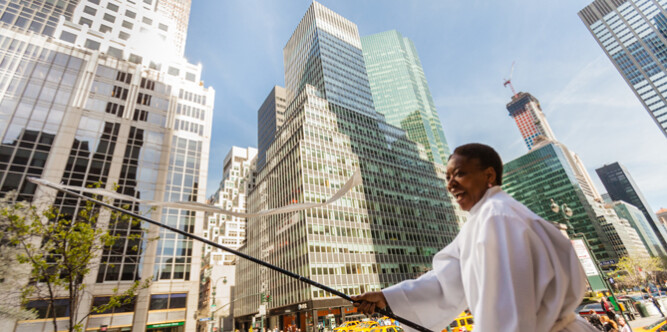 We welcome you to St. Bartholomew's Church, a warm, vibrant and growing parish of the Episcopal Diocese of New York, located in the heart of midtown Manhattan at 325 Park Avenue between 50th and 51st Streets.
Out of concern for the safety of our staff and community, the church and community house are closed until further notice. While are buildings are closed, please visit us online for livestream worship every Sunday at 11 am as well as virtual gatherings for spiritual practice and formation.
Our mission is to comfort, challenge and inspire a growing community of people in search of meaning and and hope in their lives.

We welcome people of every denomination, and whether you're looking for a church home or just visiting, we invite you into our parish family, both here in New York City, or virtually.
The opportunity to worship with us is great. In 2019, St. Bart's offered just under 1000 worship services, offering beautiful music and impactful liturgy at all. We usually offer at least one service daily, many times more, including Evening Prayer and Noon Eucharist every weekday, Morning Prayer on Saturdays and an Evening Eucharist with music and sermon every Wednesday at 6 pm.
Every Sunday we usually offer four services in a diversity of styles, formal and informal, contemporary and traditional. In all, we offer the best we have, we experience the mystery of God, hear and wrestle with God's word, share Christ's presence in the sacrament, feel God's love in community, and leave strengthened to live and serve in the world. Please join us as often as you like! Our doors are open to all.
CONNECT WITH US
To learn more about St. Bart's worship, programs, classes, community groups, volunteer opportunities, or to simply connect with us, please contact Manny Rodríguez-Leach at or fill out an online Welcome Card below and we will be in touch with you shortly!
FILL OUT AN ONLINE WELCOME CARD