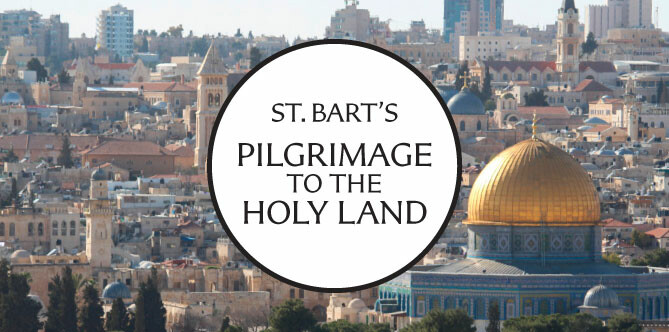 We are very excited for our St. Bart's Pilgrimage to the Holy Land May 16 to 27 in 2023. The pilgrimage will be led by Canon Iyad Qumri and the Right Reverend Dean Wolfe.

Read Bishop Wolfe's letter of invitation from November 16, 2021 about the upcoming 2023 Pilgrimage.
Download our Holy Land 2023 Brochure

Prepare for the Journey
At The Forum on Sunday, March 31, 2019 Seminarian Jennifer Allen presented a virtual tour of the Holy Land using Ignatian Imagination. Listen to the audio recording of this forum found here.
Click here to listen to a Forum presented by parishioners who made this same pilgrimage in 2019.


Class on the Archeology of Jerusalem