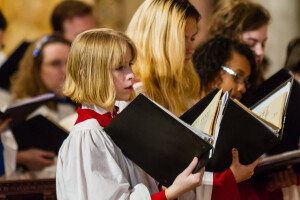 Day Camp Registration is closed for this year, but you can still participate in our Choristers Program starting in September. Join us Sunday, September 8 at 10 am for our Family Ministries Breakfast to learn more.
* * * * *
Chorister Day Camp is open to all children, from second grade through high school, who are interested in the chorister program at St. Bart's led by Dent Davidson. St. Bart's Choristers sing Sunday mornings at 9am and rehearse one afternoon per week throughout the school year.
Chorister Day Camp is offered free of charge from Monday, August 19 to Friday, August 23 from 9 am to 3 pm; choristers will sing in church on Sunday, August 25 at the 9 am service.
Children will spend the mornings singing and building musical skills. Snacks and lunch will be provided.
Lunch is followed by activities, which will include swimming and games, and creating an altar frontal for use at the 9am service on Sunday, August 25.
The days round out with a recap of music learned, with departures at 3 pm. If you have any questions please email Dent or call him at 212-378-0220.