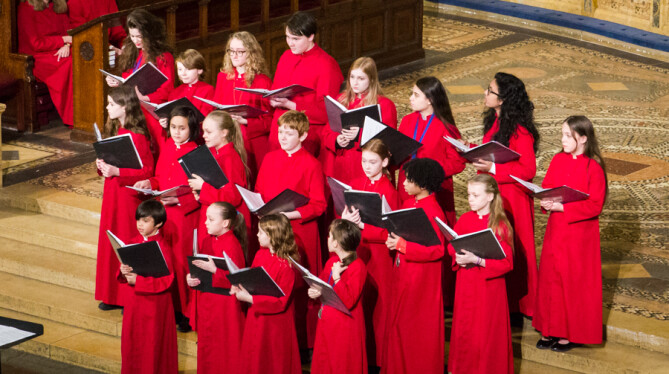 Thanks to your enormous generosity our choristers have have reached their fundraising goal for their educational pilgrimage to England in August 2018. We look forward to sharing images and video from their journey when they return.
The St. Bartholomew's Boy & Girl Choristers program provides professional, tuition-free, choral education for children in Grades 2-12. With a repertoire drawn from a wide variety of musical styles ranging from medieval chant to contemporary compositions, the St. Bart's Choristers partake in the musical life of one of New York City's grandest churches.
Choristers commit to frequent rehearsals, liturgical services and professional appearances throughout the school year. In return, they learn to read music and perform an extensive repertoire, broadening their knowledge of music, language, history and art. For some, this exposure to musical genres such as Sixteenth Century Polyphony, the English Romantics and/or contemporary liturgical compositions sparks interests that lead to the pursuit of further related studies.
Through the years, the St. Bart's Choristers have had the honor of performing in many sacred spaces and for many esteemed guests. Their voices have filled Carnegie Hall, The National Cathedral in Washington D.C., and many cathedrals in England; and they have been broadcast live on ABC, CBS and NBC. The youth have produced acclaimed recordings and they have been repeatedly engaged by some of Manhattan's renowned institutions.