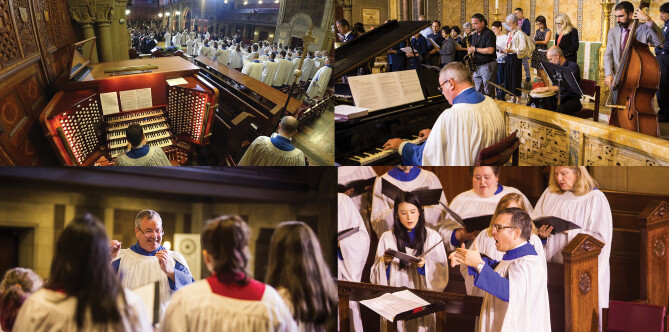 Throughout its 175-year history, music has held a place of high esteem in the rich life of St. Bartholomew's Church. Some of the greatest names in American church music, including Leopold Stokowski, David McK. Williams, Harold Friedell and William K. Trafka have served as past Directors of Music.
The Mid-Manhattan Performing Arts Foundation (MMPAF) has the been the engine behind midtown concert series, Great Music at St. Bart's, for more than 30 years.
Sacred music at St. Bart's reflects the diversity of our worship styles but is firmly rooted in the Anglican choral tradition. There are many opportunities for musicians of all ages and abilities, regardless of religious affiliation, to participate in this extensive choral program. In addition, A Choral Feast offers outstanding larger-scale choral works presented within the context of St. Bart's 11 am service.
St. Bartholomew's is also a center of music outside the liturgical realm. The Great Music series offers outstanding concerts of choral and organ works in the church and chamber music in the chapel. In addition to performances by St. Bartholomew's Choir, Boy and Girl Choristers and resident organists, past concerts have included performances by the Tallis Scholars, the choirs of Canterbury Cathedral, St. John's College in Cambridge and St. Paul's Cathedral.
The church's Aeolian-Skinner pipe organ, the largest in New York City and one of the great examples of the American Classic organ, is central to the liturgical and concert life of the church.
UPCOMING MUSIC EVENTS