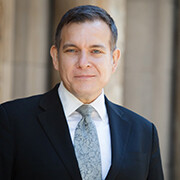 Paolo Bordignon, Organist and Choirmaster, previously served as St. Bartholomew's Associate Music Director from 2005 to 2014, and then served as the Director of Music at St. Paul's United Methodist Church in Houston before recently returning to New York. He is harpsichordist of the New York Philharmonic and performs in 2018-19 with Camerata Pacifica, the Chamber Music Society of Lincoln Center, Santa Fe Chamber Music Festival, Orpheus Chamber Orchestra, St. Paul Chamber Orchestra, New Jersey Symphony Orchestra, ECCO, the Florida Orchestra, and a Trans-Siberian Arts Festival tour with the Sejong Soloists. He has been a frequent organ recitalist at the Metropolitan Museum of Art.
He has participated in festivals including Aspen, Bard, Bridgehampton, Grand Tetons, Mostly Mozart, and Palm Beach, as well as New York Fashion Week. He has collaborated with Renée Fleming, James Galway, Wynton Marsalis, Bobby McFerrin, Midori, Itzhak Perlman, and with composers Philip Glass and Elliott Carter as soloist in their concerti. Born in Toronto of Italian heritage, Dr. Bordignon is a graduate of St. Michael's Choir School, the Curtis Institute of Music, and the Juilliard School. He is an associate of the Royal Conservatory of Music and a fellow of the Royal Canadian College of Organists.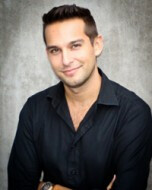 Christopher Carter, Administrative Associate for Music, has been part of the St. Bart's family since 2010. He is now a regular singer for the St. Bartholomew's Choir, section leader for the St. Bart's Singers and Choir Marshal, as well as an Administrative Associate for the Music Department.
Chris studied under Randall Scarlata and earned a performance degree from West Chester University of Pennsylvania,. While attending graduate school at the University of Toronto, he also studied with Mary Morrison. Chris has impressive professional credentials, including the Toronto International Bach Festival (under the direction of Helmuth Rilling); the Toronto Bach Consort (under the direction of Yannick Nezet-Seguin); and the Festival Ensemble with the Toronto Symphony Orchestra (under the direction of Peter Ouindjian). Chris has performed and toured throughout southern Germany with Benjamin Britten's "War Requiem" with the Festival Ensemble Stuttgart, under the direction of Helmuth Rilling, In the same year, as a member of the Choir of St. James Cathedral (Toronto, Ontario), he was a performance soloist at the National Arts Festival in Grahamstown, South Africa.