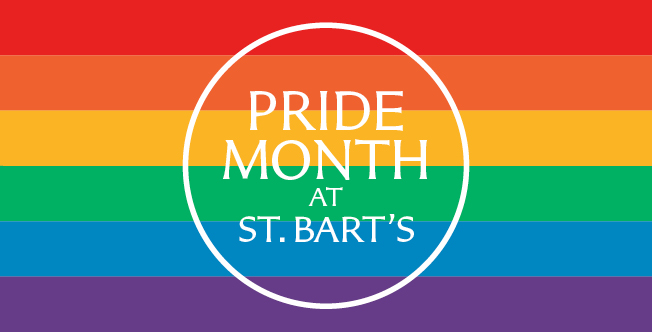 The LGBTQ+ Community at St. Bart's invites you to join us in celebrating Pride Month. We make this invitation and welcome you to our events in the midst of great agony in our country. The LGBTQ+ Community knows about the work of resisting police brutality and violence. We celebrate June as Pride Month, because it commemorates, in part, our resisting police harassment and brutality at Stonewall in New York City, and earlier in California, when such violence was common and expected. We remember it as a breakthrough moment when we refused to accept humiliation and fear as the price of living fully, freely, and authentically.
We understand what it means to rise up and push back against a culture that tells us we are less than, that our lives don't matter. We join together with and to say #BlackLivesMatter and commit ourselves to the action those words require. We invite you to stand and act with us.
2020 PRIDE MONTH EVENTS
LGBTQ+ Community Brunch
Sundays, 2 pm
Click here to join the meeting.
Join members of our LGBTQ+ Community for virtual brunch and conversation from 2 pm to 3 pm.
Events from earlier this month
The Forum: The Inheritance -- Gay Identity Across Generations
Sunday, June 28 at 10 am
Playwright Matthew Lopez talks about his award-winning Broadway play The Inheritance and how the struggles of the AIDS crisis remain relevant today.
---
Celebrate Us
Sunday, June 28, 4 pm
Click here to learn more.
Looking for a creative outlet for your own talent? Bummed about Pride 2020 public gatherings being canceled? Well, the LGBTQ+ Community of St. Bart's may have just the remedy for you. The LGBTQ+ Community of St. Bart's is hosting "Celebrate Us," a pre-recorded video montage of talent that celebrates Pride 2020 through the amazing gifts of the LGBTQ+ Community, allies and friends.
---
Now, More than Ever, We Rally Together:
NYC Pride is proud to announce a virtual Rally on Friday, June 26, 5 pm- 8 pm.
Learn more.
Hosted by trans journalist Ashlee Marie Preston and trans actor Brian Michael Smith, join community activists, organizers, politicians and more as we take a stand against police brutality and discrimination. Show up in force as a community to change the future and make your voice heard in this re-imagined Rally experience. This nontraditional Rally event comes at a time when conversation, education and activism is needed most.
---
The Trevor Project
Thursday, June 25, 2:30-4 pm
Click here to learn more.
The Trevor Project is the premier organization providing crisis intervention and suicide prevention services to LGBTQ+ teens and young adults. LGBTQ youth may be particularly vulnerable to negative mental health impacts associated with the COVID-19 pandemic. Please join us for this presentation followed by a discussion.
---
Queer Theology
Tuesdays, June 2-June 23, 6:30-8 pm
Click here to learn more.
In recent decades, progressive religious leaders have spent considerable energy convincing us that LGBTQ+ people are loved by God and belong in the Church. But those conversations typically only go so far. What happens once LGBTQ+ people are included? How can the experiences of LGBTQ+ people—and the academic discipline of queer theory—transform our understanding of God and of the world? Join the Reverend Susan Anderson-Smith and the Reverend Peter Thompson for a study of Linn Marie Tonstad's book Queer Theology: Beyond Apologetics.
---
A virtual screening of "Unsettled: Seeking Refuge in America"
Thursday, June 4, 3-5 pm
Click here to learn more and join the screening.
"Unsettled" is a feature-length documentary revealing the untold stories of LGBTQ+ refugees and asylum seekers who have fled intense persecution from their home countries and who are resettling in the U.S. Please join us for a viewing of this stunning and powerful film, to be followed by discussion.
---
Screening: "Born to Be"
Thursday, June 18, 3-5 pm
Click here to learn more.
This documentary follows the work of Dr. Jess Ting at the groundbreaking Mount Sinai Center for Transgender Medicine and Surgery in New York City, where, for the first time ever, all transgender and gender non-conforming people have access to quality transition-related health and surgical care. A discussion will follow.