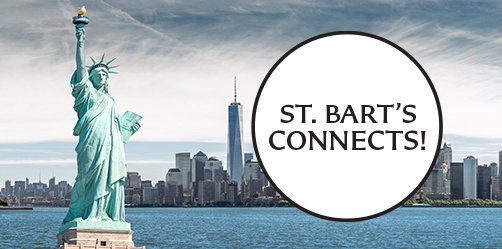 Many St. Bart's parishioners have expressed a desire to connect with each other on a deeper and more meaningful level than is possible during coffee hour. In response, a committee of stalwart volunteers is organizing a new program whereby parishioners can sign up to meet with other parishioners in small group gatherings of six to eight people. Groups will be organized on a geographic basis and will typically meet every four to six weeks from May to November 2020.
Gatherings may include a meal, but are not required to do so. Some groups will be held in parishioners' homes; others in the St. Bart's Community House. They should offer a chance to share personal spiritual journeys and reflections on the joys and challenges of attempting to live a faithful Christian life amidst the hurly burly of today's New York City. This, in turn, helps to strengthen the communal life of our parish.
Please sign up below to join St. Bart's Connects! Please fill out one form for each participant. If you have any questions please contact the Reverend Deborah Lee, Associate Rector for Discipleship and Community Life, at 212-378-0240, or
.