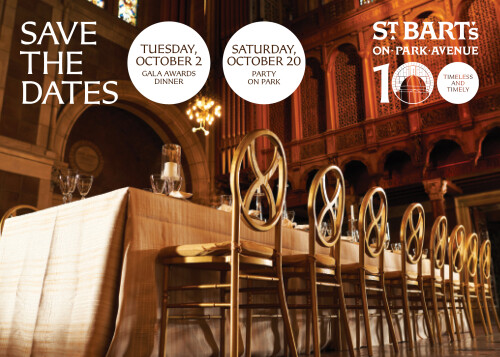 Download our media release in MSWord or PDF.
In October, we will observe the 100th anniversary of the first service in our now landmarked Park Avenue church building. Our parish was founded in 1835 in the Bowery section of Manhattan and moved to our current church home in 1918. While the world around St. Bart's has changed dramatically in the last 100 years, our mission is still very relevant (and much needed) in today's world.
Our theme for 2018 is St. Bart's on Park Avenue—Timeless and Timely at 100.
When you get to 100, you have to do it up big. We're planning a number of special events in October, as described in the attachment. In addition, we are organizing 100 Celebrations of St. Bart's and 100 Ways to Serve from now through our October centennial celebrations. Working with a diverse and talented planning team of 20 members, the Wardens, and Bishop Wolfe, we have enthusiastically established this Gospel-sized challenge to:
Celebrate the life, purpose, and history of St. Bart's
Create and sustain energy around St. Bart's mission and role
Build visibility, strengthen relationships and nurture community among our members
Encourage participation, attendance and engagement, by members and the larger community
Please review what we have planned and participate with us—in 100 Celebrations of St. Bart's, 100 Ways to Serve, and in our Centennial Awards Gala and Party on Park in October.
Blessings,
Timothy W. Collins and Mary Krueger
Co-Chairs, St. Bart's Centennial Planning Team