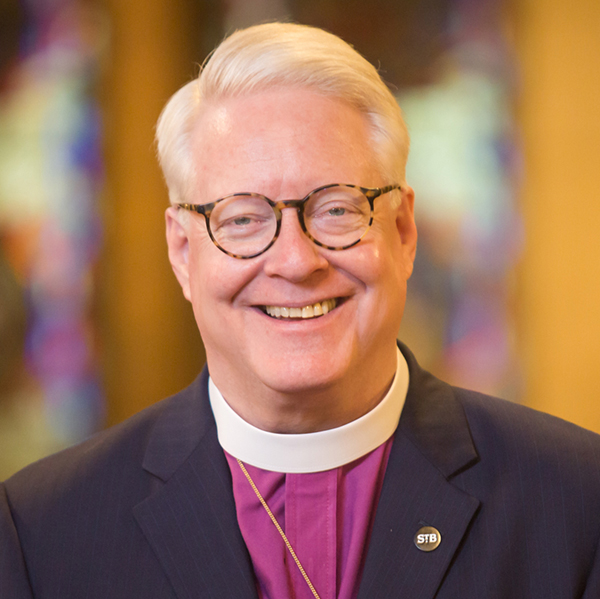 Dear Friends,
I write to bring you all some very good news. The Reverend Peter Thompson, who has served so brilliantly at St. Bart's over the past two and a half years, has been invited to serve as Vicar of St. Bartholomew's Church in the City of New York which, I am thrilled to say, he has enthusiastically accepted.
In his new role as Vicar, Peter will work closely with the Rector in visioning, managing, and implementing programming to nourish, equip, and grow the parish. Peter will continue to lead our worship, liturgy, adult education and formation programs and will continue to serve as a priest and pastor among us, sharing in sacramental, preaching, and teaching duties, as well as in the pastoral care of our members. Having provided steady and effective leadership through the extraordinary challenges of a pandemic year, I know Peter is very well qualified to assume these new responsibilities.
Before coming to St. Bart's, Peter served as Assistant Rector at St. Paul's on the Green in Norwalk, Connecticut where he assisted in all aspects of parish life with a particular focus in Christian Formation, Liturgy and Pastoral Care. He served on the Standing Committee for the Episcopal Church in Connecticut, an extraordinary accomplishment for a newly ordained priest.
Peter earned his Master of Divinity degree at Yale Divinity School, with additional studies at Berkeley Divinity School, the Episcopal seminary in residence there, and the Yale Institute of Sacred Music; an interdisciplinary graduate center for the study of sacred music, worship and the arts. He graduated magna cum laude from Columbia University with degrees in Psychology and Religion. Peter also studied at the University of Cambridge in England. As an undergraduate, Peter held parish internships at the Church of the Epiphany in Washington, DC and the Church of St. Mary the Virgin here in Manhattan.
Raised in the Washington D.C. area, Peter grew up in The Episcopal Church and served as a chorister and acolyte at Washington National Cathedral. Music in general, and liturgical music in particular have been constant threads throughout his life. Peter was a member of college and seminary choirs, sang professionally at the Cathedral of St. John the Divine, and currently sings with the Young New Yorkers Chorus. His love of music and its role in liturgy have been a tremendous resource to our liturgical team at St. Bart's. Beyond his work in the church, Peter loves musical theater and is an avid long-distance runner.
It has been my great privilege to supervise and mentor a series of extraordinarily gifted clergy in large, multi-staff parishes and, later, as a diocesan bishop. One of the priests I mentored is now the Rector of one of the largest Episcopal churches in the country. Another serves as the Dean of a vibrant cathedral. Yet another serves as a recently-elected bishop. Peter possesses the same high level of faithfulness, intellect, and skills these amazing priests exhibited early in their ministries. Indeed, Peter may well be the most capable of them all. His unique gifts and work ethic make him a joy and an inspiration to work with and I look forward to this next stage in our ministry together.

The Right Reverend Dean E. Wolfe
Rector


---
Dear friends,
I am deeply humbled and greatly honored by +Dean's invitation to serve as Vicar of St. Bart's, and I accept it with gratitude and joy.
Joining the clergy staff of St. Bart's two and half years ago was a dream come true. I had admired St. Bart's for quite some time before receiving the initial call to serve here. As a teenager discerning the possibility of ordination, I regularly visited the websites of Episcopal churches across the country, including St. Bart's, and enjoyed listening to sermons by Bill Tully, Buddy Stallings, and others. I worshipped at St. Bart's on my first Sunday as a college student in New York and attended a variety of concerts and liturgies here over the years. After my ordination to the priesthood in May 2015, I worked at a parish in Norwalk, Connecticut where "Radical Welcome" was mentioned every Sunday and St. Bart's was regularly invoked as an example of how the Church can get things right.
The hype was real. When I became a more permanent part of the St. Bart's community in early 2019, I was not disappointed. From the start, you welcomed me with open arms and pushed me to become a better priest and human being. You helped me explore a variety of important issues in Adult Education classes, invite a panoply of fascinating speakers to The Forum, and preach from the depths of my mind and heart. Time and time again, I have been inspired by your faithfulness in prayer, your openness to intellectual inquiry, your passion for inclusion and justice, your care for one another, and your commitment to serving those in need. Each and every Sunday, I am profoundly moved by the vibrancy of our diverse community, the glorious dignity of our transcendent worship, the beautiful singing of our three choirs, and, of course, the stunning building we call home.
None of us could have expected the challenges the COVID-19 pandemic would bring, but together we have made lemonade out of lemons, experimenting with new things, extending our reach around the globe, and expanding our understanding of what it means to be a faith community centered around the life and teachings of Jesus.
I look forward now to a new adventure with all of you! I can't thank +Dean enough for entrusting me with this responsibility and for his support and guidance over my time here. He is a wise, experienced, and generous leader, from whom I continue to learn much. I am grateful, too, to my clergy colleagues, to our facilities, communications, and administrative staff, to our talented musicians, to our supremely dedicated volunteers, and to each and every one of you for all of your support and for all that you do to make St. Bart's the magnificent place that it is.
Last week's reading from the letter to the Ephesians ascribed glory to the God "who by the power at work within us is able to accomplish abundantly far more than all we can ask or imagine." Despite all of the challenges we face (and there are many!), I do believe that we have the capacity for abundance—that we can accomplish more than we even dare to dream. With God's help, all things are possible. Let's keep praying and let's get to work!

The Reverend Peter D. Thompson
Vicar