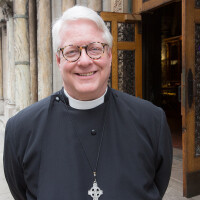 Dear Friends,

Lent traditionally offers Christians an opportunity to reflect more deeply upon their journey of faith. It is a time for renewed prayer, meditation, study, and worship. It is a time when we are reminded of our need to return, again and again, to the promises made in our baptismal vows. It is a time of repentance and forgiveness.

At St. Bart's, we offer a wide variety of opportunities to grow intellectually and spiritually during this rich liturgical season. The pandemic has been the source of many things over these past two years. It has caused great illness and fear and death and grief. It has created enormous financial and economic stress. But it has also invited all of us to reexamine our lives. It has invited us to recommit ourselves more fully to the things which hold the highest and deepest meaning... while setting aside the things that are ephemeral and which do not last.

As The Book of Common Prayer states it so eloquently,

"I invite you, therefore, in the name of the Church, to the observance of a holy Lent, by self-examination and repentance; by prayer fasting, and self-denial; and by reading and meditating on God's holy Word."

Please take a close look at the offerings available to you during Lent at St. Bart's and make a promise to yourself and to God to enrich your spiritual life in this holy season.
Faithfully,

The Right Reverend Dean E. Wolfe, D.D.
Rector
COVID-19 Safety Protocols
Masks are required for all, at all times.
As of March 2, all persons over the age of 5 must show proof of vaccination, and eligible adults must show proof of vaccination and a booster shot.
At the 11 am service, outdoor seating is available on the terrace. The outdoor congregation will view our live stream from the church and receive Holy Communion in person from a priest. Proof of vaccination is not required for outdoor seating.

Please do not attend services in person if, at any time, you experience symptoms known to be associated with COVID-19.

We appreciate your patience and cooperation as we continue to prioritize the health and safety of our whole community