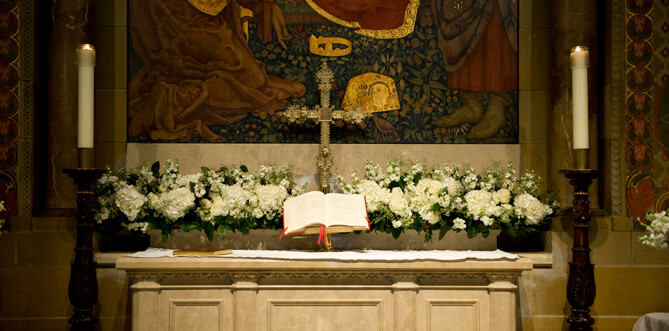 MARRIAGE
We are glad and grateful to know that you are interested in having a wedding at St. Bartholomew's. Many events take place within the walls of this sacred space, events that cover the range of human experience and emotion. Weddings are among the most joyous. They bring with them the opportunity for great celebration, and the chance to get a glimpse of the love God has for each one of us.
The Celebration and Blessing of Marriage and Blessings of Commitments require consultation with clergy. For inquiries about weddings, please contact the Rev. Peter Thompson, at or 212-378-0293, You will also find many helpful details by clicking on our Weddings section on the navigation bar to the right.
BAPTISM
Holy Baptism is the sacrament by which one embraces the Christian way and becomes a member of Christ's body, the Church. Baptisms are scheduled throughout the year on specific Sundays. See dates here. When there are extenuating circumstances, private baptisms may be arranged. Please email the Rev. Deborah Lee at .
Baptism is an event of primary significance and celebration not just for the individual but for the whole church. Baptisms are offered throughout the year on specific Sundays and at the Easter Vigil. Preparation is offered regularly in anticipation of Baptism Sundays.
For upcoming Baptism dates and registration, please visit our Baptisms page.
FUNERAL AND MEMORIAL SERVICES
A death in the family can be reported to any of the clergy, using the pastoral emergency phone, 212-378-0250. Clergy will assist with funeral or memorial plans and can recommend the services of an undertaker.

Otherwise, please call the Rector's Office during business hours (Monday-Friday, 9am-6pm) at 212-378-0263. (After business hours, you may use the pastoral emergency phone to reach the priest on call if necessary: 212-378-0250.)

To assist you in preparing for a funeral at St. Bart's, please download and complete the funeral-Information form here, or click on the Funeral Form found in the navigation menu on the right.