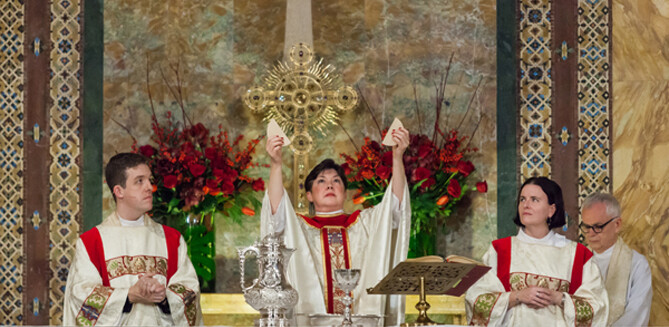 WORSHIP IS THE FOUNDATION OF ALL WE DO

Every Sunday we offer a diversity of styles, formal and informal, contemporary and traditional. In all, we offer the best we have, we experience the mystery of God, hear and wrestle with God's word, share Christ's presence in the sacrament, feel God's love in community, and leave strengthened to live and serve in the world. We hope you find the service that works best for you and your family.
Eucharist in the Chapel
8 am: A quiet service in the traditional language of the Book of Common Prayer.
Eucharist in the Round
9 am: An informal, tuneful celebration with a wide range of music and instruments.
Choral Eucharist
11 am: Our largest service, warm and elegantly formal. The music of our renowned professional choir is drawn mostly from the classical tradition—mass settings, anthems, and great hymns. Our Boy and Girl Choristers also sing most Sundays from mid-September through early June. Several times a year, the service is a combination of Choral Morning Prayer and the Eucharist.
Community Eucharist in the Chapel
5 pm: A casual, intimate Eucharist in the round with music.