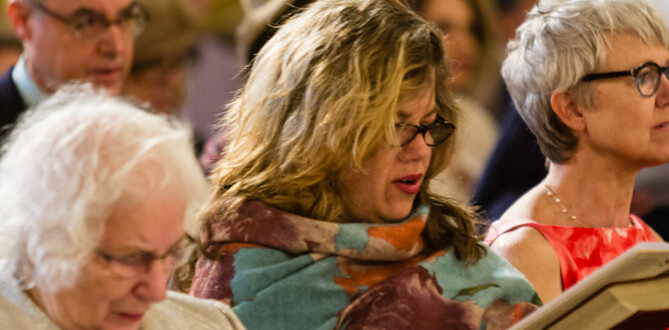 Out of concern for the safety of our staff and community, the church and community house are closed until further notice. While are buildings are closed, please visit us online for livestream worship every Sunday at 11 am as well as virtual gatherings for spiritual practice and formation.
WORSHIP IS THE FOUNDATION OF ALL WE DO

St. Bart's holds services every day of the week. Monday through Friday, we offer the Eucharist at 12:05 pm and Evening Prayer at 5:30. On Wednesdays at 6 pm, we have a Eucharist with music and homily in the Church. On Saturdays at 10 am, we offer a short service of Morning Prayer. Also see our Sunday worship schedule. Please join us as often as you like! Our doors are open to all.
12:05 pm Noon Eucharist
At the center of each day, we celebrate the Holy Eucharist (Communion or Lord's Supper), which in our tradition is the principal act of worship. The Eucharist is celebrated Monday through Friday at 12:05 pm in St. Bart's Chapel.

5:30 pm Evening Prayer
Every weekday we offer Evening Prayer, a collection of Bible readings, psalms and prayers to close the day at 5:30 pm in St. Bart's Chapel.

6 pm Wednesday Eucharist
An intimate service in the Chapel on Wednesday evenings, with music. A perfect mid-week spiritual refreshment!

10 am Saturday Morning Prayer
Begin your Saturday morning with with 15 minutes of readings, psalms and prayer in St. Bartholomew's beautiful Chapel. From 10 to 10:15 am.