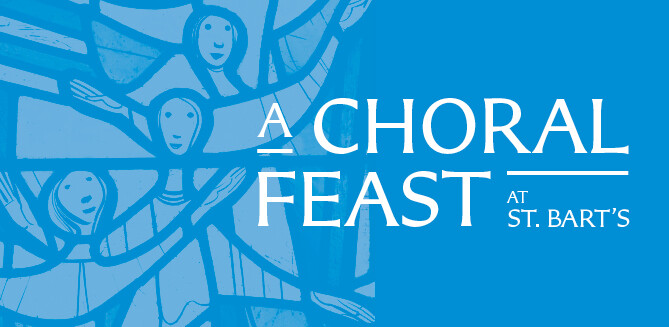 This music is made possible by your generosity and your commitment to bringing great sacred choral works to our sacred space.

Make a donation to support A Choral Feast
Save the Dates for our Upcoming Choral Feast Sundays
Sunday, August 4
BACH'S "SINGET DEM HERNN"
The service this Sunday at 11am features the music Johann Sebastian Bach, including one of his trio sonatas for organ, hymns tunes Jesu meine Freude (Jesus, my treasure) and Nun danket alle Gott (Now thank we all our God), and his motet for double choir and continuo Singet dem Herrn ein Neues Lied (Sing to the Lord a new song).
Framing the service is Bach's trio sonata no. 5 in C Major for organ. Each of the 6 trios is in three movements (fast-slow-fast) with three independent voices. What would traditionally have been played by three performers (two violins and a cello, for instance) is instead arranged in a genre created by Bach, for a single player, with two voices in the manuals and one in the pedal. The collection was intended for study to perfect organ technique and the works are among the most difficult - from any era - for the instrument.
The featured work, Singet dem Herrn (from 1726 or 1727) is for double choir (8 voices, divided into two four-part choirs) plus instruments. The text of the four-movements motet is after Psalms 149 & 150, with the second movement based on a Chorale inspired by Psalm 103. The first movement includes many wonderful instances of text painting, including a drum-like figure for "pauken" (drums) in the midst of flowing music, or the introduction of a new motive for "a new song." The second movement presents a chorale sung by one choir (the start of which sounds very much like Old Hundredth), while the other sings musical and textual elaborations around it. The third and fourth movements are sung attacca (connected): a dance-like movement with the choirs echoing each other, followed by a virtuosic fugue in which 8 voices join to sing the new song in unison, as 4 voices.
Sunday, September 8
PALESTRINA: MISSA PAPAE MARCELLI
The most celebrated of his hundreds of sacred choral masterpieces, this Mass is the quintessential work of the Counter-Reformation, showing that polyphony could have the clarity and prayerfulness of chant, while robed in the splendor of the high Renaissance.
Sunday, October 6
BENJAMIN BRITTEN: REJOICE IN THE LAMB
In the personal theology of Saint Francis of Assisi, all living things praise the almighty. On his feast day, revel in this brilliant cantata's exploration of these themes and others, through the music of Benjamin Britten and the visionary poetry of Christopher Smart, whose life and outlook bear remarkable kinship to the great friar.
Sunday, November 17
FRANZ SCHUBERT: MASS NO. 4 IN C MAJOR, D.452
Schubert's sacred music for choir and orchestra carry the torch of Viennese classicism handed to him by Haydn, Mozart, and Beethoven. Written at age 19, this work was one of his favorites, and he revised and perfected it over the course of a decade before it became his only published Mass.
A Choral Feast
A Choral Feast is a Sunday 11 am service whose music celebrates a specific theme, composer, or a major choral work, often with instrumentalists joining St. Bartholomew's Choir.
Choral masterworks in Liturgy
Almost all of the greatest composers of the western musical canon have written music for use in worship, including major works such as Mass settings and Canatas. Over the years, St. Bartholomew's has distinguished itself as a musical destination by including hundreds of such works, often with chamber orchestra, as a part of our communal worship. Through A Choral Feast, we endeavor to present these great masterworks as they were originally intended by their creators: offered not in concert, but rather as a part of worship, in gratitude to the almighty.
This year's featured works have included Vierne's Messe Solennelle, Mozart's Missa Brevis in B-flat (K.275), Mendelssohn's Deutsche Liturgie and music of Johann Sebastian Bach.
Themes
Recent Choral Feasts have celebrated Americana for July 4th, music of gay composers for Pride Weekend, themes of heroism and service for Memorial Day. They sometimes mark red letter days in the cycle of the church year, such as the Last Sunday after the Epiphany, or All Saints Day.
Composers
This year's featured composers include Felix Mendelssohn, Johann Sebastian Bach, Giovanni Pierluigi da Palestrina, and Tomas Luis da Victoria, among others.
We sometimes combine choirs for A Choral Feast, adding St. Bart's Singers or our Boy & Girl Choristers to St. Bartholomew's Choir, our professional choral ensemble that sings for the 11am service each Sunday. Our magnificent Aeolian-Skinner organ is always a featured part of our musical offerings, including c.10 minutes of solo organ music before the service, as well as a featured work to conclude worship.
"All are to be welcomed as Christ," wrote St. Benedict. We endeavor to welcome visitors not only into community and connection, but indeed to a feast.