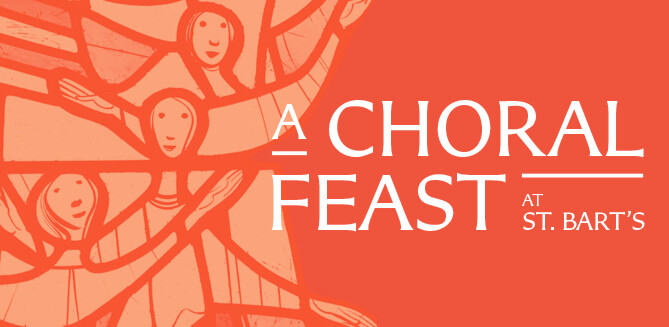 A Choral Feast offers outstanding sacred choral works from around the world, sung by St. Bartholomew's Choir, the Boy and Girl Choristers and St. Bart's Singers accompanied by outstanding instrumentalists as well as New York City's largest pipe organ. Each Sunday begins with an organ voluntary at 10:50 am. The day's choral work is then presented within the context of St. Bart's 11 am service.
A Choral Feast is offered twelve Sundays throughout the year, and is made possible by your generosity.
make a donation to A Choral Feast
2019 SCHEDULE
_____________________________________________________________________________
Sundays at 11 am
Sunday, January 21
Sunday, February 3
Sunday, March 3
The Last Sunday after the Epiphany- Morning Prayer and Holy Eucharist
Sunday, May 12
The Fourth Sunday of Easter- Morning Prayer and Holy Eucharist
Sunday, May 26
St. Bartholomew's Choir offers music for Memorial Day including Parry's My Soul there is a country, Stanford's Te Deum in B-flat, and William Walton's Jubilate Deo—a masterwork from the short works list of a highly self-critical composer. Organ repertoire includes favorites Litanies of Jehan Alain and Franck's Pièce Héroïque. Learn more.