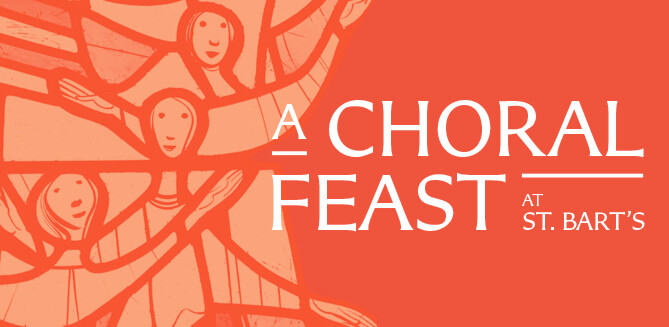 A Choral Feast offers outstanding sacred choral works from around the world, sung by St. Bartholomew's Choir, the Boy and Girl Choristers and St. Bart's Singers accompanied by outstanding instrumentalists as well as New York City's largest pipe organ. Each Sunday begins with an organ voluntary at 10:50 am. The day's choral work is then presented within the context of St. Bart's 11 am service.
Notes on our upcoming Choral Feast, Sunday January 21 at 11:00 am

Die Deutsche Liturgie
Felix Mendelssohn (1809-1847)
Mendelssohn composed his Deutsche Liturgie in 1846 in the midst of a controversy regarding the style of music appropriate for divine worship. The concerted style of Bach and the florid (or even operatic) style of Haydn and Mozart were found by mid 19th-century tastes to be excessive. A conservative style emerged, under the banner of the "Caecilian movement," with composers looking to sixteenth-century masters of unaccompanied polyphony as their models.
When Mendelssohn was appointed music director of Berlin's Domkirche (the protestant cathedral), he was commissioned by its patron, King Friedrich Wilhelm IV, to compose a choral setting of the liturgy in German. What resulted were ten movements, for double choir and soloists, of responses and extended movements from the Ordinary. St. Bartholomew's Choir will offer the major portions of that work, the Kyrie, Gloria (Ehre sei Gott), and Sanctus (Helig). Additionally, Mendelssohn's Sonata No. 4 in B-flat for organ will be offered.
In the words of scholar Julian Haylock, "the sense of inner peace and warmth which characterizes [Die Deutsche Liturgie] is really quite remarkable for a man who was close to a total physical breakdown. As with so many of the great composers of the past, Mendelssohn repeatedly demonstrated throughout his lifetime the transcendental ability to overcome worldly concerns, and elevate his music to a spiritual level of human experience."
Notes on A Choral Feast Sunday, February 3 at 11 am
Love never ends: Music inspired by the love of God & Neighbor
Choral music of Victoria, Willan, and Graston Ives.

The readings for Sunday February 3 include one of the best-loved passages in all of scripture, Paul's exhortation that
"Love is patient; love is kind; love is not envious or boastful or arrogant or rude. It does not insist on its own way; it is not irritable or resentful; it does not rejoice in wrongdoing, but rejoices in the truth. It bears all things, believes all things, hopes all things, endures all things. Love never ends."
The repertoire at our 11am Choral Feast develops this theme with music of Tomás Luis de Victoria, Healey Willan, and Grayston Ives.
St. Bartholomew's Choir offers the Gloria, Sanctus, and Agnus Dei from the Missa Vidi Speciosam of Tomás Luis de Victoria. Victoria was the dominant composer of the Spanish high renaissance and is counted among the greatest composers of the Counter-Reformation together with Giovanni da Palestrina and Orlando di Lasso. After completing early musical training as a cathedral chorister in his native Avila, Victoria was sent to the Collegium Germanicum in Rome, where he may have studied with Palestrina.
This Mass is based on his motet Vidi Speciosam, an exalted setting of the love poetry from the Song of Solomon:
I beheld her, beautiful as a dove, rising above the waterbrooks; and her raiment was filled with perfume beyond all price. Even as the springtime was she girded with rosebuds and lilies of the valley. Who is this that cometh up from the desert like a wreath of sweet smoke arising from frankincense and myrrh? Even as the springtime was she girded with rosebuds and lilies of the valley.
Victoria took the music written for the motet and recast it using the ordinary of the Mass (Kyrie, Gloria, etc.), as was common practice.
The music is for six voices (a lavish expansion from the usual three or four) and proceeds with the clarity that became a hallmark of Counter-Reformation polyphony. Only one line of the text is treated at any given moment and the composer has masterfully balanced clarity with a rich polyphonic sound. Victoria achieves a wonderful directness of presentation even when combining the florid, imitative counterpoint of six independent voices. The attractive surface of the music belies the complexity of this work, with its carefully controlled balance of dissonance with consonance, and perfectly shaped vocal lines in all voices at all times.
Our service will include A Song of Divine Love by Grayston Ives, which sets Paul's text above. Ives has had a varied and interesting career, which began as a boy chorister at Ely Cathedral. He is a consummate singer, having sung tenor at Guilford Cathedral, and for eight years on the concert stages of the world as a member of The King's Singers. His interest in composition goes back to his school days. During his last year at Ely, he was able to show some of his compositions to Benjamin Britten who later wrote him an enormously encouraging letter. Describing his own work, Ives says he "favors a style which blends color, vitality, and freshness with warmth and lyricism."
A few years ago, Great Music at St. Bartholomew's presented Mr. Ives and his choir in concert, in his then role as Informator Choristarum of Magdalene College, Oxford.
And finally, the love poetry from the Song of Solomon that inspired Victoria in the sixteenth century, will be heard in a twentieth-century setting, Healey Willan's I beheld her, Beautiful as a Dove.
In 1913 Dr. Willan moved from his native England to Toronto, Canada where he taught at the Royal Conservatory of Music and was University Organist. For 47 years he was Precentor of the church of St. Mary Magdalene, which became a mecca for church musicians. His choral music has had a significant influence on musicians of all denominations. Many of his settings are included in the Hymnal 1982 and today's anthem, testifies to his conservative compositional style. He was the first ever non-Briton commissioned to write an anthem for an English Coronation (Queen Elizabeth II's in 1953) and he received the Lambeth Doctorate from the Archbishop of Canterbury for his contributions to church music.
2019 SCHEDULE
_____________________________________________________________________________
Sundays at 11 am
Sunday, January 21
Sunday, February 3
Sunday, March 3
The Last Sunday after the Epiphany- Morning Prayer and Holy Eucharist
Sunday, May 12
The Fourth Sunday of Easter- Morning Prayer and Holy Eucharist
Sunday, May 26