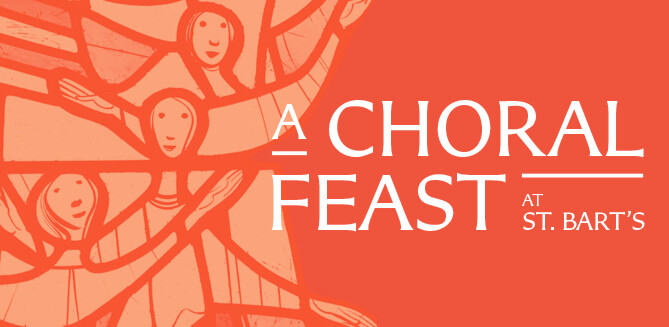 A Choral Feast offers outstanding sacred choral works from around the world, sung by St. Bartholomew's Choir, the Boy and Girl Choristers and St. Bart's Singers accompanied by outstanding instrumentalists as well as New York City's largest pipe organ. Each Sunday begins with an organ voluntary at 10:50 am. The day's choral work is then presented within the context of St. Bart's 11 am service.
This series is free and open to the public — A gift supported entirely by your donations.



Donate to A CHORAL FEAST
2018 SCHEDULE
_____________________________________________________________________________
Sundays at 11 am
SUNDAY, JUNE 24
MUSIC FOR PRIDE SUNDAY
Benjamin Britten's Missa Brevis, Calvin Hampton's We are climbing Jacob's Ladder and Francis Poulenc's Salut, Dame Sainte (Hail, holy lady) from Four Prayers of St. Francis of Assisi.
SUNDAY, JULY 1
A CELEBRATION OF INDEPENDENCE DAY
This service will be taken from the 1662 Book of Common Prayer, in use during the American Revolution, with music of the period including William Boyce's Te Deum and Jubilate Deo in C and William Billings' Sing ye merrily.
SUNDAY, AUGUST 5
COMMISSIONING OF THE CHORISTERS
In anticipation of their pilgrimage to Exeter Cathedral, St. Bartholomew's Boy and Girl Choristers will offer music from their residency including Richard Shephard's Communion Service in D.
SUNDAY, SEPTEMBER 16
The Observance of St. Bartholomew's Feast Day
THE GREAT PRODIGY
Wolfgang Amadeus Mozart's Missa Brevis in F Major, K. 192 with Orchestra.
SUNDAY, OCTOBER 21
Morning Prayer and Holy Eucharist
100TH ANNIVERSARY SERVICE
In celebration of the 100th anniversary of the first service in St. Bart's present building on Park Avenue, the choirs will offer music sung at the opening service including Franz Schubert's Great is Jehovah, and Richard Woodward's Jubilate Deo in D. The congregational hymns The church's one foundation and I love thy kingdom, Lord will be sung.
SUNDAY, NOVEMBER 18
PARIS ON PARK AVENUE
This service will feature Messe Solennelle composed in 1899 by Louis Vierne, the organist at Notre Dame Cathedral, Paris. Its iconic organ part creates dramatic effects in its splendid introductions and interludes.