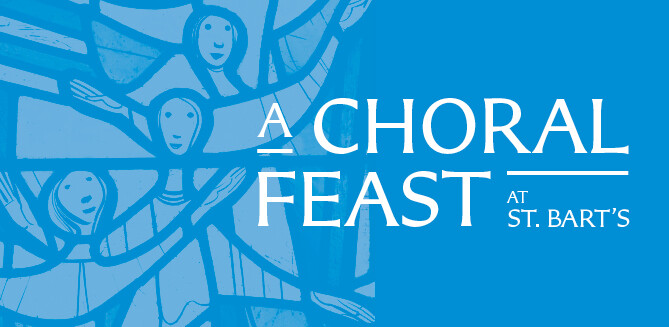 This music is made possible by your generosity and your commitment to bringing great sacred choral works to our sacred space.

Make a donation to support A Choral Feast
Save the Dates for Our Upcoming Choral Feast Sundays
Sunday, October 6
BENJAMIN BRITTEN: REJOICE IN THE LAMB
The work featured at the Sunday, October 6, at the 11 am service, Benjamin Britten's Rejoice in the Lamb, is a festival cantata based on the poem Jubilate Agno by Christopher Smart (1722-1771). It was written for four soloists, SATB choir, and organ, in the summer of 1943, at the time when Britten had recently returned to England from America and was working on his operatic masterwork Peter Grimes. The commission to write the piece came from the Rev. Canon Walter Hussey, who wished for a piece to celebrate the fiftieth anniversary of the consecration of his church, St. Matthew's Northampton. Canon Hussey, one of the most remarkable patrons of art to have emerged from the Church of England in this century, was also to commission Henry Moore's Madonna and Child, and Graham Sutherland's Crucifixion for St. Matthew's; later, as Dean of Chichester, he commissioned Leonard Bernstein to write the Chichester Psalms.
For the first performance of Rejoice in the Lamb Canon Hussey wrote the following introductory note:
"The words of the Cantata are taken from a long poem of the same name. The writer was Christopher Smart, an eighteenth-century poet, deeply religious, but of a strange and unbalanced mind. Rejoice in the Lamb was written while Smart was in an asylum, and is chaotic in form but contains many flashes of genius.
"It is a few of the finest passages that Benjamin Britten has chosen to set to music. The main theme of the poem, and of the Cantata, is the worship of God, by all created beings and things, each in its own way. The Cantata is made up of ten short sections. The first sets the theme. The second gives a few examples of one person after another being summoned from the pages of the old testament to join with some creature in praising and rejoicing in God. The third is a quiet and ecstatic Hallelujah. In the fourth section (treble solo) Smart takes his beloved cat as an example of nature praising God by being simply what the Creator intended it to be. The same thought is carried on in the fifth section (alto solo) with the illustration of the valiant mouse. The sixth section (tenor solo) speaks of the flowers, "the poetry of Christ." In the seventh section Smart refers to his troubles and madness, but even these are an occasion for praising God, for it is through Christ that he will find his deliverance. The eighth section (bass solo) is an extract from one of his mystic alphabets; is leads to a full chorus in section in which speaks of musical instruments and music's praise of God. The final section repeats the Hallelujah."
Sunday, November 17
FRANZ SCHUBERT: MASS NO. 4 IN C MAJOR, D.452
Schubert's sacred music for choir and orchestra carry the torch of Viennese classicism handed to him by Haydn, Mozart, and Beethoven. Written at age 19, this work was one of his favorites, and he revised and perfected it over the course of a decade before it became his only published Mass.
A Choral Feast
A Choral Feast is a Sunday 11 am service whose music celebrates a specific theme, composer, or a major choral work, often with instrumentalists joining St. Bartholomew's Choir.
Choral masterworks in Liturgy
Almost all of the greatest composers of the western musical canon have written music for use in worship, including major works such as Mass settings and Canatas. Over the years, St. Bartholomew's has distinguished itself as a musical destination by including hundreds of such works, often with chamber orchestra, as a part of our communal worship. Through A Choral Feast, we endeavor to present these great masterworks as they were originally intended by their creators: offered not in concert, but rather as a part of worship, in gratitude to the almighty.
This year's featured works have included Vierne's Messe Solennelle, Mozart's Missa Brevis in B-flat (K.275), Mendelssohn's Deutsche Liturgie and music of Johann Sebastian Bach.
Themes
Recent Choral Feasts have celebrated Americana for July 4th, music of gay composers for Pride Weekend, themes of heroism and service for Memorial Day. They sometimes mark red letter days in the cycle of the church year, such as the Last Sunday after the Epiphany, or All Saints Day.
Composers
This year's featured composers include Felix Mendelssohn, Johann Sebastian Bach, Giovanni Pierluigi da Palestrina, and Tomas Luis da Victoria, among others.
We sometimes combine choirs for A Choral Feast, adding St. Bart's Singers or our Boy & Girl Choristers to St. Bartholomew's Choir, our professional choral ensemble that sings for the 11am service each Sunday. Our magnificent Aeolian-Skinner organ is always a featured part of our musical offerings, including c.10 minutes of solo organ music before the service, as well as a featured work to conclude worship.
"All are to be welcomed as Christ," wrote St. Benedict. We endeavor to welcome visitors not only into community and connection, but indeed to a feast.