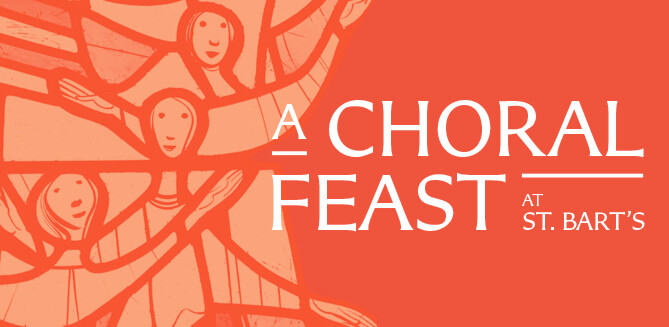 A Choral Feast offers outstanding sacred choral works from around the world, sung by St. Bartholomew's Choir, the Boy and Girl Choristers and St. Bart's Singers accompanied by outstanding instrumentalists as well as New York City's largest pipe organ. Each Sunday begins with an organ voluntary at 10:50 am. The day's choral work is then presented within the context of St. Bart's 11 am service.
Notes on A Choral Feast for March 3, 2019
"The glorious company"
About six times each year, to acknowledge beloved, traditional forms of liturgy, we combine the Order for Morning Prayer with the celebration of the Eucharist. In this order, Morning Prayer, with its canticles, psalm and readings, serves as the first half of the liturgy, the Service of the Word. The sung portions of the service are from the English Book of Common Prayer, in traditional Elizabethan English.
After a processional hymn, the service proceeds according to a rhythm much-loved around the world. As with the rite of the Eucharist, there is a sense of surrender to a greater purpose in the pattern of worship itself: the opening sentences lead to the invitatory (Psalm 95 – Venite exultemus domino), which leads to the canticles in alternation with the lessons, and so on.
One of the canticles at Morning Prayer is the Te Deum, the church's great hymn of praise. Portions of its inspired a series of stained glass windows in the Northwest corner of the church: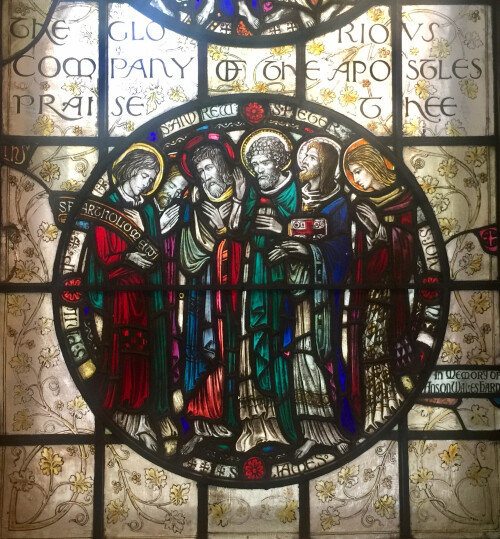 And "the goodly fellowship of the prophets" serve to inspire preachers in our pulpit: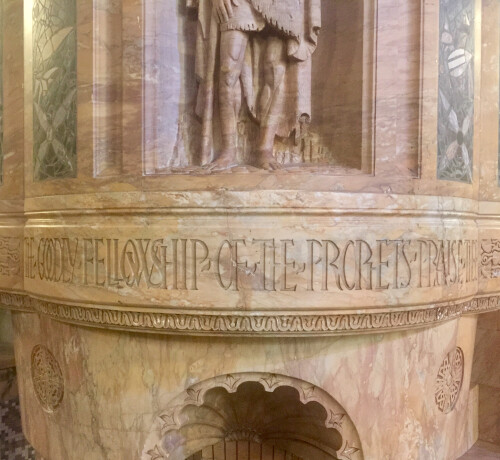 It is sung this week in a setting for double choir by Ralph Vaughan Williams. Anglican choirs are traditionally divided between Decani (on the south, the Deacon's side) and Cantoris (on the north, the cantor's side). The Vaughan Williams uses the choirs antiphonally, perhaps most dramatically as a glimpse of the "Holy, Holy, Holy" echoing between the heavenly choirs of angels, heard in this passage:
"All the earth doth worship thee: the Father everlasting.
To thee all Angels cry aloud: the Heavens, and all the Powers therein.
To thee Cherubim and Seraphim: continually do cry,
Holy, Holy, Holy : Lord God of Sabaoth.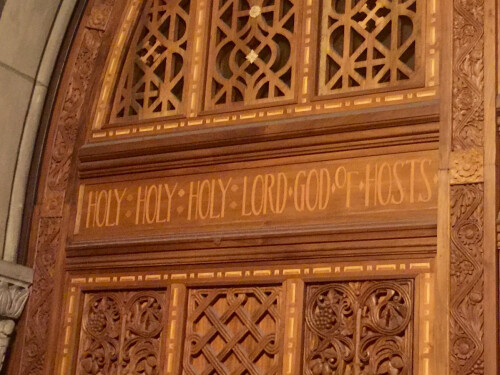 The service also includes Vaughan Williams setting of George Herbert's poem "Antiphon" ("Let all the world in every corner sing, My God and King"). We celebrated Herbert's feast day this week, on February 27.
2019 SCHEDULE
_____________________________________________________________________________
Sundays at 11 am
Sunday, January 21
Sunday, February 3
Sunday, March 3
The Last Sunday after the Epiphany- Morning Prayer and Holy Eucharist
Sunday, May 12
The Fourth Sunday of Easter- Morning Prayer and Holy Eucharist
Sunday, May 26