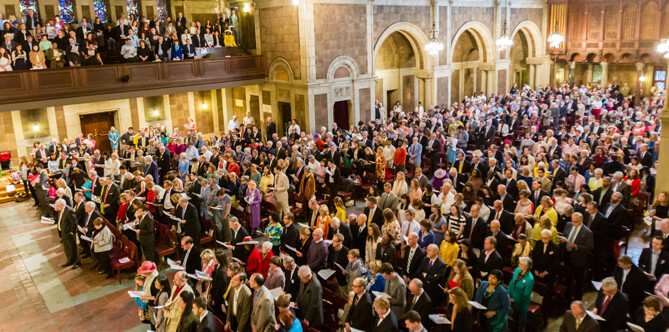 JUNE 25, 2017: THE THIRD SUNDAY AFTER PENTECOST
See the full text of Sunday's readings
View the most recent Sunday bulletin insert
Music and liturgy notes
8 am Rite I Eucharist in the Chapel
A Eucharist in the traditional language of The Book of Common Prayer
Homily by the Reverend Edward M. Sunderland

8:45 am – 12:15 pm Free Child Care (through age five) [Room 51]
Contact Patrick Bergquist for more information at 212-378-0273 or
9 am Eucharist in the Church
Sermon by the Reverend Edward M. Sunderland
St. Bart's Singers lead our songs of praise and sing Martin How's "Day by day."
10:05 am: Rector's Forum in the Great Hall
Join us in the Great Hall for the Rector's Forum as we welcome our special guest, the Reverend Canon C. K. Robertson, Ph.D., Canon to the Presiding Bishop for Ministry Beyond The Episcopal Church. He will share with us his hopes for the Church and stories from his broad, global ministry.
11 am Choral Eucharist in the Church
Sermon by the Reverend Edward M. Sunderland
The Summer Festival of Sacred Music begins with Music for Pride Sunday: Lou Harrison's Mass to St. Anthony with orchestra and David Conte's By night when others soundly slept.
5 pm Community Eucharist in the Chapel
An informal and intimate service, celebrated in our beautiful Chapel.
Sermon by the Reverend Lynn C. Sanders

Parking for Sunday Services
We offer free parking for all Sunday services at the parking garage on the south side of East 51st St. between Third and Lexington Avenues. Request a free-parking voucher from an usher or St. Bart's Central during or after services. Vouchers are valid for 12 hours or until midnight, whichever comes first. (Because some have asked, please note that each redeemed parking voucher costs St. Bart's $10.)