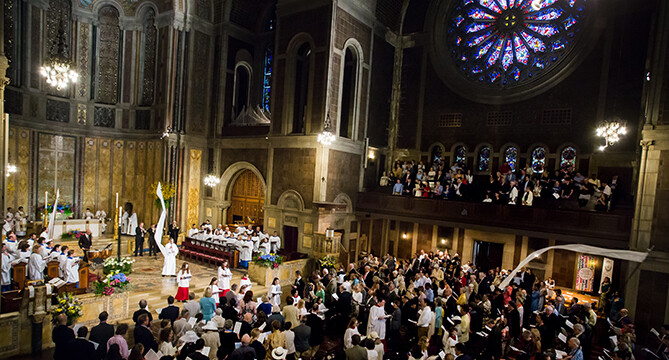 SUNDAY, MAY 26, 2019: THE SIXTH SUNDAY OF EASTER
See the full text of Sunday's readings
View the most recent Sunday bulletin insert
Learn more about this week's music and liturgy
8 am Eucharist, Rite I in the Chapel
In the traditional language of The Book of Common Prayer
Homily by the Right Reverend Dean E. Wolfe
8:45 am–12:15 pm Free Child Care (through age five). Contact Patrick Bergquist at or 212-212-378-0273.
9 am Eucharist in the Church
Sermon by the Right Reverend Dean E. Wolfe
St. Bart's Singers lead our songs of praise and sing Shephard's "The secret of Christ."
10 am KAIROS, Chapel and Community Hosue
Elementary aged students will begin in the Children's Chapel, and our youth, grades 6–12, will be in the Community House.

10 am The Forum, Great Hall
In Honduras, warmer temperatures and reduced rainfall are already drastically altering the agricultural landscape, decimating farmers' crop yields and pushing them to leave the country in search of a better life. Marcia Biggs, Special Correspondent for PBS NewsHour, recently witnessed the situation first-hand and shares with us her impressions.
Learn more about our Resurrecting Earth series.
11 am Choral Morning Prayer and Eucharist in the Church
Sermon by Right Reverend Dean E. Wolfe
St. Bartholomew's Choir offers choral works of Near, Parry, Selby, and Willan.
5 pm Community Eucharist in the Chapel
A simple, contemporary celebration celebrated in our beautiful chapel.
Sermon by the Reverend Susan Anderson-Smith


Parking for Sunday Services: We offer free parking for all Sunday services at Doubletree Metropolitan Hotel Garage, 136 East 51st Street (south side of 51st Street between Third and Lexington Avenues). Request a free-parking voucher from an usher or St. Bart's Central during or after services. Vouchers are valid for 12 hours or until midnight, whichever comes first. (Because some have asked, please note that each redeemed parking voucher costs St. Bart's $15.)
Accessible St. Bart's: There's a ramped entrance through the garden on Park Avenue at 51st Street. Accessible restrooms are located off the lobby inside the Park Avenue entrance. Large-print service leaflets (and Books of Common Prayer) are available at our welcome desk in the lobby.