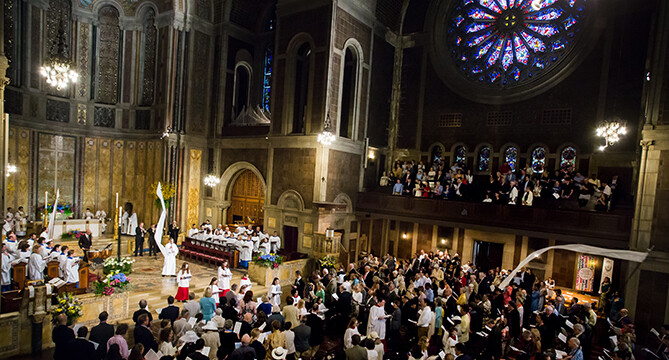 SUNDAY, JULY 21, 2019: THE SIXTH SUNDAY AFTER PENTECOST
See the full text of Sunday's readings (Track 2)
View the most recent Sunday bulletin insert
Learn more about this week's music and liturgy
8 am Eucharist, Rite I in the Chapel
In the traditional language of The Book of Common Prayer
Homily by the Reverend Dr. Kris Lewis-Theerman
8:45 am–12:15 pm Free Child Care (through age five). Contact the Reverend Dr. Kris Lewis-Theerman at or 212-378-0253.
9 am Eucharist in the Church
Sermon by the Reverend Canon Stephanie Spellers
St. Bart's Singers lead our songs of praise and sing C.H.H. Parry's "Dear Lord and Father of Mankind."
10 am The Forum, Great Hall
Everything I Need to Know about Faith I Learned from Ephesians
The letter to the Ephesians, attributed to Paul, is a sweeping statement of faith that offers a powerful vision of what life in Christian community can look like. The Reverend Stephanie Spellers, Canon to the Presiding Bishop of the Episcopal Church for Evangelism, Reconciliation and Stewardship of Creation, and an Assisting Priest at St. Bart's, reflects on what captivates her about the book and how our faith life can be changed by reading Ephesians, too.
11 am Choral Eucharist in the Church
Sermon by the Reverend Canon Stephanie Spellers
St. Bartholomew's Choir offers choral works of Mudd and Tomkins.
5 pm Community Eucharist in the Chapel
An informal and intimate service, celebrated in our beautiful Chapel
Sermon by the Reverend Dr. Kris Lewis-Theerman
Parking for Sunday Services: We offer free parking for all Sunday services at Doubletree Metropolitan Hotel Garage, 136 East 51st Street (south side of 51st Street between Third and Lexington Avenues). Request a free-parking voucher from an usher or St. Bart's Central during or after services. Vouchers are valid for 12 hours or until midnight, whichever comes first. (Because some have asked, please note that each redeemed parking voucher costs St. Bart's $15.)
Accessible St. Bart's: There's a ramped entrance through the garden on Park Avenue at 51st Street. Accessible restrooms are located off the lobby inside the Park Avenue entrance. Large-print service leaflets (and Books of Common Prayer) are available at our welcome desk in the lobby.