Tuesday, March 05, 2019, 6:00 PM - 9:00 PM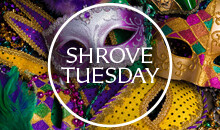 Lent begins with Ash Wednesday, March 6—but not without a party first!
All are welcome to join us for a festive dinner featuring live music and the traditional Anglican feast of pancakes along with a Mardi Gras themed gumbo, and lots more. Seating is limited so please reserve early! Click here to purchase advance tickets.
Tickets: $20 in advance, $30 at the door; children under 10 free; family maximum $60.