Tuesday, March 05, 2019, 6:00 PM - 9:00 PM
Our Shrove Tuesday Mardi Gras Dinner is SOLD OUT -- Please save the date for next year's celebration (February 25, 2020).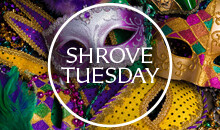 Lent begins with Ash Wednesday, March 6—but not without a party first!
Our Shrove Tuesday festive dinner features live music and the traditional Anglican feast of pancakes along with a Mardi Gras themed gumbo, and lots more.