St. Bartholomew's Choir and Recent Videos and Repertoire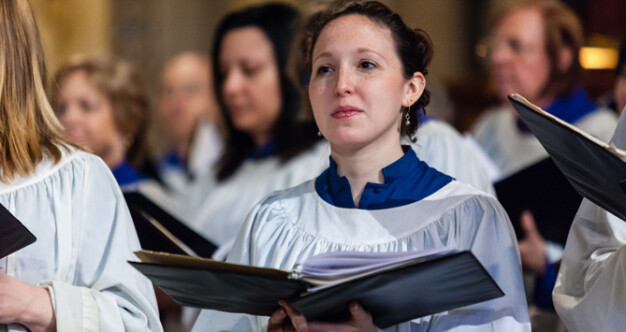 St. Bartholomew's Choir
Paolo Bordignon, Organist and Choirmaster
St. Bartholomew's Choir is composed of both professional singers and experienced volunteer singers. The choir sings at the 11 am Sunday service throughout the year, and during special services during Advent, Christmas, Holy Week and Easter.
Throughout the year, the choir takes on an increased, featured role on the Choral Feast series of Sunday 11am services, where they offer outstanding major choral works, often with chamber orchestra, including those of Bach, Mozart, Schubert, Palestrina, and others.
The choir also performs as part of the Great Music concert series including the annual Joyous Christmas Concert where they have performed with the Empire Brass, Sylvia McNair and Jessye Norman.
Rehearsals are held at 1 pm on Sundays, with additional rehearsals scheduled as needed throughout the year. Candidates should possess outstanding vocal abilities, excellent sight-reading skills and knowledge of the sacred choral repertoire.

Recent Videos of St. Bartholomew's Choir
Recent Choral and Organ Repertoire
St. Bart's Chorister program offers free professional music training (grades 2-12), touring opportunities, field trips, and other activities. The choir has earned national recognition through performances at Carnegie Hall and Washington's National Cathedral, as well as appearances on NBC's Today Show, Good Morning America and The Early Show. Other recent highlights include two acclaimed recordings and a tour to England.
In addition to singing for the Sunday 11 am service, the Choristers perform at many special events at St. Bart's and beyond.
Emphasis is placed on learning to read music in order to perform a wide range of repertoire, from chant to contemporary. Within their leadership role in liturgy, Choristers develop an active awareness of music, art, language, and history. At regular social events (choir camp, BBQs, talent show, pizza lunches), they form new and lasting friendships with other children from a variety of backgrounds, from across New York City and beyond.

For more information, please call the Music Office at 212-378-0226


St. Bart's Singers
Paolo Bordignon, Organist and Choirmaster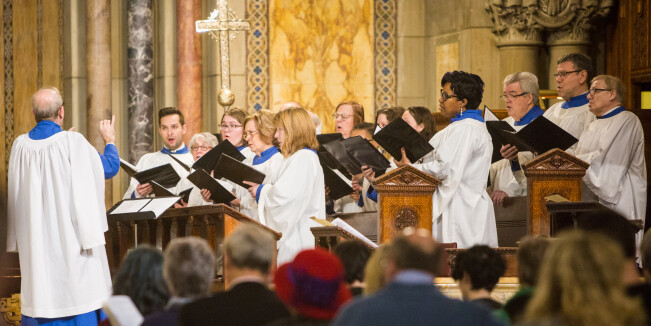 Do you love to sing? Then please consider joining St. Bart's Singers, our volunteer choir. We rehearse on Wednesday nights, so come for the 6 pm Eucharist and then stick around for rehearsal and fellowship (coffee and cookies during the break)! St. Bart's Singers lead music for the 9 am service Sunday mornings. We also sing for the annual Advent Lessons and Carols Service and sing jointly throughout the year with St. Bartholomew's Choir.
To arrange for an audition contact the Music Office at 212-378-0226 or email Paolo Bordignon, Organist and Choirmaster.