Community is a huge part of what it means to be a parishioner at St. Bart's, and even during the pandemic our community groups continue to gather safely online, and and for occasional outdoor gatherings with social distancing.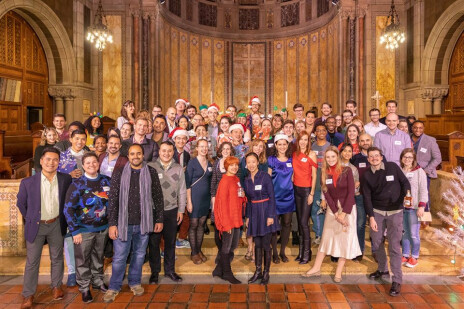 We are an active and diverse group of people, working together to create a warm and caring community, reflective of New York City and the world at large. We offer many opportunities for fellowship, formation and outreach, and we openly invite and encourage you to join us in any (or all!) that may be of interest. We encourage you to contact Manny Rodríguez-Leach at to inquire about any of the below fellowship opportunities or to simply say hello and learn more about our community. Whether you're a newcomer to New York City or just wanting to learn more, St. Bart's has a place for you.

Meditation Practices
We offer a variety of weekly study, prayer and meditation opportunities at St. Bart's, including Bible Study, Living Christ Sangha, and Centering Prayer. Learn more and join one of our growing practices.
Weekly Midday Bible Study (via Zoom): Wednesdays, 1–2 pm
Centering Prayer (via Zoom): Fridays 9-10 am

Living Christ Sangha (via Zoom): Sundays, 3–4:30 pm
Forward Together
The COVID-19 pandemic has had wide-ranging impacts on peoples' employment. Some are reevaluating their career plans; others are facing disruptive changes in work environments; and others have lost their jobs altogether. Forward Together is a support group for people who are experiencing job insecurity, who are unemployed or under-employed, or who are considering a career change. Grounded in scripture and prayer, the group is a safe and confidential space to share experiences, get support, and express concerns about job insecurity. Forward Together does not offer job placement or teach practical job search tools like resume writing. Instead, the group focuses on the spiritual aspects of our work and supports members in discerning next steps in their lives. Led by the Reverend Meredith Ward, Associate Rector for Pastoral Care, Forward Together will meet via Zoom on the 2nd and 4th Mondays at 6-7 pm beginning on Monday, August 9th. For further information and to register, click here.
20s/30s
Whether you are in your 20s, 30s, or somewhere close, our young adults group at St. Bart's is a growing community that has a lot of fun together, but is also a group whose core is about making a difference; becoming the change we want to see in the world. Keep an eye out for our next announced date. All are welcome! Please email Manny Rodríguez-Leach with any questions or to receive additional information.
St. Tabitha's Guild
Parishioners who have a love for knitting and crocheting, for community, and for compassion and justice formed a guild for women and men that combines all three. This unique ministry has organized a variety of crocheting and knitting projects for the Seamen's Institute and Crossroads Community Services. We have also formed a new partnership with Jamaica Hospital to create baby garments for newborns and afghans for hospice patients. All are welcome! We will knit and crochet at a distance approximately every other Sunday from 2 to 4 pm via Zoom as we work on a variety of projects. All are welcome! For exact dates and times, and the Zoom link, click here.
Episcopal Peace Fellowship (EPF)
Episcopal Peace Fellowship is a national organization connecting all who seek a deliberate response to injustice and violence and want to pray, study and take action for justice and peace in our communities, our church, and the world. We are called to do justice, dismantle violence, and strive to be peacemakers. For further information, contact Richard Jordan at for a quick reply. Questions about EPF? Email us at or visit epfnational.org.
The Peace Book Club will meet on the 2nd and 4th Sundays of the month in 2022.
St. Bart's Connects
The basic purpose of St. Bart's Connects groups is simply connecting with one another— something even more precious as we navigate through this COVID era— and to offer a chance for parishioners to reflect on the joys and challenges of attempting to live a life of faith in the middle of New York City (or wherever you live!) as well as help strengthen the communal life of our parish. Although we can't physically meet in each other's homes as originally planned, we still gather in virtual groups of about 6-8 people for fellowship and sharing. If you would like to be a part of a St. Bart's Connects! group—and if you are new to St. Bart's you are very much welcome to participate as well—or, if you would like to start a group up, please reach out to Manny Rodríguez-Leach at and we hope to get you plugged in.


Garden Guild
A dedicated group of parishioners gather every other Saturday in the warmer months to plant, weed, sweep, and prune. We often follow our work with a cold drink, a little lunch, and some good conversation. This may be your best chance to be a Park Avenue gardener, maintaining the most beautiful gardens on the Avenue, experience not necessary. Interested? Leave your name and email address at St. Bart's Central in the narthex (or email ), and we will be in touch!


LGBTQ Fellowship
Are you LGBTQ, or do you know someone who is? Are you looking for a spiritual and social community where you will be safe and welcome to explore the great questions of life? St. Bart's Lesbian and Gay Fellowship is fully integrated into the leadership of our large church, but also works to meet the real needs of its members with a variety of speakers, service, social gatherings, brunches, friendship and support. For many years, we have taken a leading role in the struggle for full equality of St. Bart's LGBTQ members not only in in the Church, but also the nation. We invite you to join us virtually at 2 pm every Sunday for our LGBTQ+ Community Brunch. We'd love to welcome you!
St. Ives' Guild
Sunday, May 1, 2022 12:30-1:30 pm
If you are either an Episcopalian or a lawyer, please join the St. Ives' Guild for a Zoom gathering on May 1 at 12:30 to celebrate Law Day! New York Diocesan Chancellor and St. Bart's parishioner Alice Yurke will tell us about her work for the Diocese. Register
here
.
St. Bart's Adult Professionals Group
The St. Bart's Adult Professionals Group is focused on active and inquisitive career-minded individuals seeking fellowship with other, similarly-minded people. Our events include networking, educational, service, spiritual, and social activities. The group is non-exclusive and is not age-specific; all interested people are welcome. For more information, please check out our Facebook Group or email Michael at or Dulcie at