Mayoral Candidate Forum
May 2, 2021 3:00pm
St. Bart's is proud to be part of a diverse and growing coalition of 40+ multifaith organizations in New York City inviting you to participate in a candidate forum on Sunday, May 2, 2021 at 3:00 p.m.
The forum will be moderated by Crystal Walthall, Executive Director of Faith in New York, Rabbi Lauren Grabelle Herrmann of SAJ: Judaism That Stands for All, and Rev. Dr. Jacqui Lewis, Senior Pastor of Middle Collegiate Church with opening statements from the Executive Director of the Muslim Community Network, Aniqa Nawabi.
Our goal is to bring a faith-based perspective to critical issues and ask that the candidates speak to the values and concerns of our faith communities, especially those that are most directly impacted by mayoral leadership. We propose to focus in particular upon the following topics: housing justice, racial justice, and immigration justice.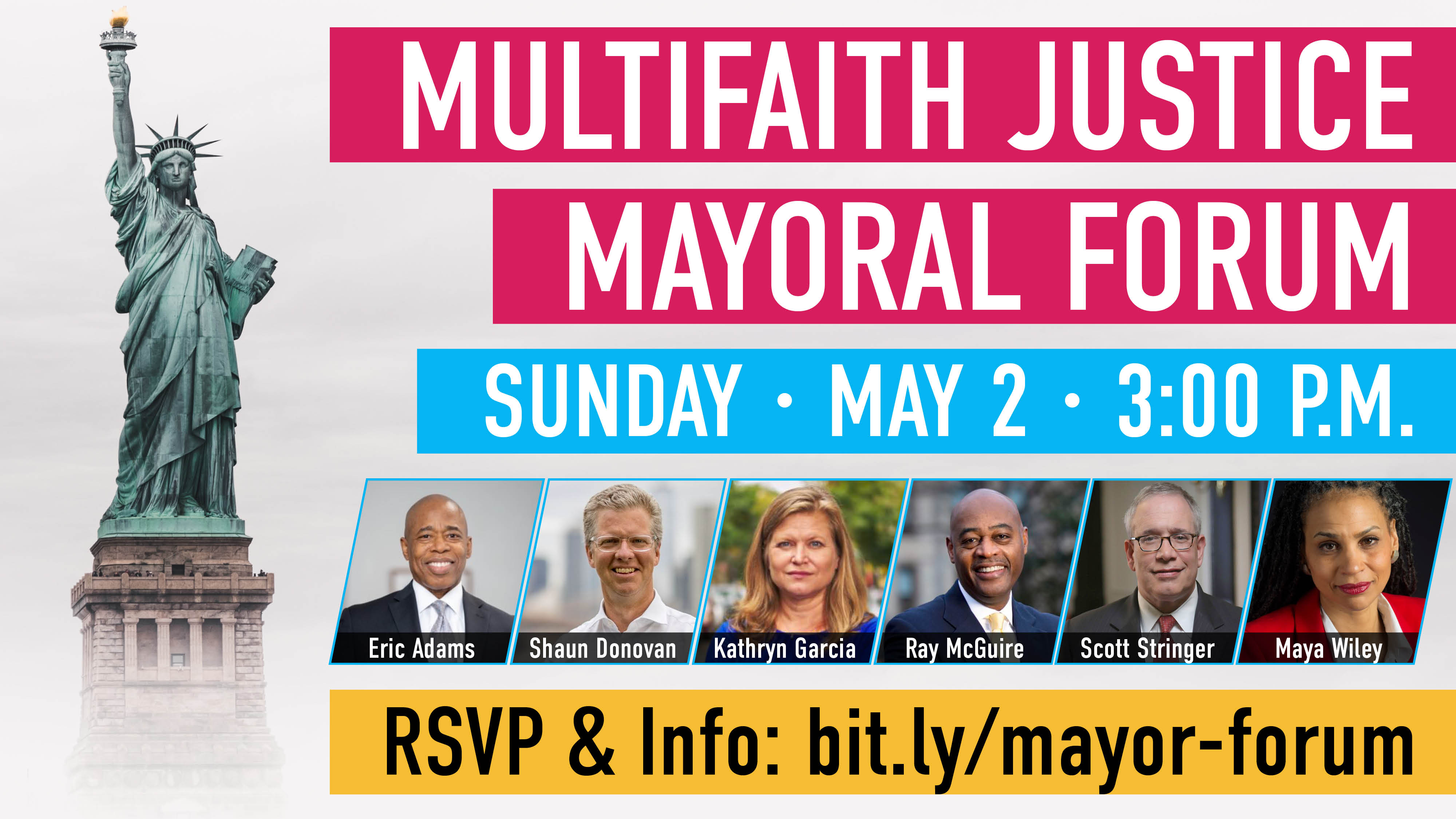 The current list of sponsoring organizations appears below and it continues to grow. Together, our combined congregations total many thousands of people across all five boroughs, all of whom will be invited to attend on Zoom webinar.
All Angels Church
All Souls NYC (formally the Unitarian Church of All Souls)
Buddhist Action Coalition NYC
B'nai Jeshurun
Central Synagogue
Church of St. Matthew & St. Timothy
Church of the Holy Apostles
Congregation Beit Simchat Torah
East End Temple
Ecumenical Outreach Partnership
Faith in New York
First Presbyterian Church of Brooklyn
First Unitarian Congregational Society of Brooklyn
Fort Washington Collegiate Church
Fourth Universalist Society in the City of New York
Grace Congregational Church
Interfaith Assembly Homelessness & Housing
Interfaith Center of New York
ISKON New York City: International Society for Krishna Consciousness
Judson Memorial Church
Lab/Shul
Marlene Meyerson JCC Manhattan
Metro Baptist Church
Middle Collegiate Church
Muslim Community Network
New York Society for Ethical Culture
New York State Council of Churches
Our Saviour's Atonement Lutheran Church
Park Avenue Christian Church
Riverdale-Yonkers Society for Ethical Culture
Riverside Church
Rutgers Presbyterian Church
SAJ - Judaism that Stands for All
St. Bartholomew's Episcopal Church
St. Mark's Church in the Bowery
St. Paul & St. Andrew Methodist Church
St. Peter's Church
Staten Island Inter-Religious Leadership
The Community Church of New York
The Evangelical Lutheran Church of the Holy Trinity
The Village Zendo
WTCI: A Gender Inclusive feminist psychotherapy Institute