St. Bart's Day
September 18, 2022 8:00am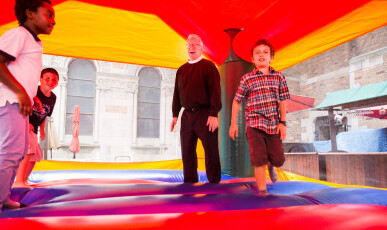 Come celebrate St. Bart's during a full day of excitement and festivity. Following the 11 am service, stay for The St. Bart's Fair, complete with food trucks, live music, a bouncy castle, and more!
8 am Holy Eucharist (Chapel)
9 am Holy Eucharist in the Round (Church)
10 am The Forum
10 am Activity Hour for Children Youth and Families (Community House)
StoryMakers: Arts, crafts, and drama for grades K–5 (Room 52)
Youth at the Center: Discussion, games, faith exploration (and donuts!) for grades 6–12. (Room 33)
11 am Festival Holy Eucharist

(Church)

With St. Bartholomew's Choristers, Kids' Church (K-5), and the Blessing of the Backpacks
Bring your backpacks, briefcases, and bags to be blessed as we celebrate a new school year!
12:15 pm St. Bart's Fair in the Terrace
Free food trucks, bouncy castle, and entertainment for all ages
Meet other parishioners and get to know our leaders and staff, including St. Bart's new children's minister, Effie Hanakis!
Rain date for St. Bart's Fair: Sunday, September 25
5 pm Contemplative Eucharist (Chapel)
The Store@St.Bart's will offer 10% off all purchases made that day.
Our prayers are with the people of the United Kingdom and the Commonwealth as they remember the loss of Her Majesty Queen Elizabeth II. Unfortunately, the Reverend Lucy Winkett and the people of St. James's Piccadilly are postponing their visit to the United States in order to be in their home country during this time of mourning. We look forward to welcoming them to St. Bart's in 2023.