Dear Friends,
You're invited to the pilot series of Imagine Worship NYC, an experimental new worshipping community on Thursday nights, May 4 through June 29. Each week we will gather in the church for worship at 7pm, followed by food and fellowship at 8pm. Modern worship and gospel music will be led by the talented and prolific composer Mark A. Miller, and communion will be shared in the round. Over the summer we will reflect on the experience and refine our approach before offering a second series in the fall.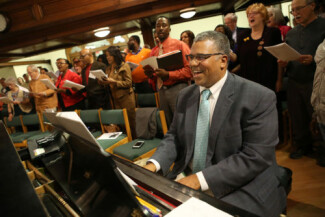 We especially hope to reach those who:
seek connection and friendship amidst the big city
work or travel on Sundays
resonate with contemporary music and prayers
Are spiritually seeking, hurting, or homeless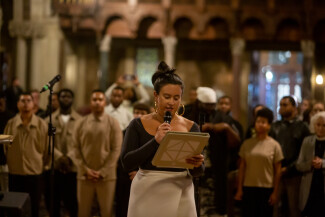 A Word on Church Growth
Imagine Worship is a manifestation of Pillar 3 in St. Bart's strategic plan, which focuses on growing and diversifying membership. Experts in congregational development note that churches have an easier time growing numerically than demographically. As a function of human nature, reaching new people is easier than reaching new kinds of people. Why? For one, parishioners tend to to stick around a church because they like it! Likewise, I suspect that if you were not generally satisfied with the menu of offerings already available at St. Bart's, you would have found a home in another one of the great churches in New York City or online.
However, diversification by definition requires the expansion of an organization's menu to reach new markets. In churches, the success of a new initiative like Imagine Worship depends largely upon the commitment of leaders who have the spiritual maturity to support something new for the sake of someone else — someone who isn't at the table yet. In fact, if you are reading this, Imagine Worship is strategically not for you, and that's exactly the point! Still, we need those already here be part of welcoming those who have not yet arrived.
If you feel called to help, please prayerfully consider:
Joining the Core Team

— We are looking for a group of folks willing to attend a majority of the gatherings in May and June to help establish critical mass and to offer feedback.

Volunteering with Liturgy and Hospitality
Singing in the Pickup Choir

— All singers are invited to show up at 6pm to rehearse the music and help lead the congregation in song.

Inviting Friends

—

Imagine Worship will be highly accessible and a wonderful entry point for those new to church!

Come and see!
I am grateful to our Rector and Vestry for the space and resources made available to embark on this new component of our mission to transform lives, transform the church, and transform the world with the Radical Welcome of God. This community is one that we will build together, and there's a seat saved for you.
RSVP for MAY 4
(RSVP appreciated but not required)
Faithfully,